This article was published in The 30 Second Wine Advisor on Friday, Dec. 16, 2011 and can be found at http://www.wineloverspage.com/wineadvisor2/tswa20111216.php.
This winter warmer won't wear out
We've all known the frustration that comes with an excellent bottle of wine that's too much to finish in a sitting but, to be honest, too good not to.
This frustration can only increase when we're looking at a bottle of Port or other "fortified" wine that's been dosed with brandy to kick up its alcohol content to 20 percent or so, resulting in a delicious strong wine that's really too much for a responsible individual or even a couple to knock back in a sitting.
In the past, our parents and grandparents may have been perfectly happy to keep a decanter of Port or Sherry on the sideboard from Christmas through Easter, but that won't work for most of us who recognize the deterioration that comes so quickly to wine in an opened bottle, even if we stick the cork back in.
The issue becomes acute during winter and the holiday season, when many wine-loving households see an increased likelihood of a bottle of Port being uncorked.
Well, here's good news: While Vintage Port, despite its alcohol, begins to lose its subtlety after only a few days in an open bottle, its more casual sibling Tawny Port will keep on ticking, just like the iconic Timex, only more elegant.
What's the secret? Tawny Ports are aged in wood casks until they are completely mature, losing their rough edges while acquiring a "tawny" golden-brown color and complex aged aromas and flavors.
The Website of Porto Kopke ("cop-key"), producer of today's featured tasting, adds, "Where vintage ports have immediate air shock upon opening the bottle wherein they were aged and have a shelf life of only a few hours to a week; tawny ports have had air working on them through the cask during all the years of aging, giving them a shelf life of a month or longer. Lighter and drier than vintage ports, the tawnies are immediately understandable and enjoyable to the novice and an ongoing pleasure to the experienced port drinker."
What's more, Tawnies, like many Ports, are available in 375 ml "half-bottles," an option that cuts the price roughly in half and offers a portion that makes a little more sense for consuming in the shorter term.
Try a Tawny for the holidays and see what you think. And while you're at it, feel free to share your thoughts and tasting notes in our monthly Wine Focus conversation in our WineLovers Discussion Group. To join in, click to the forum topic "December: Holiday Sweets"
All forum discussions are open for public viewing, but you must register to post your comments and participate actively in the conversation. Registration is free and easy; we ask only that you join following our Real Names Real Format system. For your user name, enter your real name in the format "John Doe" or "John D", with the capital letters and the space.
Having a real name on your name tag is so important to us that all non-conforming registrations will be quietly discarded. Redemption is possible, though. If you overlook this rule and get no response to your registration, feel free to contact me personally by Email at wine@wineloverspage.com, and we'll sort it out.
Once your registration has been approved, which usually happens quickly with correctly formed user names, you'll be able to participate in Wine Focus and in all our online wine and food forums.
Today's Sponsor
It's a Perfect Holiday Gift!
Award-winning, hand-selected wine from the heart of California's wine country is a perfect gift for friends, loved ones, business associates and clients.
Gifts from The California Wine Club start at just $49.45 and feature:
* Two bottles of award-winning, limited-production wine from California's best "mom & pop" wineries
* Our 12-page, full-color, fun and informative Uncorked(R) magazine
* Our 100% satisfaction guarantee
* Bonus gifts for your recipients: $25 CWC Wine Credit and a fun wine bottle-shaped notepad
(Price quoted includes shipping and handling. Tax extra where applicable.)
Send as many gift months as you wish. Send more and save more with special discounts on gifts of 3, 6, 9, and 12 months.
It's a fun and unique holiday gift that will be remembered!
To send a gift now, visit www.cawineclub.com or call 1-800-777-4443.
Today's Tasting Report
Porto Kopke 10 Years Old Port ($17.99/375ml)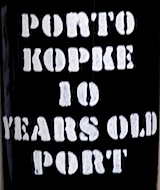 Clear bright reddish-umber, dark bronze with a purplish hue. A distinct and delicious note of pecans on the nose is backed by a whiff of black plums. Warm and gently sweet on the palate, dried plum flavors and good acidity; appropriate sweetness for a dessert wine, but it's not as toothache sticky as some Ports; just a good balance of fruit, pecans and warmth, smooth with its tannins largely resolved through time in barrel. A fine sip for a wintry night. U.S. importer: Wineworth, LLC, Bellevue, Wash. (Dec. 14, 2011)
FOOD MATCH: Perfectly fine by itself as a dessert in its own right, it nevertheless went well with traditional Port snacks including walnuts, dried purple figs and, in lieu of the traditional Stilton, Point Reyes blue cheese. Each goes well individually; put them together and it's a match made in wine heaven.
VALUE: Take note that this price is for a 375 ml half-bottle, but we find that's plenty to provide two evenings of pleasant sipping for two. It's a decent value at that price.
WHEN TO DRINK: In contrast with Vintage Port, Tawny Port is ready to drink when you buy it, and for many, that's an advantage. However, it will certainly keep, and possibly gain added depth and complexity, for years in a well-managed wine cellar.
WEB LINK: Here is the U.S. importer's Porto Kopke page, with additional links to tasting notes on Kopke's Ports including the 10 Years Old Tawny. Kopke's Website is published in Portuguese, Spanish, English and French. This link goes to the English-language home page.
FIND THIS WINE ONLINE:
Compare prices and find vendors for Kopke 10 Years Old Tawny at Wine-Searcher.com.
Talk About Wine Online
If you have questions, comments or ideas to share about today's article or wine in general, you're always welcome to drop by our online WineLovers Discussion Group, the Internet's first and still the most civil online community. To find our forums, click:
http://www.wineloverspage.com/forum/village
Discussions are open for public viewing, but you must register to post. Registration is free and easy; we ask only that you join following our Real Names Real Format system, using your real name in the format "John Doe" or "John D". Anonymous, cryptic or first-name-only registrations are discarded without notice.
Once your registration has been approved, which usually happens quickly, you'll be able to participate in all our online wine, food and travel forums.
To contact me by E-mail, write wine@wineloverspage.com. I'll respond personally to the extent that time and volume permit.
Subscriptions and Administrivia
Unsubscribe:
We're sorry if you must leave us, but simply click the "unsubscribe"
link at the bottom of your Email edition to be instantly removed from the mailing list.
Change address:
The quickest and easiest way to change your Email address is simply to register anew, using the link below. If you are keeping your old address but no longer wish to get the Wine Advisor there, click the unsubscribe link below to take it off our list; if you are closing the mailbox, you needn't take any action, as our system will delete your old address as soon as the mail to your old address starts to "bounce."
Subscribe to this Email edition (free):
http://www.wineloverspage.com/wineadvisor
WineLoversPage.com RSS Feed (free):
http://feeds.feedburner.com/wineloverspage/tzva
Wine Advisor Archives:
http://www.wineloverspage.com/wineadvisor2/archives.php
Sponsorship Opportunities:
For information, E-mail wine@wineloverspage.com