This article was published in The 30 Second Wine Advisor on Friday, Oct. 28, 2011 and can be found at http://www.wineloverspage.com/wineadvisor2/tswa20111028.php.
Minimalist Mosel
Why is German wine such a hard sell? A lot of people blame the label. German wine labels look antique. They contain puzzling terminology, tiny print and so many unpronounceable German words! Who can ask for "Pickelwasser Gesundheitzchen Schnitzelbank Riesling Tovarich Behundertjahren" with a straight face?
But wait! What's this? Here's a spiffy new Riesling in a screw-capped clear bottle just one inch too tall to stand upright on my refrigerator shelf, and the front label (pictured below) bears only a handful of words. In English!
Flanking a semi-abstract graphic that looks like a stream flowing between stacks of flat rocks, we read:
Clean Slate
2010 Riesling
Mosel, Germany
a region of steep slate hills
and winding rivers
That's it! And to tell you the truth, the back label isn't that much more informative. As the front label disclosed, it's a Riesling from Germany's Mosel region, 2010 vintage. It's brought into the U.S. by Winebow Inc., a respected New York City importer, and the language "Selected, Shipped and Imported" reveals that Winebow worked with a German partner or partners to assemble wines from the Mosel into a regional-generic Riesling, not that there's anything wrong with that. The alcohol content is a gentle 10.5 percent, the Surgeon General offers his usual stern warning, and there's a bit of ad copy that I won't quote here but that you're welcome to read on the Clean Slate website.
"Clean Slate" contains a vinous pun of sorts, representing both its English connotation of a fresh start on a blank piece of paper, and a possible tasting note for a typical Mosel Riesling, known for its clean, fresh flavors and the minerally stony nuances that slate soil purportedly imparts.
It's a nice idea, and at a buck over $10 in this market (a few dollars less in some regions), it's an excellent introduction to Riesling in the Mosel style. You'll find my tasting notes below.
As a matter of fact, this weekend wraps up this month's Wine Focus exploration of Rieslings on our WineLovers Discussion Group. You're welcome to join our friendly international crowd of wine lovers as we delve into a world of Rieslings. To tell us about your choice, click to the forum topic "October Wine Focus: Riesling, Riesling and more Riesling." And watch the forum for an announcement about November's Wine Focus, coming up soon.
All forum discussions are open for public viewing, but you must register to post your comments and participate actively in the conversation. Registration is free and easy; we ask only that you join following our Real Names Real Format system. For your user name, enter your real name in the format "John Doe" or "John D", with the capital letters and the space.
Having a real name on your name tag is so important to us that all non-conforming registrations will be quietly discarded. Redemption is possible, though. If you overlook this rule and get no response to your registration, feel free to contact me personally by Email at wine@wineloverspage.com, and we'll sort it out.
Once your registration has been approved, which usually happens quickly with correctly formed user names, you'll be able to participate in Wine Focus and in all our online wine and food forums.
Today's Sponsor
The California Wine Club
Today Only: $1 Shipping on Every Case of Award-Winning Wine!
Click here!
A scary-good deal you don't want to miss: The California Wine Club is offering $1 shipping on all full and half cases of award-winning, limited-production wine ordered today! You'll save up to 50 percent off retail, plus you'll save up to $36 in shipping on every case. Mix and match a case to your taste! Click Here to Shop Now!
What's so great about wines from The California Wine Club? They hand-select wines from California's best "mom & pop" wineries. These wines are made in such small quantities that you will rarely find them outside of the wineries themselves.
Shop deals like these:
* Gold medal-winning Pedroncelli Winery & Vineyards 2009 Three Vineyards, Dry Creek Valley Cabernet Sauvignon, Tasting Room Retail $19/btl, CWC Price 11.99/btl, plus $1 shipping!

* 92-Point rated Truchard Vineyards 2006 Carneros, Napa Valley Pinot Noir, Tasting room retail $35/btl, CWC Price $15.99/btl, plus $1 shipping!

This is an excellent opportunity to stock up on handcrafted California wine for holiday parties.
Don't wait--the offer ends at midnight PST today! Call 1-800-777-4443 or Click Here to Shop Now!
Today's Tasting Report
Clean Slate 2010 Mosel Riesling ($10.99)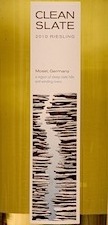 Transparent pale gold. Good aromatic fruit scents, peach and a whiff of mango, fresh but not over the top. Flavors are consistent with the nose, fresh mango and tart acidity, and perhaps just a hint of that fabled Mosel slatey stony character in the background. If there's sweetness there, it's hard to pick out against the zippy acidity. Light 10.5% alcohol makes for easy sipping as table wine or aperitif, and there's a gentle peach-pit bitterness in the finish. U.S. importer: Winebow Inc., NYC. (Oct. 27, 2011)
FOOD MATCH: Riesling may be the most versatile white wine for food matching, and this fresh, crisp model would serve across a range of food companions from freshwater fish to seafood to pork, turkey or duck, cheeses and even spicy fare. We enjoyed it with an offbeat Asian vegetable dish, Chinese okra (fresh loofah) stir-fried with onions, garlic and ginger and a touch of Thai spice.
VALUE: While I have no complaints for value at this price, it's worth checking around if you can order online; Wine-Searcher.com finds it at U.S. vendors as low as $7.64, with many sources under $10.
WHEN TO DRINK: It's made for immediate enjoyment, but the combination of good balance, a sturdy screw cap and Riesling's natural ageworthiness could probably support several years under good cellar conditions.
WEB LINK: Moselland and Winebow, partners in Clean Slate, jointly operate this informative, brochure-style website.
FIND THIS WINE ONLINE:
Check prices and locate vendors for Clean Slate Riesling on Wine-Searcher.com. To find specific retailers in your region, try this handy tool on the Clean Slate website.
Talk About Wine Online
If you have questions, comments or ideas to share about today's article or wine in general, you're always welcome to drop by our online WineLovers Discussion Group, the Internet's first and still the most civil online community. To find our forums, click:
http://www.wineloverspage.com/forum/village
Discussions are open for public viewing, but you must register to post. Registration is free and easy; we ask only that you join following our Real Names Real Format system, using your real name in the format "John Doe" or "John D". Anonymous, cryptic or first-name-only registrations are discarded without notice.
Once your registration has been approved, which usually happens quickly, you'll be able to participate in all our online wine, food and travel forums.
To contact me by E-mail, write wine@wineloverspage.com. I'll respond personally to the extent that time and volume permit.
Subscriptions and Administrivia
Unsubscribe:
We're sorry if you must leave us, but simply click the "unsubscribe"
link at the bottom of your Email edition to be instantly removed from the mailing list.
Change address:
The quickest and easiest way to change your Email address is simply to register anew, using the link below. If you are keeping your old address but no longer wish to get the Wine Advisor there, click the unsubscribe link below to take it off our list; if you are closing the mailbox, you needn't take any action, as our system will delete your old address as soon as the mail to your old address starts to "bounce."
Subscribe to this Email edition (free):
http://www.wineloverspage.com/wineadvisor
WineLoversPage.com RSS Feed (free):
http://feeds.feedburner.com/wineloverspage/tzva
Wine Advisor Archives:
http://www.wineloverspage.com/wineadvisor2/archives.php
Sponsorship Opportunities:
For information, E-mail wine@wineloverspage.com