This article was published in The 30 Second Wine Advisor on Monday, Jul. 7, 2008 and can be found at http://www.wineloverspage.com/wineadvisor2/tswa20080707.php.
Smoky wine on the way?
Californians are praying that cooler weather changes will bring a respite from the terrible wildfires that have burned through more than 550,000 acres of land in more than 1,700 fires since June 20. While fire fighters have doused some 1,400 of the fires, it has taken a herculean effort, with more than 10,000 homes and nearly 1,000 businesses threatened.
Without diminishing the serious threat of the fires to homes and property, wine enthusiasts can't help wondering about the fate of California's thousands of vineyards and the possible impact of fire and smoke on the grapes that will go into Vintage 2008 wine.
My buddy Jim Caudill, California-based spokesman for Brown-Forman Beverages Worldwide, whose Golden State properties include Sonoma-Cutrer, Bonterra, Mariah, Sanctuary, Fetzer, Five Rivers, Jekel, Virgin Vines and Little Black Dress, had some comments about that in a recent article he circulated to a personal mailing list. With his kind permission, I'll reprint portions of it for today's column.
Where there's smoke ...
"Will the North Coast fires bring smoky flavors to this year's harvest?
"A question I've been asked a lot this week is simply: Will these fires hurt the grapes in any way, maybe imparting a smoky flavor to the vintage when harvest rolls around this Fall?
"There are still more than 100 fires burning on the North Coast on this last Friday in June, and the equivalent of 33 square miles have been burned so far in Mendocino alone. Smoke is predicted to hang around for another month, and even that depends on whether they get control of fires in the most rugged and remote regions.
"My able sidekick Colleen Stewart has been evacuated from her home, and hopes to still have one when it's over, but for now, she's doing her best to fulfill sample requests and answer questions remotely while living day to day not knowing where she'll lay her head each night. Serious? Oh yeah.
"But even Colleen wants to know about the grapes. I've been asking winemakers and viticulturists, and received a wide array of fascinating perspectives. A smoky bacon fat flavor may be interesting in some wines, but will this really do that?
"Most say no, unless things really get worse and the smoke hangs around for a long time. But after the coldest frost we've had in nearly 30 years, a near drought, and now this, you'll appreciate that many here on the North Coast are awaiting only the arrival of locusts.
"At Bonterra's McNab Ranch this week, standing on the valley floor, you couldn't see the hillsides that frame this most beautiful vineyard. But the senses were working just fine, including not just the smell of fire ... in the air, but the heavy thwumping of helicopters swooping low, heading north and west to fight inland fires.
"The most interesting comment I heard was this: the ash and soot in the air will inevitably land on the grapes, and winemakers, at least, might like to turn on the frost-protection overhead sprinklers, or fill up the spray wagons with water to mist and clean the grapes before harvesting them and bringing them into the winery for processing. But many likely can't or won't, because the heavy draw of the frosts combined with our near-drought means there's not a lot of water to spare.
"So stay tuned. This might really be a vintage to remember."
Thanks, Jim! We're all hoping this wild weather falls back under control.
Other experts, though, agree that it's not looking like a great California vintage. Cold winter and frosts led to late "bud break" in many vineyard regions, and now the persistent smoke haze may disrupt photosynthesis. And it's been reported that during wildfires in Australia in 2003, the effect of smoke and soot on the grapes imparted a noticeable and persistent "smoke taint." Some California producers are already looking to Australia's experience for wine-making guidance.
Interested in keeping track of the locations of California wildfires and the war to keep them contained? Bookmark the California Department of Forestry and Fire Protection's CAL FIRE page,
http://www.fire.ca.gov/index_incidents.php
As long as Jim Caudill and Brown-Forman's California properties were on my mind, I thought I'd salute the occasion with a taste of a wine from Bonterra Vineyards, which makes all its wines from organically grown grapes, many of them from biodynamic vineyards. My tasting notes are below.
Bonterra Vineyards 2006 Mendocino County Cabernet Sauvignon ($14.99)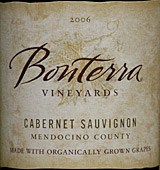 Clear, dark garnet with flashes of reddish-violet against the light. True, characteristic Cabernet aroma of "cassis" (blackcurrant liqueur) and black cherries, with a discreet note of vanilla in the background. On the palate it's juicy and ripe, cherries and a touch of berries shaped by lip-smacking acidity and soft but substantial tannins. It's predominantly Cabernet, but gains accents from an offbeat, non-Bordeaux blend of supporting players: 83 percent Cabernet Sauvignon, 6 percent Syrah, 6 percent Petite Sirah and the remainder a mix of Malbec, Zinfandel and Merlot. The grapes are sourced primarily from 11 vineyards, two of which are certified biodynamic. In this age of rising, blockbuster-style alcohol levels, it's relatively rational by North Coast standards at "only" 13.9 percent. (July 7, 2008)
FOOD MATCH: Cabernet Sauvignon's natural companions include beef and lamb and good Cheddar cheese. It was excellent with thick, locally produced pan-seared lamb chops with fresh rosemary.
VALUE: Holding the line against inflation, at least locally, this wine was two dollars more for the 2001 vintage purchased in 2004. It may be worth shopping around, as Wine-Searcher.com lists a range of U.S. retail prices from $10.99 to $21, depending on location. It also shows up at a UK online merchant at £100 for a case of six bottles.
WHEN TO DRINK: It's fruity and fresh and good for immediate consumption, but it's got the material to benefit from cellaring for five years or more.
WEB LINK:
The winery's informative Website has a short intro page about the Bonterra Cabernet Sauvignon here:
http://bonterra.com/wine_info.asp?winetype=cabernet2006
and a more detailed fact sheet in PDF format here:
http://bonterra.com/popup/cabernet2006.pdf
FIND THIS WINE ONLINE:
Find vendors and check prices for Bonterra Cabernet Sauvignon on Wine-Searcher.com:
http://www.wine-searcher.com/
find/Bonterra%2bCabernet/-/-/USD/A?referring_site=WLP

Talk About Wine Online
If you have questions, comments or ideas to share about today's article
or wine in general, you're always welcome to drop by our online WineLovers Discussion Group. This link will take you to the forum home page, where you can read discussions in all the forum sections:
http://www.wineloverspage.com/forum/village
Everyone is free to browse. If you'd like to post a comment, question or reply, you must register, but registration is free and easy. Do take care to register using your real name, or as a minimum, your real first name and last initial. Anonymous registrations are quietly discarded.
To contact me by E-mail, write wine@wineloverspage.com. I'll respond personally to the extent that time and volume permit.
PRINT OUT TODAY'S ARTICLE
Here's a simply formatted copy of today's Wine Advisor, designed to be printed out for your scrapbook or file or downloaded to your PDA or other wireless device.
http://www.wineloverspage.com/wineadvisor2/
2008/07/smoky_wine_on_the_way-print.html

This week on WineLoversPage.com
• Vino 101: Refresher course
Coinciding with our Wine Focus, Jorge Eduardo Castillo is talking about the wine he enjoys most on a really, really, really hot day: Sauvignon Blanc.
http://www.wineloverspage.com/vino101/sauvblanc08.phtml
• WebWineMan: Bordeaux on the Fly!
Writer Richard Fadeley recently returned from his annual pilgrimage to France. He offers a report on Bordeaux with a variety of tasting notes on Bordeaux of good quality and value.
http://www.wineloverspage.com/webwineman/bordeaux08.phtml
• WineLovers Discussion Group: How important is the "pourer"?
Does a bad experience with a rude or inexpert pourer at a winery tasting room decrease your enjoyment of that producer's wines? Join in this discussion in the WineLovers Discussion Group and tell us your exceptionally bad (or good) tasting room stories!
http://www.wineloverspage.com/forum/village/viewtopic.php?f=3&t=16671