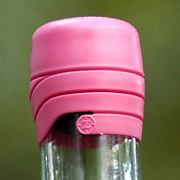 Zork!
You are standing in a small room. There is a table and two chairs here. On the table there is a wine bottle with a very odd stopper.
LOOK STOPPER
It is a pink plastic blob. It is attached to a plastic ribbon that circles the bottle neck three times.
PULL RIBBON
The ribbon unwinds and falls off. You are holding a wine bottle with a pink cap.
PULL CAP
The cap comes out with a soft "pop."
POUR WINE
Don't mind it I do!
Please pardon the parody, but it was an almost irresistible impulse upon my first encounter with a wacky new Australian wine-bottle closure called, well, Zork.
Zork, as any old hacker will know, was one of the first interactive computer games, dating back to the mainframe computers of the 1970s and quickly ported over to the early Apples and PCs, Commodores and Ataris. A simple, text-based adventure, it used terse commands to lead the player on a strange adventure through an underground labyrinth.
That's the old Zork. The new Zork, gaining popularity in Australia and now breaking out into the wine industry in the U.S. and elsewhere, is an offbeat new wine-bottle closure, put forward as yet another taint-free alternative to natural cork. The name was apparently based on its sound-alike rhyme with "cork" and, at least as far as the proprietors are telling, has no connection with the old computer game.
Billed as "the revolutionary wine closure that seals like a screw cap and pops like a cork," Zork works pretty much as described in the faux computer-game sequence above: Pull to snap loose and unwind the fettuccine-size plastic ribbon that holds it on, and you're left with a slightly bulging version of the familiar liquor-bottle "T-cork," but one made entirely of purportedly inert polyethelene plastic and aluminum foil, no tree bark.
Zork comes in bright colors, is easy to remove and just as easy to pop back in to a partly finished bottle, although in the Australian Pink Knot Rose featured in today's tasting, it had a disconcerting tendency to pop back out of the bottle after a few moments.
It's fun, requires no corkscrew, and it somewhat avoids the downscale image that still attends metal screwcaps, although its bright colors and obvious plastic construction might remain a disincentive to those who prefer a little gravitas in their wine. The manufacturers don't address cellaring, but given the iffy performance of other plastic synthetic wine-stoppers to date, and the roster of mostly light, early-drinking wines now being packaged under Zork, I'd be wary of its use in more ageworthy wines before a lot more data is in.
Still, there's something cheeky and fun about its in-your-face colors and peel-and-pop style. I'll have no worries about picking up modest wines under Zork, and you shouldn't either. I can almost guarantee that you won't be eaten by a grue.
WEB LINKS:
The Zork Website is stylish and a bit commercial, including video presentations demonstrating Zork and how to use it, plus some technical and sales information and lists of current wine-industry clients.
http://www.zork.com.au/index.html
Nostalgic for the original Zork I, Zork II and Zork III? The games are still available for free download from Infocom:
http://www.infocom-if.org/downloads/downloads.html
---
Winebuys.com: 99¢ FedEx on $99+ Orders!
Save 23%!
Verget du Sud 2005 Côtes du Luberon Rosé
Jean-Marie Guffens is here, there and everywhere in France - one of the new leaders not only in Burgundy, but now in the southern Rhône Valley. Verget du Sud (Verget of the South) is a relatively new label from Guffens, which he soon started after the purchase of the Chateau de Tourettes. His interest in the region led him to develop the du Sud label and his plan is to build a cellar in the town of Apt. Not to sit idle, Guffens plans to expand the label into Gigondas, Chateauneuf and Vacqueyras. As if he cares, Guffens' success has led many in France to label him an enfant terrible. Wine writer Andrew Jeffords said this: "Underneath his radically informal, wise-cracking, roll-up-smoking, almost gangster-like appearance lurks intense energy, an obsessive attention to detail and a formidable winemaking curiosity." Love him or hate him, ya' gotta give the guy a lot of respect because of groundbreaking wines like this tantalizing old-vine Rosé from du Sud.
This rosé is a classic, old-vine blend of 95% Syrah and 5% Grenache that never saw the inside of an oak barrel. It is a festival of flowers, a kaleidoscope of roses and orange zest. The flavors of fresh raspberries and cherries are ripe and juicy, with a hint of high-altitude Luberon freshness. I'll be enjoying this wine long into the last days of summer! Try it with a salade niçoise or a zesty pasta.
Retail $13
WinebuysPrice $7.99
http://www.winebuys.com/page/
buy-wine/prod/new-wines/RW-VERGLR-05%26qts=winelovers
Browse Wine from France
http://www.winebuys.com/page/
buy-wine/ctgy/french-wines%26qts=winelovers
Shop New Arrivals
http://www.winebuys.com/page/
buy-wine/ctgy/new-wines%26qts=winelovers
Shop All Wines
http://www.winebuys.com?qts=winelovers
• All wines always up to 50% off
• 100% Love-It-Or-Your-Money-Back-Guarantee
• Everyday $9.95 FedEx flat rate - any size order
---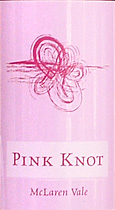 Pink Knot 2005 McLaren Vale Rose Wine ($10.99)
Once you've mastered the simple intricacies of the bright-pink Zork stopper, this Australian rose (they don't use the accented French "rosé") pours out a clear, bright pink, literally the color of a rose. Fresh and floral aromas mingle juicy strawberries and the heady scents of summer garden flowers. Juicy and fresh on the palate, it offers light strawberry flavors; its gentle sweetness is well balanced by crisp acidity. A little more sweet than a classic Provence rosé, it's refreshing nonetheless, and might make a good "bridge" wine for those looking to move beyond White Zinfandel. U.S. importer: Precept Brands, Seattle. (July 22, 2006)
FOOD MATCH: A natural for sipping by itself on a hot summer day, its fruit and light sweetness will work with dinner salads and lighter meats, poultry or fish. It was fine with natural pork chops braised with onions and fresh garden tomatoes.
VALUE: No complaints in the $10 range.
WHEN TO DRINK: Rosé benefits from being drunk up as soon as possible; enjoy this one this summer and fall, then wait for the 2006 rosés to arrive.
WEB LINK:
Here's the U.S. importer's page on the Davey Family Australian wines, Pink Knot, Red Knot and White Knot:
http://www.preceptbrands.com/wines/RedKnot.asp
To visit the Daveys' Red Knot Website, click here, and be prepared to affirm that you're at least 21:
http://redknotwine.com/
FIND THIS WINE ONLINE:
Find vendors and compare prices for Pink Knot on Wine-Searcher.com:
http://www.wine-searcher.com/find/Pink%2bKnot/-/-/USD/A?referring_site=WLP
---
TALK ABOUT WINE ONLINE:
To read and comment on today's column in our non-commercial WineLovers Discussion Group, click:
http://www.wineloverspage.com/forum/village/viewtopic.php?t=2364
Today's article is cross-posted in our Netscape WineLovers Community, where we also welcome comments and questions.
http://community.netscape.com/winelovers?nav=messages&tsn=1&tid=4636
To contact me by E-mail, write wine@wineloverspage.com. I'll respond personally to the extent that time and volume permit.
PRINT OUT TODAY'S ARTICLE
Here's a simply formatted copy of today's Wine Advisor, designed to be printed out for your scrapbook or file or downloaded to your PDA or other wireless device.
http://www.wineloverspage.com/wineadvisor1/print060724.html
---
The Connoisseurs' Series:
Two more outstanding reds from this elite wine club
As I reported last week, one of the exciting moments in my wine life comes when I pick up another monthly offering from the California Wine Club's limited-membership Connoisseurs' Series.
These wines invariably pull down 90-plus scores from the big-name critics. But more important, especially for those of us who aren't always well synchronized with you-know-who, these are wines that my old wine-judging pal Charlie Olken and his colleagues at Connoisseur's Guide magazine, along with the good folks at California Wine Club, have hand-selected as tops for quality and value.
To be frank, I'm not always in agreement with the "pointy" wines from Parker or Wine Spectator, but CG's Olken and California Wine Club's Bruce Boring haven't failed me yet. I trust their judgement to sort through the high-rated wines and select the bottles that I'll like.
Connoisseurs' Series members may choose to receive a package monthly, every other month or quarterly. Each shipment include two to four bottles of California's highest-rated wines, with detailed background information. Monthly shipments average $125-$175, including all shipping and handling. There's no membership charge, no long-term commitment (cancel any time), and every wine is guaranteed.
Following are my tasting reports on the latest shipment. If you'd like to join the club in time to enjoy them, act promptly. Visit http://www.cawineclub.com/connseries or call The California Wine Club at 1-800-777-4443. Feel free to tell them that I sent you ... and, if you join, please don't hesitate to contact me by E-mail and tell me what you think.
---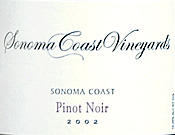 Sonoma Coast Vineyards 2002 Sonoma Coast Pinot Noir ($50 retail, $44 per bottle for half or full case orders from Connoisseurs' Series)

Sonoma Coast, a cool, coastal stretch west of Sonoma's Russian River Valley, is gaining attention as prime Pinot Noir territory, and wine makers John and Barb Drady make a strong case for it with this dark garnet wine. Almost blackish at the center, it's on the dark side for a Pinot Noir. Deep and brooding, if offers up black and red plums and cherries and warm brown spices on the nose and palate. It's intense but textured on the palate, distinctly New World in character but no monolith; mouth-filling and structured, fruit and spice are built on a firm base of acidity and smooth tannins, and it carries its 14.28% alcohol well. As Pinot should be, it's food-friendly; it was outstanding with a dish made to match, a spice-rubbed, pan-roasted duck breast. (Watch Thursday's Wine Advisor FoodLetter for the recipe.) Sonoma Coast made only 715 cases of this vintage. Here's a direct link to the winery Website: www.sonomacoastvineyards.com (July 23, 2006)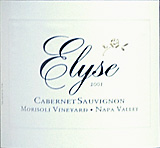 Elyse 2001 Morisoli Vineyard Napa Valley Cabernet Sauvignon ($65 retail, $56 per bottle for half or full case orders from Connoisseurs' Series)
Grown on Napa's fabled Rutherford Bench, this is a very dark garnet wine. Lovely, intense aromas, plums and pomegranates and juicy currants, appealing and complex, add a subtle sense of earth that distinguishes the wine. Remarkable on the palate, it boasts the smooth, almost velvety mouthfeel that I associate with a great Burgundy, but the firm, structural acids and tannins and the flavor profile are all Cabernet. As a fine Cabernet should, it made a marvelous match with a rare, natural rib eye steak. Here's the winery Website: http://www.elysewinery.com/ (July 20, 2006)
---
This week on WineLoversPage.com
Some highlights of recent articles on WineLoversPage.com that I hope you'll enjoy:
• Vino 101: Grape Expectations (Part Two)
Wine Educator Jorge Castillo continues his series of wine-server training sessions with a useful, broad overview of pairing red wines with food in Grape Expectations (Part Two).
http://www.wineloverspage.com/vino101/varieties2.phtml
• Schaefer on Wine: Think pink
In a heat wave, few will turn to powerful Zinfandel or even a heavy-duty Cabernet. Under such extreme conditions, columnist Dennis Schaefer has two words for us: "Think Pink."
http://www.wineloverspage.com/schaefer/rose06.phtml
• QPRwines: 2002-2005 Sauvignon Blanc
When we compare all recent vintages by score and price, the 2004 vintage has three "Great Value" wines while the 2003 vintage has two. There are no "Great Value" wines in the 2002 nor 2005 vintages. Neil Monnens' QPRwines provides reports on 541 Sauvignon Blancs from around the world.
http://www.wineloverspage.com/qpr/qprwines.phtml
• Hot topics in our WineLovers Discussion Groups
Our WineLovers' Discussion Groups are the best places online to ask wine questions and participate in the civil and intelligent discussion of good things to eat and drink. Our WineLovers Discussion Group (WLDG) is the Internet's original wine forum, a non-commercial venue intended for wine-related conversations that range from apprentice-level to wine professionals. Our WineLovers Community on the Netscape/CompuServe service is dedicated to wine education, a friendly place to get quick answers to your questions about wine, beer, spirits and all good things to drink.
Is "earthy" now a negative wine-tasting term?
In another periodic display of unintentional self-parody, a Wine Spectator writer appears to be using "earthy" as a synonym for "unpleasant." Our mineral- and terroir-loving participants are having a little fun with this, while trying to stay open-minded, in this WineLovers Discussion Group topic. Come on in and join the fun!
http://www.wineloverspage.com/forum/village/viewtopic.php?t=2308
Poll: Buying wine online?
Now that more than a year has passed since the U.S. Supreme Court's decision on shipping wine direct to consumers across state lines, many states have passed new legislation bringing their rules into compliance. Some, like New York, have opened the doors to consumer freedom of choice; others, under intense lobbying from wholesale business interests, have slammed the door shut. This week's Netscape WineLovers Community poll seeks to discern how much the online wine-buying scene has shifted. Please take a moment to cast a vote, no matter where in the world you live.
http://community.netscape.com/winelovers?nav=messages&tsn=1&tid=4634
---
Last Week's Wine Advisor Index
The Wine Advisor's daily edition is usually distributed on Mondays, Wednesdays and Fridays (and, for those who subscribe, the FoodLetter on Thursdays). Here's the index to last week's columns:
• Wine vocabulary - Federspiel (July 21, 2006)
http://www.wineloverspage.com/wineadvisor1/tswa060721.phtml
• Bordeaux 2005 - Here we go again! (July 19, 2006)
http://www.wineloverspage.com/wineadvisor1/tswa060719.phtml
• Too darn hot (July 17, 2006)
http://www.wineloverspage.com/wineadvisor1/tswa060717.phtml
• Complete 30 Second Wine Advisor archive:
http://www.wineloverspage.com/wineadvisor1/thelist.shtml
• Wine Advisor FoodLetter: Baby artichokes (July 20, 2006)
http://www.wineloverspage.com/wineadvisor1/tsfl060720.phtml
• Wine Advisor Foodletter archive:
http://www.wineloverspage.com/wineadvisor1/foodlist.phtml
---
SUBSCRIBE:
• WineLoversPage.com RSS Feed (free)
• 30 Second Wine Advisor, daily or weekly (free)
• Wine Advisor FoodLetter, Thursdays (free)
• Wine Advisor Premium Edition, alternate Tuesdays ($24/year)

ARCHIVES:
For all past editions, click here

CONTACT US
E-mail: wine@wineloverspage.com

SPONSORSHIP OPPORTUNITIES:
For information, E-mail wine@wineloverspage.com

---