Large wineries dominate
For those of us who admire the work of small-farm wineries and artisanal producers and enjoy nothing more than discovering a tiny one-person winery housed in a barn or garage and producing a few barrels of wine every year, here's a cold splash of reality: These hand-made wines that we love represent only a drop in the world's ocean of wine.
Virtually all the wine made in the world every year comes from major, industrial producers. Considering large-scale wineries in the United States alone, an extensive recent study by the trade publication Wine Business Monthly is instructive. It was published earlier this year, but I just ran across it recently and thought it was worth sharing with you today. (A link to the full article online appears below.)
Wine Business Monthly compiled a list of the 30 largest U.S. wine producers, published them in order, and featured interviews with principals of each, including their opinions about the state and future of the wine industry.
The top three producers alone sold well over two-thirds of all the wine sold in the U.S. the previous year: Giant E&J Gallo led all the rest with 75 million 12-bottle cases, with nearly-as-gigantic conglomerate Constellation Brands catching up with 66 million cases, and San Francisco's The Wine Group following with a "mere" 25 million cases.
Wine Business Monthly reports that the top 30 producers make fully 90 percent of all the wine sold in the U.S. In fact, by my calculations, the magazine's totals for these producers alone add up to 240 million cases a year, which is actually a bit more than the U.S. Treasury Department's report of 237 million cases produced in the U.S. in 2001. This discrepancy is apparently explained by the presence of some imported brands within the U.S. producers' portfolios, like Gallo's big-selling Ecco Domani brand (from Italy), Brown-Forman's Bolla (Italy) and the wine feature in today's tasting report below, Kendall-Jackson's Calina from Chile.

If you're at all interested in wine industry facts and figures, I think you'll enjoy browsing the full Wine Business Monthly report on the "Top 30," which is online here:
http://winebusiness.com/specialsection/Top30USWineCompanies.cfm
For your information, here's the magazine's listing of top producers, in order by cases sold during 2003:
E&J Gallo (75 million total cases)
Constellation Brands (66 million)
The Wine Group (25 million)
Beringer Blass Wine Estates (11 million)
Bronco Wine Company (10 million)
Robert Mondavi Winery (9.7 million)
Trinchero Family Estates (8.3 million)
Brown-Forman (6 million)
Kendall-Jackson (5 million)
Diageo Chateau & Estates (3.25 million)
Stimson Lane (3.2 million)
Allied Domecq Wines USA (2.5 million)
Heck Estates (2.1 million)
Delicato Vineyards (1.5 million)
Golden State Vintners (1.3 million)
Phillips-Hogue (1.2 million)
C. Mondavi & Sons (1 million)
Peak Wines International (700,000)
Ironstone Vineyards (700,000)
J. Lohr Winery (700,000)
Chalone Wine Group (670,000)
Don Sebastiani & Sons (640,000)
Bogle Vineyards (600,000)
Rodney Strong (500,000)
Barefoot Cellars (500,000)
San Antonio Winery (500,000)
Hess Collection (450,000)
Round Hill (350,000)
Domaine Chandon (320,000)
Wente Vineyards (300,000)
TALK ABOUT WINE ONLINE
If you have questions or would like to comment about today's topic (or other wine-related issues), you'll find a round-table online discussion about this article in our interactive Wine Lovers' Discussion Group, where you're always welcome to join in the conversations about wine.
http://www.myspeakerscorner.com/forum/index.phtml?fn=1&tid=51467&mid=435910

If you prefer to comment privately, feel free to send me E-mail at wine@wineloverspage.com. I'll respond personally to the extent that time and volume permit.
---
For today's tasting report, let's turn to the ninth-largest producer - Kendall-Jackson Wine Estates - for this modest but quaffable red wine from Calina, one of the California conglomerate's Chilean properties. Carmenère, as you may recall from our Wine Tasting 101 feature this past March, is an ancient grape variety of Bordeaux, no longer produced there but recently rediscovered in Chile, where it had been mistakenly identified as Merlot for generations. It's Merlot-like, but boasts a character all its own.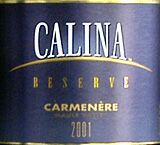 Calina 2001 Maule Valley (Chile) Carmenère Reserve ($7.99)
This wine is inky dark-purple in color, almost black in the glass. Warm, plummy fruit aromas are surrounded with smoky, toasty scents of oak. Fresh black plums and blueberries rise up with swirling and carry over intact on the palate, where ripe, juicy fruit is joined by lemon-squirt acidity, with spicy oak as an accent. Warm and fruity, it's an approachable wine, frankly made more in the style of an international-style "glass of red" than a wine that speaks of its land or grape of origin. But it's nicely structured and balanced, enjoyable to drink, and it's hard to quibble with that for $7.99. U.S. importer: Kendall-Jackson Wine Estates Ltd., Santa Rosa, Calif. (June 6, 2004)
FOOD MATCH: Fine with a turkey thigh long and gently grilled in warm hickory smoke, Texas barbecue-style.
VALUE: As noted, it's more a "glass of red" than a wine of varietal or territorial interest, but shows excellent balance and structure that raises it well above its low-end price.
WHEN TO DRINK: May not evolve in the cellar but should keep for another year or two.
WEB LINK: The Calina Website, operated by Kendall-Jackson, is online in English:
http://www.calina.com
FIND THIS WINE ONLINE: Very widely distributed in the U.S., Calina should be easy to find in local retail shops. See also the Website (linked above) or check prices on Wine-Searcher.com,
http://www.wine-searcher.com/find/Calina+Carmenere/-/-/USD/A?referring_site=WLP

---
The California Wine Club
Red Wine Only Sale
SAVE up to 51 percent off some of California's most coveted and highly-rated red wines! Choose from a selection of cellar-worthy Cabernet's, BBQ ready Zinfandels, dinner-perfect Merlots and much more! Click here to view the full list of red wines on sale for a limited time!
http://www.cawineclub.com/store/wine_cellar
Sale ends Friday! (June 11, 2004.) Half, full and mixed cases are okay. All prices F.O.B. Ventura, CA.
Need a tasteful gift? The California Wine Club is America's most trusted wine service ... send a gift you know they will love! Special discounts on gifts of 3, 6, 9 and 12 months. Click here for more information or call 1-800-777-4443.
---
Wine Lovers' Voting Booth:
"Travel shock"
Does wine suffer "shock" in shipping or travel? Although experts may debate about the exact physical process that occurs, few wine enthusiasts would disagree that wine just off the export boat or newly arrived by package express is best given a little time to rest.
But how long must we wait before enjoying our treasures? ... For this week's Wine Lovers' Voting Booth, we'd like to measure the conventional wisdom, as we ask how long you wait to open wine after shipping or travel. To cast your ballot, click to
http://www.wineloverspage.com/votebooth/index.shtml.
---
This week on WineLoversPage.com
Here are links to some of our recently published articles that I think you'll enjoy:
• Reports from our Readers: Wine, opera and art entwined

Valentino Monticello has three passions - wine, opera and art - and these passions have been intertwined throughout his life. He spent the bulk of his working life as a sommelier in England, finishing his career as the head sommelier at Harry's Bar, one of London's finer Italian restaurants. Like many people who are fascinated by wine, Valentino began collecting labels, and more labels. He first covered the wall of an old people's home. Then the novel thought occurred to him to use wine labels to make collages that tied his great love of opera with his love of wine. Wine lover Robert Helms profiles Monticello and his art, with photos of some of his work:
http://www.wineloverspage.com/reports/valentino.phtml.
• Wine Lovers' Discussion Group: Your tastes in wine and beer
Many wine lovers also appreciate other fine beverages, including quality beers and spirits. Frequent Wine Lovers' Discussion Group contributor Paul B., of Toronto, recently invited readers whether they see any consistent pattern between the styles of wines that they prefer, and the beers that they like. You're invited to read the discussion, and join in:
http://www.myspeakerscorner.com/forum/index.phtml?fn=1&tid=51445&mid=435715
---
Last Week's Wine Advisor Index
The Wine Advisor's daily edition is usually distributed on Mondays, Wednesdays and Fridays (and, for those who subscribe, the FoodLetter on Thursdays). Here's the index to last week's columns:
• Supreme wine decision (June 4, 2004)
http://www.wineloverspage.com/wineadvisor1/tswa040604.phtml
• Two affordable reds (June 2, 2004)
http://www.wineloverspage.com/wineadvisor1/tswa040602.phtml
• Burgundy's summer of 2003 (May 31, 2004)
http://www.wineloverspage.com/wineadvisor1/tswa040531.phtml
• Complete 30 Second Wine Advisor archive:
http://www.wineloverspage.com/wineadvisor1/thelist.shtml
• Wine Advisor FoodLetter: Crab cakes revisited (June 3, 2004)
http://www.wineloverspage.com/wineadvisor1/tsfl040603.phtml
• Wine Advisor Foodletter archive:
http://www.wineloverspage.com/wineadvisor1/foodlist.phtml
---
SUBSCRIBE:
• 30 Second Wine Advisor, daily or weekly (free)
• Wine Advisor FoodLetter, Thursdays (free)
• Wine Advisor Premium Edition, alternate Tuesdays ($24/year)

ARCHIVES:
For all past editions, click here

CONTACT US
E-mail: wine@wineloverspage.com

SPONSORSHIP OPPORTUNITIES:
For information, E-mail wine@wineloverspage.com

---