Two excellent whites
Today we're taking a wine-glass tour to opposite ends of the earth for a taste of two excellent white wines worth a special effort to find: The 2003 vintage of Cloudy Bay Sauvignon Blanc, the winery that put New Zealand on the world's wine map; and the 1996 white from Chateau Musar, the small but sought-after producer that did the same for war-torn Lebanon.
Let's run through a quick background briefing on both wines, then move briskly along to the tasting reports.
Cloudy Bay
Although New Zealand's Maori name is "Land of the Long White Cloud," the geographical Cloudy Bay is named not for the sky above but the water below, which purportedly impressed the explorer Capt. James Cook with its cloudiness when he first sailed into it in 1770.
The winery was founded in 1985, and by the following year was already gaining an international reputation for New Zealand wine, which to that point had been scantily available and little-known elsewhere. Critical acclaim quickly turned it into a near-"cult" wine, particularly in Britain, where each new vintage quickly flies off the shelves. In the U.S., too, demand has made it perhaps the priciest New Zealand Sauvignon Blanc, selling for more than $20 against competitors at little more than half its price.
It justifies its acclaim by standing, most years, as a "benchmark" of the Marlborough Sauvignon Blanc style, an exuberant and bold-flavored white wine laden with citrus and green-chile flavors.
Chateau Musar
Lebanon's wine industry may be tiny, but it traces its heritage all the way back to the ancient Phoenicians, who may have preceded even the Greeks and Romans as prime movers in introducing grapes and wine to Western Europe.
A survivor of the war and civil unrest that wracked Lebanon in the 1980s, Chateau Musar - like Cloudy Bay - has built an international following with its memorable wines. The property was built in 1930 by Gaston Hochar in a 1700s castle in Ghazir, near Beirut, and is now run by his grandsons Serge and Ronald Hochar.
Chateau Musar's red wine, a blend of Cabernet Sauvignon and Rhone varieties, is a favorite, an ageworthy blend that some liken to Bordeaux but that strikes me as more of a "Mediterranean" wine that evokes something of the Rhone and something of Italy.
Chateau Musar white is even more unusual and difficult to find, and I'm indebted to my Lexington, Ky., pal Bob H. for his persistence in locating a few bottles through the local distributor. It is made from two indigenous Lebanese grape varieties, Obaideh and Merwah (which the importer likens to Chardonnay and Semillon, respectively), aged in oak for six months and in bottles for years before release. The 1997 appears to be the youngest Chateau Musar white currently available, and the 1996 vintage that I tasted is still on the market,
It is one of the most amazingly complex white wines I have ever tasted, a symphony of white stone fruit and delicate nutlike flavors, herbs and spice and well-balanced fruit and acidity that's almost as delightful to sniff as it is to sip.
(Musar also makes a range of less expensive wines - see the winery and importer Websites linked below for more information.)
HAVE YOU TRIED THESE WINES?
If you've tried Cloudy Bay or Musar - or if you wish you had - you're invited to join in an interactive, international online discussion on our Wine Lovers' Discussion Group, where today's article is featured at
http://www.myspeakerscorner.com/forum/index.phtml?fn=1&tid=47648&mid=400549

If you prefer to comment privately, feel free to send me E-mail at wine@wineloverspage.com. I'm sorry that the overwhelming amount of mail I receive makes it tough to respond personally every time, but I do try to get back to as many as I can.
---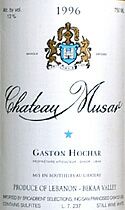 Chateau Musar 1996 Bekaa Valley (Lebanon) White Wine ($30)
This clear, golden wine ranks among the most complex and intriguing white wines I have ever tasted. In spite of the wine's relative age, its oxidative aromas are light and delicate and not at all geriatric: Almonds and hazelnuts with no hint of the walnutty Sherrylike quality of an over-the-hill white. Mixed nuts are joined by white stone fruits and banana oil in the flavor; fresh herbs, too, thyme and tarragon, gradually give way to clovey brown spice as the wine airs in the glass, with herbs and spice and floral white fruit in a remarkably long finish that seems to last for minutes. Full-bodied and ripe, the wine is not overly tart, but there's plenty of fresh-fruit acidity to provide structure. A delight. U. S. importer: Broadbent Selections Inc., San Francisco. (Jan. 7, 2004)
FOOD MATCH: A wine of this depth can be enjoyed alone, but it's delicious with food, calling for hearty and relatively robust fare. At our table it found a delicious if offbeat match with spicy, black-peppery leftover chicken from a local Senegalese spot.
VALUE: This bottle came from a friend who had a retailer special-order it through the state's distributor; he said it cost under $20, which would make it an exceptional bargain. Web searching suggests that it normally sells in the $30 range, still a reasonable price for a white wine of this quality.
WHEN TO DRINK: Although its oxidative character suggests full maturity, the winery Website reports that the wine "will age for many, many years."
WEB LINK: Chateau Musar's Website is available in French and English. The English-language pages start here:
http://www.chateaumusar.com.lb/start.htm

The U.S. importer has an informative page about Musar at
http://www.broadbent-wines.com/wines/musar.html
FIND THIS WINE ONLINE: Locate vendors for Chateau Musar on Wine-Searcher.com:
http://www.wine-searcher.com/find/Chateau-Musar/-/-/USD/A?referring_site=WLP

---
California Wine Club
The first month is free with The California Wine Club!
It's a New Year, which means new resolutions to break and new wines to try! So if you've not yet joined The California Wine Club and not yet tried their selection of hard-to-find, award-winning wines there's no better time than now. Join now and your first month is on them ... that's right, your first month is free.
There are certain restrictions, such as age, a valid credit card and they would like you to stay for a minimum of three paid months. Your shipments can arrive monthly, bi-monthly or even quarterly. A schedule that flexible would fit it to any New Year's resolution!
Just $32.95 per month plus shipping. Each two-bottle shipment also comes with an informative - yet entertaining - 8-page newsletter, Uncorked. Call 1-800-777-4443 or click to
http://www.cawineclub.com

Collector or Connoisseur? Ask about their Signature Series program ... they'll give you three bottles for the price of two in your first shipment!
---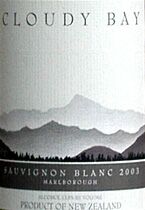 Cloudy Bay 2003 Marlborough (New Zealand) Sauvignon Blanc ($21)
Straw-colored and rather pale, it shows a golden glint against the light. Citrus and melon aromas predominate in a fresh and appealing aroma and carry over cleanly into a ripe, juicy and tart flavor, bursting with snappy white fruit and crisp acidity. The signature "jalapeno" and "green chile pepper" Cloudy Bay character, although present as a grace note, seems much less forward than usual, making for a wine that's perhaps less exuberant than usual but correspondingly more balanced. Mouth-wateringly tart lemon-lime persists in a finish as long and shimmering as a distant bell gradually fading into silence. U. S. importer: Clicquot Inc., NYC. (Jan. 11, 2004)
FOOD MATCH: Fine with a meatless match contrived to meet the wine's herbaceous flavors: Fresh broccoli, celery and onions blended into a creamy pasta sauce and finished with a bit of butter and lime.
VALUE: Based on its name and sought-after status, Cloudy Bay generally sets the top price point for New Zealand Sauvignon Blanc. I always buy one when the new vintage arrives, but when I go back for more, I'll troll the shelves for its less-pricey competitors.
WHEN TO DRINK: I'm inclined to drink this (and all Sauvignon Blancs) young and fresh; but see the links below to Sue Courtney's article and the related Wine Lovers' Discussion Group topic for more opinions on older Cloudy Bay.
WEB LINK: Here is the Cloudy Bay Website:
http://www.cloudybay.co.nz/home_fr.html

New Zealand wine writer Sue Courtney, a frequent contributor to WineLoversPage.com, has an excellent essay about Cloudy Bay, and tasting notes from 2000 back to 1989, on our Website at
http://www.wineloverspage.com/nz/cloudybay.shtml
FIND THIS WINE ONLINE: Find sources and compare prices of Cloudy Bay at Wine-Searcher.com:
http://www.wine-searcher.com/find/Cloudy-Bay/-/-/USD/A?referring_site=WLP

---
Wine Lovers' Voting Booth: What's your wine-list strategy?
Dining in a fancy restaurant can be a frustrating experience for the budget-conscious wine lover. While an excellent restaurant's cellar may offer rare treasures to tempt our palates, a look at the wine list often brings a cold splash of financial reality.
For this week's Wine Lovers' Voting Booth, we'd like to know how you cope with this challenge, as we ask, "What is your wine-list strategy?"
To cast your ballot, click to the Voting Booth,
http://www.wineloverspage.com/votebooth/index.shtml
---
Support WineLoversPage.com and the 30 Second Wine Advisor
A thought for the New Year: If you're in the wine business, there is no quicker, better or more efficient way to deliver a wine-related message to wine lovers around the world than an advertising "sponsorship" on WineLoversPage.com.
From a quick, simple text message in The 30 Second Wine Advisor to Web "banner" advertising or even an intense, saturation campaign reaching millions of wine-savvy readers, WineLoversPage.com offers programs to meet the needs of wine businesses both large and small, with rates and effectiveness that the competition can't match.
For more information, write me today at wine@wineloverspage.com.
---
This week on WineLoversPage.com
Here are links to some of our recently published articles and features that I hope you'll enjoy:
• Wine Lovers' Discussion Group: Older Cloudy Bays
Following up on today's tasting report, you might be interested in a Wine Lovers' Discussion Group topic in which I asked opinions about whether a couple of older Cloudy Bay Sauvignon Blancs that have been languishing on a wine rack for several years are likely to have improved, deteriorated or stayed the same. To read the responses, and add your own, click to the topic "Older Cloudy Bays: Drink or hold or dump?" at
http://www.myspeakerscorner.com/forum/index.phtml?fn=1&tid=47548&mid=399198
---
Last Week's Wine Advisor Index
The Wine Advisor's daily edition is usually distributed on Mondays, Wednesdays and Fridays (and, for those who subscribe, the FoodLetter on Thursdays). Here's the index to last week's columns:
• Introducing Burgundy: Cotes-de-Nuits (Jan. 9, 2004, 2004)
http://www.wineloverspage.com/wineadvisor1/tswa040109.phtml
• Two good cheap wines (Jan. 7, 2004)
http://www.wineloverspage.com/wineadvisor1/tswa040107.phtml
• My best wine values of 2003 (Jan. 5, 2004)
http://www.wineloverspage.com/wineadvisor1/tswa040105.phtml
• Complete 30 Second Wine Advisor archive:
http://www.wineloverspage.com/wineadvisor1/thelist.shtml
• Wine Advisor FoodLetter: True blue (Jan. 8, 2004)
http://www.wineloverspage.com/wineadvisor1/tsfl040108.phtml
• Wine Advisor Foodletter archive:
http://www.wineloverspage.com/wineadvisor1/foodlist.phtml
---