Dining out Down Under
It's hard to pick up an airline magazine or gourmet journal these days without running into glowing articles about the dining scene in Sydney and Melbourne, celebrating such upscale eateries as Tetsuya's, Rockpool, Selkirks and Forty One. And there's no question that these world-class dining rooms in these sophisticated cities compete on an even scale with the top spots in New York, London, San Francisco and other capitals of world dining.
But during my recent visit, neither my budget nor my preferences inspired me to follow in the footsteps of all the food writers who've already blazed those trails. Instead, during my stay in Australia I learned to my delight that fine, if much less well-known, fine-dining venues are to be found in small towns and country villages where you might be more likely to expect burgers and fries than upscale Pacific Rim cuisine.
From a North American standpoint, this is not a trivial matter. With a few rare and celebrated exceptions like The Inn at Little Washington in Virginia, "urbane" and "urban" tend to go hand in hand in the United States. Outside ski-country and resort areas and the occasional barbecue, rural ethnic or down-home cooking experience, few foodies seek culinary satisfaction away from the nation's larger cities.
The first signal that Australia might be different came at Lilianfels Blue Mountains, a very fine hotel near Katoomba, New South Wales (a property of the international Orient-Express Hotels chain), where the Sydney International Wine Competition judges were put up for the duration. Although briefly operating without an executive chef, the Lilianfels dining room's standard bill of fare managed to keep an international panel of critical wine judges fully satisfied night after night with simple but stylish dishes such as seared scallops atop creamy barlotti beans with lightly sauteed rocket (arugula) greens and a swash of thick, sweet aged balsamic vinegar; a stunningly simple vegetarian pasta dish of potato gnocchi tossed with earthy gorgonzola, crisp walnut pieces and fresh asparagus; a hearty starter that made me wonder whether I was in Australia or Provence, a pizza-like pissaladiere Nicoise loaded with fresh tomato slices and onions garnished with Provence olives, anchovies and oregano; and an haute cuisine dish that might have graced a Parisian table, fresh ocean trout baked in an eggy brioche wrapper on fresh English spinach and mushroom duxelles on a Champagne beurre blanc.
But that was only the beginning. Venturing out from the hotel for the occasional change of pace, we found not one but two exceptional and, well, "urbane" eateries in the tiny village of Blackheath, a 20-minute drive around the edge of the Blue Mountains from the hotel.
At Ashcroft's, a small but friendly spot on the village main street where longtime chefs Corinne Evatt and Mary-Jane Craig preside, a tangy-spicy Madagascar pepper sauce turned a simple rare steak into a appetizing Australasian "fusion" dish without making it too fiery to go with wine. Later in the week, it was a long lunch at Vulcan, just down the block, where Chef Philip Searle, once the guru of the popular Possums restaurant in Adelaide, has come out of retirement with such treats as a garlicky glazed duck sausage on a bed of roasted beetroot, an appetizer dish chosen as a main course.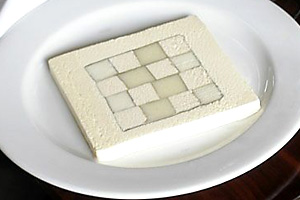 Searle's signature "chequerboard" ice-cream dessert was amazing: It's a simple square of creamy, pale-gold vanilla ice cream inset with a neat checkerboard, er, chequerboard made of inlaid squares cf pale-green lemon sorbet and pale-gold pineapple sorbet, all outlined with a thin, black, anise-scented border. It's built, it seems, by painting a thin wash of melted licorice on square "logs" of sorbet and ice cream that are then laid carefully into a mold and frozen hard before being sliced into neat squares. It's a stunning presentation, requiring no "bam!" of powdered sugar or drizzle of fruit coulis to make it a work of culinary art; but it's not just a feast for the eyes: The flavors and textures work together remarkably well. It's pictured above in our HTML/graphics edition, and a photo is available online in the archived edition at
http://www.wineloverspage.com/wineadvisor1/tsfl031016.html
Blackheath was by no means the end of my calorific voyage across Southeastern Australia. Melbourne and environs brought more rural-fine-dining delights, such as the sleek, sophisticated dining room (open for lunch only, except for private groups) at the Pettavel Winery and Restaurant in the countryside beyond Geelong, where dishes of quail ravioli with scallions and a duck confit with Swiss-style rosti potatoes, fresh spinach and roasted garlic wowed us with quality preparation and eye-catching presentation.
Perhaps the most spectacular modern Australian restaurant experience of all, though, came at Kirwan's Bridge, the lakeside restaurant operated by the winery of the same name outside the village of Nagambie, Victoria. The bill of fare was loaded with creative dishes best described as Pacific Rim from the Australian side, an eclectic cuisine not entirely dissimilar to U.S. West Coast Pacific Rim but with a much more distinct Southeast Asian flavor. I substituted two starters that both reminded me of Napa's iconic French Laundry: A trio of small plates called "three ways of duck," featuring a succulent Szechwan smoked duck and litchee salad, a dim-sum style steamed bun with a barbecued-duck center, and featherweight duck-stuffed dumplings; followed by a symphony of flavors and textures in the form of a chile-pepper, caramelized slice of pork belly garnished with pork-stuffed baby squid on a bed of egg noodles and celery leaves.
Somewhere around this point I started finding it difficult to button my trousers and began craving simple fare ... and Melbourne responded nicely during my last few days in the country, offering an intriguing collection of inexpensive Asian eateries including Saigon Rose, a simple yet stylish spot in the city's Vietnamese community along Victoria Street, and a Thai noodle shop and a decidedly modest Hong Kong diner in Chinatown.
I've come home full of ideas for dishes, and I hope you've picked up a concept or two from these brief descriptions as well. Next week I'll return to recipes, perhaps something inspired by Australian fusion.
WEB LINKS:
For more about some of the restaurants mentioned:
• Lilianfels Blue Mountains
http://www.lilianfels.com.au/
• Ashcroft's BYO
http://www.ashcrofts.com/index.html
• Vulcan's doesn't seem to have a Website, but here's a long article in a good Australian restaurant site about Chef Phillip Searle:
http://www.miettas.com/chefs/greatauschefs/searle99.html
• Here's the restaurant page on the Pettavel Winery Website:
http://www.pettavel.com/pages/restaurant.html
• The Kirwan's Bridge winery Website is surprisingly reticent about the restaurant operation, but provides good information about the winery and its environment:
http://www.kirwansbridgewines.com.au/
Discuss this recipe in our online forum:
Finally, if you have questions, comments or ideas to share about this article or food and cookery in general, you're welcome to drop by our Food Lovers' Discussion Group, where I've posted this article as a new topic, "FoodLetter: Dining out Down Under":
http://www.myspeakerscorner.com/forum/index.phtml?fn=2&tid=45510&mid=381853
Click the REPLY button on the forum page to post a comment or response. (If your E-mail software broke this long link in half, take care to paste it all back into one line before you enter it in your Web browser.)
---
Let us hear from you!
If you have suggestions or comments about The 30 Second Wine Advisor's FoodLetter, or if you would like to suggest a topic for a coming edition and recipe, please drop me a note at wine@wineloverspage.com. I really enjoy hearing from you, and I try to give a personal reply to all mail if I possibly can.
Of course you also have a standing invitation to participate in our interactive Food Lovers' Discussion Group. To participate in this friendly online community, simply click to
http://www.wineloverspage.com/forum/fldg
and feel free to reply to any topic or start a new one.
---
Last Week's FoodLetter and Archives
• Last week's Wine Advisor Foodletter: Lemon roasted potatoes (Sept. 18)
http://www.wineloverspage.com/wineadvisor/tsfl030918.phtml
• Wine Advisor Foodletter archive:
http://www.wineloverspage.com/wineadvisor/foodlist.phtml
• 30 Second Wine Advisor archive:
http://www.wineloverspage.com/wineadvisor/thelist.shtml
---