Winning entries in the Sideways DVD contest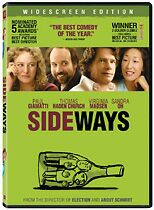 Click here or click the image above to purchase Sideways from Amazon.com for $19.49, a 35 percent saving.
Many thanks to everyone who took the time to submit entries in our
Sideways
DVD contest. It took a while to sort through them all, as we eventually received more than 250 entries from more than 20 countries, including many in the U.S. and Canada, Great Britain and Australia and all over Europe, with some submissions coming from as far off as India, China and Vietnam.
Your entries displayed a great deal of creativity, and it wasn't easy to narrow them down to just 10 winners ... but alas, that's how many DVDs we had to give away. Many thanks to Ginger Nance with Buzztone in Los Angeles, the DVD distributor, for contributing the DVDs and handling fulfillment; and to the crew of volunteers who helped me work through the entries and reality-checked my decisions. And of course to all of you who entered.
Here are the winning entries. I hope you enjoy them all; and again, I can't too strongly emphasize how close the competition was. If yours didn't quite make the cut, you can be assured that every submission was worthy, and the decisions were close - in many cases, razor-close.
Entries are listed in the order received. Copyright remains with the original authors, and these works are reproduced here with their permission.

---
Haiku for Wine Lovers
"Sideways" DVD
Free? How fortunate I am
To be a wine geek.
Difficult to grow,
Not too hot and not too cold…
Pinot Noir's fussy!
Chardonnay? No thanks.
Hubby and I are tired of
Wine that tastes like oak.
Pinot Noir, a fad
Yet also a classic grape.
Hey, tastes like cherries!
Snobby waiter asks,
"Which vintage do you prefer?"
Oops, left chart at home.
Why do the French make
Such great wine yet market it
So poorly? Baffling.
Unexpected frost
Panics Pinot Noir lovers.
Loud weeping is heard.
Susan Stadler, Montana
---
Grape Gripe
Fully devoted to the grape...
My poor lonely heart sings...
Replace my blood with Pinot Noir,
So I may salivate Shiraz...
Redden my cheeks with Chianti..
Soften my lips with a rich Sangria ...
As I sail in the juices of a rich Port...
Gently I fold my lids over my eyes...
In a soft kiss to heaven...
Are the stars grapes of the immortal?
I dream of riding down a star,
Parachuting from a cloud,
To land safely in a tub of the vines...
I have been plucked from a vine as well,
I say to the grape, my sister, my love, my desire...
as I unwind the umbilical cord from the fruit,
dust off the chalky soil
caress it in my palm as a newborn....
and kiss it before tasting
Rich, sweet, juice bursting from my bones....
I would swim across the ocean of time...
To bathe in a rushing wine-fall of Cabernet Sauvignon.
Please, please, please..... send me Sideways. I will stand upside down to wait for it.
Vidya Shaker, Wine Poet & Vinoism devotee, Michigan.
---
"Watching Sideways On An April Evening"
with apologies to Mr. Frost
Whose wine this is I think I know,
It comes from Santa Barbaro.
I cannot watch this film with beer
So I must have a fine merlot.
For this I've waited 'bout a year.
My glass and "Sideways", both are near.
My tastebuds quiver, dance and quake,
The wine and movie have no peer.
My joy is real-- not something fake.
A break from life I now must take.
I've yearned for this and cannot sleep.
What better evening could I make?
The wine is ruby, dark and deep.
To Robin I say "thanks a heap."
And raise my glass before I sleep.
Yes, I raise glass before I sleep.
Bill Cole, Kentucky
---
Reasons why I should get one of the Sideways DVDs:
Savings on DVD rental can be put towards more Pinot
Iwas a fan of the book long before the movie came out
DeLoach Pinot lover
Earthy is the only wine term I can think of at the moment that starts with "E"
White Zin hater
Andrea Immer fan
Yo, give a Philly kid a break will ya?
Santa Rita Hills appelation (enough said)
Chris Cooper, Pennsylvania
---
I think that I ought to win the Sideways DVD because:
1.) I have not seen the movie yet, but am certain to enjoy it.
2.) The public library does not plan on ordering it.
3.) It is the only way I will be able to get my partner to see it - I thought we were going to see it, but he tricked me and bought tickets for The Merchant of Venice instead.
4.) Sandra Oh is in the movie, and she, too, is a Canadian.
5.) I have a magnificent pinot noir, purchased from a local winery, which I have been waiting for a special occasion to open. We could open it and watch Sideways.
6.) Our winter has been never-ending, and the California scenery will cheer us up.
7.) I'm a really nice person, and I would take good card of the DVD. ;-)
Kathy Bennett, Ontario
---
I am hearing a lot about the movie "SIDEWAYS" and its after effects (or side effects) on the sales of Pinot Noir. Being away from all the "WINE" in a far away place, in Hyderabad, Andhra Pradesh, India where there was no wine in retail markets until recently, we love wine and promote wine culture here. We cared less whether it is Chardonnay, Cabernet Sauvignon or Pinot Noir. All we wanted is to make here is to government realise that Wine is good for health, farmer friendly and hence worth promoting.
I, as the President of 'HYDERABAD WINE CLUB" is lobbying with government and trying to develop wine culture here. May be our efforts beared a fruit, and authorities concerned, were ready to reduce Label Registration Charges from Rs. Two lakhs to Rs. 10,000. But that is not the end, an average wine still cost, exhorbitantly high due to other taxes.
Slowly some of the Indian Wine Manufacturers are coming forward to put their wines here. Yes they are very less, hardly you can count on the fingers, but ball is rolling and am happy. I feel any thing connected with wine or Wine Culture is a welcoming guest to our small group of club members, who support me in my pursuit for developing the Wine Culture. And the latest "SIDEWAYS' is pushing the people in that direction. Even though this mail may not make you laugh, it may have a more noble purpose for wine lovers of 'Hyderabad Wine Club". May be this will be one reason, that we should get a DVD
Balaji Rao BK, President, Hyderabad Wine Club, India
---
Plea for "Sideways"
Miles really loves wine
But his life isn't right
Jack loves to screw strangers
That's the root of his plight
It's a wine-geeky joke
And the writers had some fun
By having Miles hate Merlot
Yet love Right Bank '61
Some say that it's difficult
To create the perfect blend
But it's really no sweat
Take a spit bucket and upend
Christopher Cheng, California
---
When I watched the movie for the first time I felt I was relieving the past. I had taken a journey as the charters had five years earlier but my trip was in Virginia not California.
I was to be married two weeks from the trip so it was a farewell trip to my singlehood. We left on a Thursday and traveled thru the Blue Ridge Mountains visiting several wineries. We stayed at a small local motel the first night. There my friend met a waitress at the next door restraurant but unlike Miles' companion he didn't score the first night.
We continued to visit more wineries the next day and when we got back to the motel, the waitress was waiting for my friend. They hooked up and seven months after I was married, the two of them got married.
When we saw the movie we called each other and had alot of laughs comparing Sideways to our own adventures. It brought back fond memories.
Ken Eberly, Illinois
---
Clinking glass begins it all
The foil ripping seems to call
The popping cork, released at last!
Spilling joy into my glass
Close friends start to gather 'round
I think I like how this wine sounds
Crystal clear or dark as night
The view alone seems to invite
A closer glance, a gentle swirl
Delicate balance soon unfurls
A simple gaze is all it took
I think I like how this wine looks
Fragrant bouquet draws me near
Subtle aromas soon appear
From every whiff comes something fresh
A work of art in every breath
Complex nose, lingers, compels
I think I like how this wine smells
Temptation wins, I have to try
Light and crisp or bold and dry?
Countless flavors, with more to come
Seem to dance across my tongue
My palette alive, my mind embraced
I think I like how this wine tastes
A spirit that can make me think?
Perhaps is more than just a drink
So raise your glass into the air
"Good food, good wine with friends to share!"
Concurring senses soon reveal
I know I like how this wine feels!
Matt Van Ruiten, Maryland
---
I should get the DVD because I need it the most. I live in Oklahoma.
That should be enough, but in order to fill up the alloted space, I will expound upon my reasons. You see, I live in Oklahoma. Okies think that the 'Frenchies' invented wine. Okies prefer to eat at burger joints that serve 'freedom fries.' The 'cultured' people here pretend to enjoy Guiness (the regular, not the extra stout of course), and relish in talking about how wonderful merlot is, even though most of them have never tasted it. My only exposure to culture is listening ot Karl Haas on 90.5 FM at 10 o'clock every night, as well as this semi-daily e-mail newsletter. I cannot fight against the grain of my surroundings forever. I need this more than anyone else.
Jeremy D. Smith, Oklahoma
The 30 Second Wine Advisor
<!- Page Contents End Here ->