Craggy and limestone-white, Pic Saint-Loup juts abruptly above the surrounding Languedoc vineyards. (Photo from www.Pic-Saint-Loup.com
Pic Saint-Loup
I've been pleasantly surprised by the response to our Wine Focus on Languedoc in both my E-mail and our interactive forums - it seems that a lot of wine lovers are coming to recognize Languedoc as a fertile field for good wine values. So let's stick with this topic for one more day, this time zeroing in on Pic Saint-Loup, the sub-region that just about all the experts rank as Languedoc's top producer of excellent red wines.
Pic Saint-Loup is a smallish region at the northeastern corner of the Languedoc, more or less due north of the city of Montpellier, as shown on the small map accompanying my short article on Languedoc in the Wine Focus section of our WineLovers Discussion Group forum.
Twenty miles north of the Mediterranean coast in the hills ("Coteaux du Languedoc") that surround Montpellier, its relatively high altitude guarantees the cool nights and long summers in which fine wine grapes thrive; and its limestone soils, the experts say, provide the minerally terroir that distinguishes the region's wines.
Pic Saint-Loup takes its strange name ("Peak Saint Wolf") from a craggy, chalky limestone mountain that juts up like an eerie prehistoric wolf's fang, rising more than 1,500 feet above the surrounding rolling fields and vines.
Producing almost entirely red wines, Pic Saint-Loup's vineyards grow mostly Syrah, Mourvédre and Grenache, the latter being preferentially planted here in modern times to replace the Pic's older Carignan and Cinsaut vines. You'll note a similarity between these plantings and those of the Southern Rhone and Provence; the grapes are ideally suited to the region's aforementioned climate and soils, so it's no surprise that those who appreciate excellent Rhone reds are delighted by Pic Saint-Loup.
The real surprise is these wines remain so relatively affordable. This happy (for consumers) imbalance of demand and supply can't last long in today's heated wine market, so the word from here is buy, buy, buy.
Today's featured wine, Château de Lascaux 2001 "Les Nobles Pierres," is the top bottling from a respected producer; and while its $20 price tag is getting on the spendy side for everyday drinking, it's noteworthy that this price point pretty much represents the high end for Pic Saint-Loup. Compare that with wines of similar quality from the Northern or Southern Rhone and you'll start to grasp the Pic's value appeal.
Lascaux, which means "limestone" in French, shares its name with the famous limestone caves with their prehistoric cave paintings. The caves are located farther north, but they earn a nod from proprietor Jean-Benoit Cavalier with a tiny animal on the label apparently drawn from Cro-Magnon art. This bottling, "Les Nobles Pierres" ("The Noble Stones") is a blend of 90 percent Syrah and 10 percent Grenache.
WEB LINK:
For an intriguing overview of Pic Saint-Loup and its wines, with lots of photos, visit the official site of the region's vignerons, where you'll find links for both French and English versions:
http://www.pic-saint-loup.com/
WINE FOCUS:
To compare notes and post your own reports on Coteaux du Languedoc reds this month, point your browser to the Wine Focus section of the WineLovers Discussion Group,
http://www.wineloverspage.com/forum/village/viewforum.php?f=18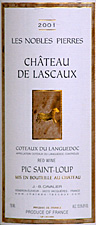 Château de Lascaux 2001 "Les Nobles Pierres" Coteaux du Languedoc Pic Saint-Loup ($19.99)
Very dark garnet in color, its complex aromas start with black fruit, berries and plums, adding complex whiffs of wood smoke, spice and licorice. All that plus a dash of raspberry liqueur on the palate, built on a good acidic structure. Pleasant earthy-mineral notes place it a bit closer to "rustic" than "elegant" on the flavor spectrum, but it dresses up well enough to take it out on a date. A base of 90% Syrah gains extra fruit from a splash of Grenache in the blend. U.S. importer: Kermit Lynch Wine Merchant, Berkeley, Calif. (Feb. 8, 2007)
FOOD MATCH: Like all sturdy Syrahs, this wine would find its natural match with grilled beef or poultry, but it's versatile and food friendly, making a surprisingly good cross-cultural pairing with a relatively mild rendition of Saag gohst, Indian lamb in a thick spinach-and-yogurt sauce.
VALUE: It's hard to quibble with a $20 price point for this excellent bottling, although the price places it toward the upper end of the range for Languedoc reds. Note also that Chateau de Lascaux offers a more modest Pic Saint-Loup in the lower teens. I'll report on it soon.
WHEN TO DRINK: Its Syrah base, good structure and tannins hints at capability for evolution and a reasonably long drinking plateau, perhaps through 2013 or beyond under excellent cellar conditions.
PRONUNCIATION:
Lascaux = "Lahss-coe"
Pic Saint-Loup = "Peak SahN Loo"
WEB LINK:
The Chateau de Lascaux Website offers a choice of French and English. Click the text link "English Version" on the front page:
http://www.chateau-lascaux.com/
FIND THIS WINE ONLINE:
Wine-Searcher.com shows many European sources but few in the U.S. for Domaine de Lascaux "Les Nobles Pierres."
http://www.wine-searcher.com/
find/Lascaux%2bPierres/-/-/USD/A?referring_site=WLP
It should be available in the U.S. from any merchant that handles Kermit Lynch's portfolio. For specifics, check the distributor page on the importer's Website,
http://www.kermitlynch.com/pglinks.html