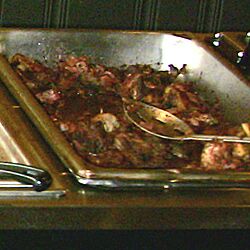 The purplish sauce in this buffet pan tastes "meaty," but it's actually an aromatic blend of onions and the Middle Eastern spice sumac.
Chicken Musakhan
The other day I discovered that my favorite Iranian buffet restaurant had been sold and has a new chef, so it's Palestinian now. And as I write this, I realize just how much my whitebread hometown has changed since I was young.
Not all that long ago, our city's gamut of ethnic restaurants ran from Mexican (a chili eatery) to Chinese (a chop suey house), and most people were wary of trying either because, well, the Mexican was spicy and the Chinese all ran together on your plate.
Happily, I've always been adventurous, so I couldn't have been happier to celebrate the arrival of ethnic eateries from around the world. I've quickly embraced each new cuisine. I even learned to love sushi, when it finally arrived here back in the '80s, figuring that 127 million Japanese couldn't all be wrong about eating raw fish.
In comparison, the food of Southwestern Asia couldn't be easier to get to know. From Lebanon and Palestine through Iraq to Iran and Azerbaijan, our town is now blessed with a good variety of these cuisines, with their subtle but aromatic flavors, herbs and spices, flatbreads and rice.
So when Palestinian owners took over Saffron's Buffet, it didn't take me long to check it out. As it turned out, they've gone international, with a few authentic Middle Eastern dishes interspersed with a United Nations of buffet selections from Italian-American (baked ziti) to Chinese-American (a surimi-and-cabbage dish).
Seeking the exotic, though, I gravitated to the Palestinian fare and found it just as good as I had hoped, with the slight frustrating factor that the dishes aren't labeled, and the staff, although very friendly, wasn't able to communicate much about food names and ingredients.
One dish in particular was so good that I knew I had to find a way to reverse-engineer it at home. It consisted of pieces of tender chicken in a thick, stew-like sauce that seemed like finely ground beef but on closer examination proved to be a mysterious mix of vegetables in a rough, purplish-brown puree.
A discussion with the chef revealed that the secret ingredients were onions and sumac, a purplish Middle Eastern spice made by grinding the berries of sumac, a common plant that's found all over the Old World and the New. (Shaker bottles of sumac powder are routinely placed on the tales at Iranian restaurants, used as a condiment like salt. It adds a smoky, pleasantly sour tang to dishes, and I like it enough that I keep a small jar of it at home.)
Armed with this information, I had enough key words to undertake a Google search, which soon led me to "Musakhan" (sometimes spelled "Musakhkhan" or "Msakhan"), a dish very much as described, although it's apparently usually baked on a bed of pita bread; here it was made solo and served with basmati rice.
Whatever. I screened a half-dozen recipes, consolidated them with my notes on the Saffron's Buffet version, and came up with this easy recipe, which takes only a few minutes to set up, an hour to bake, and tastes great with rice or pitas.
There's no real substitute for the sumac, but it shouldn't be difficult to find at ethnic groceries or specialty shops in larger cities, or online. If you must, this would still be an interesting chicken-and-onions dish without it, but it won't be the same.
INGREDIENTS: (Serves two)
6 to 8 chicken pieces
Salt
Black pepper
2 tablespoons (30g) sumac
2-3 tablespoons (30ml) olive oil
Onion, enough to make 1 cup (240g) when chopped
Juice of 1/2 lemon
PROCEDURE:
1. Preheat oven to 350F (175C).
2. Put about half of the olive oil in a baking pan just large enough to hold the chicken pieces comfortably. Sprinkle the chicken with salt, pepper and about one-third of the sumac, put them in the pan, and turn them a few times until they're well coated with the oil.
3. Mince the onion fine. Put it in a cup and mix with the rest of the sumac, the rest of the olive oil, and salt and pepper to taste. Spread this mixture over the chicken pieces. (Next time, I think I might add dashes of ground cinnamon and nutmeg to bump the aromatic factor up a bit.)
4. Put the pan in the oven to bake for about an hour. After a half-hour, take it out and turn the chicken pieces over. Increase heat to 400F (200C) and return the chicken to the oven. If you wish, turn the heat up to 450F (230C) for the last few minutes to brown the top of the chicken and crisp the exposed bits of onion.
5. Serve on pitas or over basmati rice.
MATCHING WINE: I could see either a richer-style white (the rare and rather exotic Chateau Musar Blanc from Lebanon would be a beauty) or a tart, light red. I went the latter route and was happy with an unexpectedly hearty Cabernet Franc from the Loire Valley, Charles Joguet 2005 "Cuvée Terroir" Chinon.