Iche'ing for a bargain
While we're on the subject of Languedoc this week, let's stay with this wine region of Southern France for another issue or two. It's worth the time, because so many Languedoc wines offer real quality for the price in an era when good wine values are increasingly hard to find.
In Monday's edition, we walked through the somewhat confusing hierarchy of Languedoc wine regions, with particular focus on the vineyard areas north and northeast of Montpellier - until recently incorporated in the Coteaux du Languedoc.
Today let's move just a bit to the left on the map, toward the Roussillon region west of Montpellier, for a quick look at two excellent and very attractively priced reds from the Family Iché, a small producer in the village of Oupia in Minervois, who's making some of the most exciting under-$10 reds around.
According to an importer's Website, years ago the vine-grower André Iché inherited a 13th century castle and a large wine estate in the Minervois region. Iché, who's now in his middle 60s, made wines from his ancient Carignan and Syrah vines but sold them in bulk to négociants for bottling under commercial labels.
Just 15 years ago, inspired by praise from a Burgundian winemaker who had discovered his wines, Iché began estate-bottling and marketing his own wine with the Chateau d'Oupia label. Since then, he's expanded his vineyards and rebuilt the cellars. He has also added higher-end bottlings aged in new oak.
We'll stick with his tried-and-true bottling today, however, featuring the Chateau d'Oupia 2005 Minervois and an even more value-priced wine with a label that recalls the region's intriguing history: Iché 2004 "Les Hérétiques" takes its name from the Cathars, a peaceful but non-conformist Catholic sect that was wiped out by more orthodox opponents in a massacre in 1208, an event that remains alive in the heritage of many Languedocians today, eight centuries later.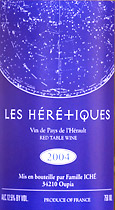 Famille Iché 2004 "Les Hérétiques" Vin de Pays de l'Hérault ($8.49)
This Carignan-Syrah blend is a very dark reddish-purple color. Fruity and floral, its appealing aroma melds juicy ripe cherries and a fragrant double-grind of pepper. Full and fresh, juicy tart-cherry fruit and zippy acidity in mouth-watering balance, tangy as a squirt of lemon in a very long finish. An Italian-style variation on macaroni and cheese, using Crucolo cheese from Trentino, made an appealing food match. The 2005 vintage is now in circulation. Don't hesitate to substitute it for the '04 if you can find it. U.S. importer: LDM Wines Inc., Louis/Dressner Selections. (Dec. 1, 2006)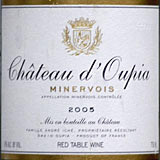 Chateau d'Oupia 2005 Minervois ($9.99)
Very dark reddish-purple, almost black. Delicate plums and fragrant black pepper. Mouth-filling, "chewy" black fruit and pepper, crisp acidity and drying tannins. A blend of 60% Carignan, 30% Syrah and 10% Grenache, its tannins suggest that it could benefit from a little cellar time, but it serves nicely at the table with an appropriate food match. Grilled meat would be perfect, but it worked well, too, with a meatless pasta course of bucatini with white mushrooms and reconstituted dried porcini with a bit of tomato paste and red wine in the sauce. U.S. importer: LDM Wines Inc., NYC; Louis/Dressner Selections. (Jan. 4, 2007)
FIND THESE WINES ONLINE:
Both these wines are available from Chambers Street Wines in New York City, To browse their portfolio, click
http://www.chambersstwines.com/
To find other vendors and check prices for Famille Iché on Wine-Searcher.com, click:
http://www.wine-searcher.com/
find/Iche%2bOupia/-/-/USD/A?referring_site=WLP