Learning Languedoc
Languedoc-Roussillon is the largest wine region in France in terms of both land area and the amount of wine it produces, but it remains one of the country's least well-known appellations and frankly one of its least respected. Why is that?
Over the centuries while places like Burgundy and Bordeaux were developing stellar reputations for world-class, sought-after wine, the Languedoc was known mostly for anonymous, forgettable stuff, the inexpensive beverage that the French call "vin ordinaire" ("ordinary wine"). It's a dismissive term, but that doesn't deter the locals from drinking a lot of the wine, often lining up with jugs at a dispensing station called a "vrac" that looks a lot like a gasoline pump.
But things are changing in the Languedoc, as they are across France and around the world of wine. While the region still produces plenty of vin ordinaire, it's also becoming a go-to place for value-seeking wine lovers who recognize that its stony hillsides and sun-washed Mediterranean slopes have potential to produce outstanding wines - largely robust reds based on Carignan, Syrah, Mourvèdre and Grenache - to compare with its neighbors in Provence and even the Southern Rhone.
As I mentioned in passing in Friday's edition, we're featuring the traditional Coteaux du Languedoc region, and its sub-regions Pic Saint Loup and Montpeyroux - as this month's "Wine Focus" on our WineLovers Discussion Group forums.
Today, let's try to sort out the terminology of Languedoc as concisely as we can. Many wine lovers find the minutiae of appellations and label language unexciting, but if you're in the market for value, it's worth taking a few moments to learn your way around a Languedoc wine label.
Broadly, Languedoc (pronounced "Lahn-guh-doc") incorporates all of Southwestern France, along the Mediterranean from the mouth of the Rhone west and south to the Pyrenees and Spain. Its name, somewhat amusingly, comes from the word "oc," which the ancient Occitan people of the region used to say "yes." Other French, who found this amusing because they say "oui," named the region "Langue d'Oc," or, loosely, the place where people say "oc."
But here's where things get confusing, as the name "Languedoc" is also used to represent just the central part of that region (which roughly coincides with the department of Montpellier, Hérault, and is distinct from the broader "Languedoc-Roussillon") or even "Le Midi" ("the land of midday"), which rarely turns up on a wine label, but sometimes is used to describe Languedoc and sometimes Languedoc and Provence. Finally, the wine appellation Coteaux du Languedoc - which formerly referred to the sub-region of Languedoc that includes Pic Saint Loup, Montpeyroux, Faugères and St.-Chinian - has recently been expanded to cover the entire region, including Languedoc and Roussillon, and is simply called, well, Languedoc.
Now do you see why some people give up on this whole wine-appreciation thing and simply call for a glass of red ... or a beer?
But it really is useful to know these things, not least because if you learn a few specific regional names like the aforementioned Pic Saint Loup, Montpeyroux, Faugères and St.-Chinian, you'll have an instant shopping list that you can use to cherry-pick the Languedoc wine shelves and, perhaps, pick up some fine wine values.
WINE FOCUS:
To compare notes and post your own reports on Coteaux du Languedoc reds this month, point your browser to the Wine Focus section of the WineLovers Discussion Group,
http://www.wineloverspage.com/forum/village/viewforum.php?f=18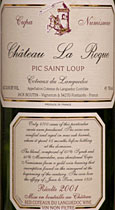 Chateau La Roque 2001 "Cupa Numismae" Coteaux du Languedoc Pic Saint Loup ($21.99)
A classic Pic Saint Loup that I've been following since the 1990 vintage, this Syrah-based Languedoc red is a very dark reddish-purple with a clear garnet edge. A bit of "burnt-match" reductiveness at first soon blows off to unveil fragrant Syrah black pepper and earthy red-fruit aromas, mirrored on the palate in balanced fruit and earth flavors, well structured by a firm acidic core, with soft tannins behind the fruit. Black cherries and a whiff of leather hang on in the finish. U.S. importer: Kermit Lynch Wine Merchant, Berkeley, Calif. (Jan. 12, 2007)
FOOD MATCH: Char-grilled red meat or poultry would be a natural, but its firm but complex flavors went well with a more offbeat dish created on the fly, a "risotto pizzaiolo" flavored with tomato sauce, crumbled sausage and Pecorino Romano cheese.
VALUE: Having enjoyed this wine over a decade and happily paid under $10 for it in the '90s, it hurts my feelings to see it selling for a little over $20. Still, it's a fine wine and benchmark Pic Saint Loup.
WHEN TO DRINK: Cupa Numismae ages very well indeed - I enjoyed one of my remaining 1990s within the past year, and while showing some oxidative character after 15 years in "passive" cellaring, it was still surprisingly fruity and approachable.
WEB LINK:
Here's a fine article about Chateau La Roque on Jamie Goode's excellent UK-based wine Website, Wine Anorak:
http://www.wineanorak.com/laroque.htm
FIND THIS WINE ONLINE:
Look up vendors and compare prices for Chateau La Roque Cupa Numismae on Wine-Searcher.com:
http://www.wine-searcher.com/
find/Roque%2bNumismae/-/-/USD/A?referring_site=WLP
Somewhat surprisingly, Wine-Searcher finds relatively few vendors. For additional information about Kermit Lynch's distributors in the U.S., check the importer's Website for downloadable lists.
http://www.kermitlynch.com/pglinks.html