Wine and deli?
Who doesn't like a deli sandwich, at least every now and then? Corned beef, hot pastrami, beef tongue or chopped chicken liver; maybe a little lox? Pile it high on thick, seeded rye bread, add a fat dill pickle, and you've got enough lunch to fill you up right through dinner.
I learned to love the stuff as a wide-eyed teen-ager from Kentucky in Queens and the Bronx, discovering gustatory wonders that I had never known existed. And it's still hard for me to go back to NYC without at least sampling a deli or two (preferably something real like Second Avenue or Katz's, not your Midtown tourist destinations). And every now and then, even if my home town of Louisville can produce only a wan replica of the real thing from Gotham, I'll succumb to a craving and bring home a big bag full of the good stuff.
One thing about NYC kosher-style deli, though: In contrast with its equally delicious if less exotic (at least to me) cousin Italian deli, you rarely hear of anyone accompanying it with wine.
As a dedicated wine lover who believes that most food goes better with wine (and vice versa), this makes no sense to me. So, the other night, suiting action to words, I brought home a hefty pastrami-on-rye and started thinking about a bottle to match.
What would work? Let's face it, kosher-style deli meat is fatty - this is part of its succulent appeal - so an acidic wine would be mandatory, providing a palate-cleansing edge to cut through the grease. Pastrami is as salty as the ham that it emulates without violating the principles set down in Leviticus, so it needs a robust yet quenching wine. And it's beef, so it really needs a hearty red, with no marks taken off for tannic astringency. A hint of earth would do no harm, particularly in the presence of an enticing schmear of hot mustard.
We're zeroing in on the Rhone, Provence and Languedoc here, and - since it's also the subject of our monthly Wine Focus in our online forums this month - I reached out for the Languedoc, uncorking a robust, earthy Syrah-dominant blend with some Mourvedre and a splash of Grenache.
Bingo! The Domaine de Nizas 2001 Coteaux du Languedoc made a perfect match, for all the reasons enumerated above. It would have worked as well, I think, with corned beef, tongue or even chopped chicken liver. I think I'd pass on it with lox, though, and as for that dill pickle, fahgeddabout it.
Domaine de Nizas is a relatively new producer, a collaboration of John Goelet and Bernard Portet, who founded Clos du Val in the Napa Valley in 1972. Goelet is also the owner of Taltarni Vineyards in Australia, where Portet's brother Dominique was the founding wine maker. They've planted about 120 acres in Syrah, Grenache, Mourvedre, Cabernet Sauvignon, Merlot and Sauvignon Blanc.
In this 2001 at least, they've come up with a very good, very typical Coteaux du Languedoc. It's fruity, acidic, softly tannic and touched with more than a whiff of earthy "barnyard" aromas. And it goes great with hot pastrami.
WINE FOCUS:
To compare notes and post your own reports on Coteaux du Languedoc reds this month, point your browser to the Wine Focus section of the WineLovers Discussion Group,
http://www.wineloverspage.com/forum/village/viewforum.php?f=18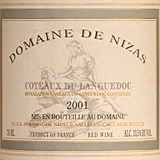 Domaine de Nizas 2001 Coteaux du Languedoc ($14.99)
A traditional blend of Syrah (60%), Mourvedre (35%) and a splash of Grenache (5%), this is an inky-dark reddish-purple wine, almost opaque in the glass. Black plums and dried herb aromas are typical of Languedoc reds, and for that matter, so is its healthy dose of earthy "barnyard." Tart and ripe in flavor, there's plenty of fruit left in this 6-year-old; good acidic balance, rather coarse tannins, and the Brettanomyces wild yeast that fosters the earthy flavors leaves its signature as a metallic twang in the finish. It's not for everyone, but for those - like me - who don't mind "Brett" in light doses in rustic Old World wines, it's fine, adding a layer of complexity. U.S. importer: Clos du Val Wine Co. Ltd., Napa, Calif. (Feb. 1, 2007)
FOOD MATCH: Its palate-cleansing acidity cuts through the fat while its earthy, tannic flavors stand up very nicely to deli hot pastrami with mustard on rye.
VALUE: Fairly priced, although I'd like to see it closer to $10. Shop around, as Wine-searcher.com vendors show it at an exceptionally wide range from $11 to $20.
WHEN TO DRINK: The fruit, acid and tannins say yes, cellar it until it mellows; but the brett says, er, hang on a minute. If you don't like that barnyardy character, don't expect it to get better with time in the bottle.
WEB LINK:
The Domaine de Nizas Website is published in both French and English. Click the national flag of your choice:
http://www.domainedenizas.com/
FIND THIS WINE ONLINE:
Look up vendors and compare prices for Domaine de Nizas Coteaux du Languedoc on Wine-Searcher.com:
http://www.wine-searcher.com/
find/Nizas%2bLanguedoc/-/-/USD/A?referring_site=WLP