Eggplant pasta sauce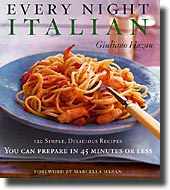 Order "Every Night Italian" by Giuliano Hazan from Amazon.com in hardcover for $16.50, a 34 percent discount from the $25 list price.

The other day I ran into a cookbook that's been around for a few years. Titled "Every Night Italian" and published in 2000, it was written by Giuliano Hazan; and if his family name seems familiar, it should: He's the son of Italian cooking guru Marcella Hazan, whose cookbooks played a strong part in forming my cooking skills, as I know they did for many of you.

I hadn't seen the book before, but as soon as I started leafing through it, I found it strangely, almost eerily familiar. It wasn't as simple as that he emulated his mother's recipes. Rather, he grew up with them, and now presents a collection of dishes of his own, influenced by his Mom's cooking but reassembled from bits and pieces, generally rendered a bit lighter and lower-fat than the style that came naturally to the Bolognese Marcella; and best of all, they're mostly designed as quick dinners, capable of being put on the table in 45 minutes or so.

This week let's feature my remake of one of Giuliano's dishes. I knew it was going to be a winner as soon as I saw eggplant, garlic, tomatoes and pasta in the list of ingredients. Pecorino Romano cheese didn't do it any harm, either, but I was a little more dubious about the mozzarella cheese in it, fearing that it would turn stringy as it melted, a phenomenon that's fine for pizza but a little odd in pasta. I substituted some Fontina from Val d'Aosta and was quite happy indeed.

This is one of those meatless dishes so robust and hearty that you don't miss the meat for an instant. Here's how my version went.

INGREDIENTS: (Serves two)

1 medium eggplant or 2 or 3 small Italian eggplants
2-3 cloves garlic
1/2 cup (120ml) olive oil
Dried red-pepper flakes
12 ounces tomato sauce
Salt
Black pepper
4-6 ounces spaghetti or other long, thin pasta
2 ounces grated Pecorino Romano cheese
2 ounces Italian Fontina cheese (or mozzarella for Giuliano's version)


PROCEDURE:

1. Peel the eggplant and cut it lengthwise into thick (1/2-inch) slices.

2. Peel the garlic and mince it fine. Put about 1 tablespoon of the olive oil in a small skillet or saute pan and cook the garlic with a shake of red-pepper flakes until the garlic is aromatic and brown.

3. Add the browned garlic and oil to the tomato sauce in a small saucepan and warm it over very low heat. Add salt and black pepper to taste.

4. Put a large pot of salted pasta water on to boil. Put all the rest of the olive oil in a large, preferably nonstick skillet and put it over high heat until it's very hot. Brown the eggplant slices on both sides, perhaps 2 or 3 minutes on each side, and keep it warm on a large plate covered with paper towels. (If you take care to keep the oil hot, the eggplant won't soak up all of it, and you can pat more of it off with paper towels if calories are a concern.)

5. When the pasta water comes to a rolling boil, put in the spaghetti and cook, stirring at first so it won't stick together, until al dente; usually around 10 minutes for spaghetti, but check package directions and, more important, taste-test it now and then so you don't overcook.

6. While the pasta is cooking, cut the fried eggplant into julienne strips, then put them into the simmering tomato sauce to warm through. Grate the Romano Pecorino and cut the Fontina or mozzarella into small (1/4-inch) dice.

7. Drain the pasta well and put it into warmed bowls. Top with the sauce, then garnish with the cheeses.

MATCHING WINE: This hearty dish calls for a robust, acidic Italian red, and either a Chianti or a Barbera would fill the bill. I went with a youthful Dolcetto, Gianfranco Alessandria 2005 Dolcetto d'Alba. It was a little lower in acidity but higher in tannin to make up for it, and its lovely blend of fruit and earth was especially well-matched with the eggplant.

BUY "EVERY NIGHT ITALIAN" ONLINE:
You can purchase Giuliano Hazan's "Every Night Italian" from Amazon.com in hardcover edition for $16.50, a 34 percent discount from the $25 list price.
http://www.amazon.com/exec/obidos/ASIN/0684800284/robingarrswineloA/
Purchases made using this direct link will return a small commission to us at WineLoversPage.com and help make it possible for us to provide our online information and communities and distribute The 30 Second Wine Advisor without charge.