When breathing matters
I'm still getting E-mail about the Dec. 18 article on keeping leftover wine in a half-full (or half empty) bottle and its Dec. 20 follow-up, suggesting that this topic remains near and dear to many a wine lover's heart.
Accordingly, I hope no one will object if we come back around for one more look at the topic from yet another direction: Now and then, when we have an ageworthy but youthful wine at hand, exposing the wine to air for hours or even days may be not merely helpful but almost mandatory.
This process, also known as "breathing" the wine, is subject to a lot of misinformation. Some people believe all fine wines must "breathe," but it's not necessarily so. What's more, merely removing the cork from the bottle barely allows "breathing," as only a tiny circle of wine in the bottle neck is thus exposed to the oxygen-bearing air.
If you're going to do it at all, "breathe" your wine by pouring it into a clean decanter, pouring it vigorously and allowing it to splash and pick up air; or, at a minimum, if you don't expect to finish the bottle, pour out a glass or two with vigorous aeration before capping and storing the rest.
When is vigorous aeration called for? Simply enough, if you're insistent on prematurely sacrificing an immature wine that really shouldn't be drunk for years - "committing infanticide," in the rude humor of wine geeks - the two most certain ways to maximize the guilty pleasure are extended aeration and choosing an appropriate food match.
How long to breathe? Years ago, when I first started visiting Italy as a wine enthusiast, I thought Tuscan and Piemontese wine makers were just being macho when they insisted that the best of their young wines should be opened 24 to 48 hours in advance. Later, experience revealed that they were simply telling the truth.
For robust young reds marked by tannic astringency and "closed" aromas and flavors, from Barolo or Brunello through the Northern Rhone through Bordeaux to Napa and on to Australia, a full day - or even two or three - of air exposure can soften tannins and allow the wine to wake up and give at least a hint of its future glory. Don't get the idea that long breathing is as good as years of cellaring, of course. It's not. But if you've just got to see what that treasured young wine is like and you can't stand waiting 10 years to find out, then I suggest two days of breathing and a rare porterhouse steak as the next best approach.
Ever since writing those articles last month, I've been waiting for a good opportunity to put this hypothesis to the test, and it finally came recently in the form of my monthly shipment from California Wine Club's Connoisseurs' Series. The January package contained two splendid, sought-after Napa Valley Cabernet blends, both of which really cry out for cellaring. Since duty demanded that I taste them now, I took advantage of the opportunity to follow their evolution over several nights in the open bottle, with the added pleasure of trying them against several dishes - rare steak on one night, a robust chicken saute with a caramelized onion reduction with red wine and a dab of tomato paste on another, and crispy roast duck on a third.
The wines behaved as anticipated. On Day One, they were imposing but very tannic and tight, requiring a wine judge's objectivity to taste through the astringency and recognize the character lurking within. They opened up a little on the second night and were much more smooth and complex on the third. Frankly, it would still have been better to cellar them until around their tenth birthdays in 2012. But if you insist on quick gratification, the third day is the way to go with these beauties.
N.B.: California Wine Club and Connoisseurs' Series are long-time friends and advertising partners, but these opinions are my own. If you're interested in the clubs, call them at +1-800-777-4443 ... and tell them I sent you.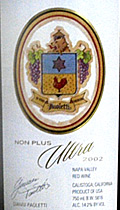 Paoletti Estate Winery 2002 "Non-Plus Ultra" Napa Valley Cabernet Sauvignon
($95 retail, $79 in half- and full-case lots from Connoisseurs' Series)
Dark reddish-purple. Warm blackcurrant aromas add a touch of menthol; oak is present (the wine sees 22 months in small French oak barrels), but by no means dominates. Mouth-filling black fruit flavors are dry and tart, built on steely acidity and solid 14.2% alcohol. Fruit punches through a curtain of tannins, but cellar time - or hours of breathing and a good food match - will foster complexity and accessibility. Cabernet Franc and Malbec join with at least 75% Cabernet Sauvignon in the blend. Only 250 cases were made. Winery Website: http://www.giannipaoletti.com/ (Jan. 26, 2007)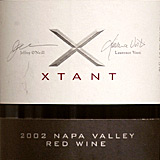 XTANT 2002 Napa Valley Red Wine
($85 at retail and in half- and full-case lots from Connoisseurs' Series)
Clear dark garnet in the glass. Black plum aromas, ripe and pure, are exceptionally appealing on the first sniff. Working on it brings up delicious subtle back notes of dark chocolate and just a touch of charred red chile peppers. Very tannic and undeniably oaky, this is a big and youthful wine that needs time to mature, but all the parts are in place. It responds well to extended breathing over several days and of course will reward careful cellaring. Wine maker Jeff Gaffner, who achieved notoriety with the sought-after Chateau St. Jean "Cinq Cepages" a few years back, offers a more serious red wine here. 972 cases produced. Winery Website: http://www.xtantwines.com/ (Jan. 26, 2007)
FIND THESE WINES ONLINE:
As noted, these wines are available with membership in Connoisseurs' Series, the high-end division of my old friends at The California Wine Club. Call 1-800-777-4443 for more information or to join the club, or visit
http://www.cawineclub.com/connseries
Now, for today's tasting report, let's look at something a little more affordable that requires neither breathing nor cellaring. Barbera, one of the workhorse grapes of Northwestern Italy's Piemonte region, makes a fine, fruity and high-acid table wine that's a natural at the dinner table. This one from the Michele Chiarlo winery is a fine benchmark example.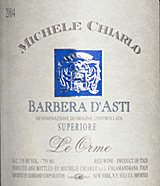 Michele Chiarlo 2004 "Le Orme" Barbera d'Asti Superiore ($14)
Clear dark ruby. Cranberries, red berries and a slight charry note that could stem from oak or the soil. Juicy and tart, refreshing and cleansing, cranberry nuances out front. Long, clean and mouth-watering finish. U.S. importer: Kobrand Corp., NYC. (Jan. 28, 2007)
FOOD MATCH: Sturdy reds from Northwestern Italy's Piedmont are my go-to picks with roast duck, and this item filled the bill very nicely, its sharp acidity helping to cut the residual fattiness that's difficult to avoid in even the most carefully prepared duck.
VALUE: A fine, balanced table wine from Italy is fairly priced at this mid-teens point, but shop around: My local retail price appears to be at the high end of a national range from $8 to $14. At the lower end, I'd be tempted to buy by the case as a "house wine."
WHEN TO DRINK: The Piemontese consider Barbera, like its neighbor Dolcetto, a wine to drink up while waiting for the bigger Barolo and Barbaresco to mature. If not a long-term cellar candidate, though, it will certainly last for at least a few years without fading.
WEB LINKS:
The Michele Chiarlo Website is published in Italian and English. Here's a link to the English-language start page:
http://www.chiarlo.it/english/home.htm
The U.S. importer's Website has extensive overviews, fact sheets and tasting reports on the Barbera "Le Orme" here:
http://www.kobrandwine.com/products/show_product.php?l=mic001
FIND THIS WINE ONLINE:
Look for vendors and compare prices for Michele Chiarlo Barbera on Wine-Searcher.com:
http://www.wine-searcher.com/
find/Chiarlo%2bBarbera/-/-/USD/A?referring_site=WLP