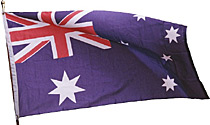 Australia Day
Today - or yesterday, actually, on the other side of the International Date Line Down Under - is Australia's national day. Marking the 219th anniversary of the date in 1788 when the First Fleet landed and Capt. Arthur Phillip claimed formal possession of the colony of New South Wales for Britain, it's comparable to - and almost as long a tradition as - Independence Day in the United States.
Like the American Fourth of July, it's a summer holiday (yes, it's midsummer Down Under), and has long been celebrated, as an Australian historian said of the national day in 1808, "with drinking and merriment."
We've been sharing the merriment with our Australian cousins by tasting several of the nation's wines this week, wrapping it up on Australia Day with an excellent Riesling by the respected Australian wine maker Rolf Binder.
Binder, who I had the pleasure of meeting during a visit to Australia in 2000, almost literally grew up in a winery, his Austrian-immigrant parents having been in the grape and wine business since 1953. He is perhaps best-known for his big, highly rated Barossa reds produced until recently under the Veritas label but now bearing his name.
In today's featured Riesling he shows another face of Australian wine - a face that's much less familiar in the U.S. export market, which has long been dominated by blockbuster Shiraz at the high end and crowd-pleasing, sweetish cocktail wines at the low end.
In this week's series of tasting reports, I've sought to present wines that break this stereotype. Comparatively delicate, mouth-wateringly acidic and even dare-I-say-it "terroir-driven" wines are easy to find in Australia, but they tend to get lost in the flood of high-alcohol Shiraz and slurpy Yellow Tail that swamps retail shelves in the Northern Hemisphere.
The Eden Valley, like its neighbor Clare Valley, is an excellent place to start. In contrast with their South Australian neighbors Barossa and McLaren Vale, these regions enjoy cool days and even cooler nights, fostering a long growing season that allows the kind of gentle ripening that's especially desirable for producing aromatic white wines of transparent depth and flavor intensity. In a word, Riesling.
Binder's 2005 Riesling could pass for a ripe-vintage Mosel or, perhaps more appropriately given his heritage, an excellent Austrian Riesling. It's structured, balanced and intense, with citrus and mango and plenty of minerally Riesling "petrol" character. It's a revelation to anyone who's wary of Australian wines based on Yellow Tail.
ABOUT AUSTRALIA DAY
Join the celebration with a visit to this Australian government Website full of information about the holiday, the nation and its heritage:
http://www.australiaday.gov.au/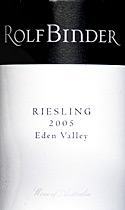 Rolf Binder 2005 Eden Valley Riesling ($15.99)
Clear, pale straw color, flashes gold against the light. Marked Riesling "petrol," an odd but characteristic Riesling scent of mineral and pine. Fresh and juicy limes on the palate, dry and piercing acidity, medium-bodied, with citrus notes of lime and tangerine plus ripe mango. Impressive Riesling, not that far removed in style from an extra-ripe Mosel or perhaps, considering the wine maker's heritage, an Austrian. U.S. importer: Joshua Tree Imports LLC, Azusa, Calif. (Jan. 24, 2007)
FOOD MATCH: Like all good Rieslings, it's an extremely versatile food wine, well-matched with a broad range of pork, poultry and fish. I paired it with a simple Italian-style dinner of pork ragù over bucatini.
VALUE: No complaints whatsoever at this mid-teens price point.
WHEN TO DRINK: The variety and the style both suggest considerable potential for aging, and the sturdy Stelvin-type metal screwcap also bodes well for cellaring. It's fine now, but may gain additional richness, complexity and "toasty" character with as much as a decade under good cellar conditions.
WEB LINK:
Rolf Binder has an unusually content-rich blog-style Website online at
http://www.rolfbinder.com
For a fact sheet on the 2006 Riesling, which should be moving into the export market, see
http://www.rolfbinder.com/
index_cart.php?crn=200&rn=308&action=show_detail
For more information, the U.S. importer has an information page about Rolf and his wines at this link:
http://www.joshuatreeimports.com/RB_Home.aspx
FIND THIS WINE ONLINE:
Look up vendors and compare prices for Rolf Binder Riesling on Wine-Searcher.com:
http://www.wine-searcher.com/
find/Rolf%2bBinder%2bRiesling/-/-/USD/A?referring_site=WLP