Pinot from Tasmania
Tasmania, Australia's smallest and most isolated state, occupies a strikingly scenic island off Australia's southeastern shore. Australia's closest point to Antarctica, Tasmania lies exposed to the ocean gales and cold currents that old-time sailors called "The Roaring Forties," endowing the island with a four-season climate that brings winter frosts and deciduous forests that turn brilliant colors in the fall.
Populated by humans as long as 40,000 years ago, Tasmania was "discovered" by a Dutch explorer named Tasman in 1642 and later settled by the British, who placed a penal colony for exiled convicts there in 1803, only 15 years after the first penal settlements on the Australian mainland.
Cold, isolated and lightly settled to this day - fully one-third of the island is set off for parks and preserves - Tasmanians sometimes endure the same kind of teasing from their compatriots as Americans deal out to the Appalachians and the South.
But there's no joking about Tasmania's wine. Tasmania has grown and produced wine for local consumption since the early days, but it's only in the past decade or so that the island has begun to make wine seriously for export. Tasmanian wine (not to mention its excellent Boag's beer) is becoming commonplace in the rest of Australia and now, still in smallish amounts, around the world.
That process will likely accelerate since Tasmania's wine industry, like much of the rest of Australia, has recently undergone a wave of corporate mergers, acquisitions and development by the country's major wine corporations. The producer of today's wine, for instance, Tamar Ridge, was recently acquired by the larger Gunns Ltd. and is undergoing quick expansion.
While it's early going to generalize about Tasmania's wines until more of them come our way, the Tamar Ridge 2005 Pinot Noir from their "Devil's Corner" portfolio - named after a hazardous rapids in the Tamar River - shows the character of a cool-climate red wine: It's rather light in color, not unusual for Pinot Noir, and boasts a light-bodied, lean and acidic, apparently un-oaked and very food-friendly profile with notes of earthiness that bespeak a kinship with the Old World. It's a far cry from the stereotypical South Australian blockbuster reds, and I like it the better for that.
Want to learn more about Tasmania? Here's a link to a quality tourism Website sponsored by the state tourism organization:
http://www.discovertasmania.com/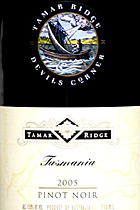 Tamar Ridge 2005 "Devil's Corner" Tasmania Pinot Noir ($15)
Clear ruby, not overly dark. Light and fresh, restrained wild-cherry aroma carries over on the palate as tart red fruit, light-bodied but well structured with mouth-watering acidity. A distinct red-clay earthy nuance develops with time in the glass. Surprisingly for a wine from Down Under, its lean, cool-climate style almost suggests a light Burgundy - or perhaps a fine Beaujolais - more than a New World Pinot. U.S. importer: Robert Whale Selections Ltd., Washington, D.C. (Jan. 21, 2007)
FOOD MATCH: A good food wine, capable of standing up to red meat, but well-suited to poultry or salmon. Fine with chicken dark meat in a veloute with onions and green peppers.
VALUE: If you enjoy this light, acidic and moderately earthy "Old World" style as I do, then you won't quibble about a mid-teens price. If you're more attuned to riper, heavier New World styles, however, be aware that this one is different.
WHEN TO DRINK: Its relative lightness supports the winery's suggestion that it's a wine intended for near-term consumption, but good balance and acidity - and the sturdy metal screw cap - suggest that there's little risk in holding it for a year or two.
WEB LINKS:
The Tamar Ridge Website is colorful and attractive but requires the Flash plugin and shows best with a high-speed connection. It may not be accessible to text readers.
http://www.tamarridgewines.com.au/
Here's a more accessible tasting note and spec sheet from the U.S. importer:
http://www.robertwhaleselections.com/
tastingnotes.cfm?tastingnotesid=212&ourwinesid=34
FIND THIS WINE ONLINE:
Wine-Searcher.com currently lists only Australian and British vendors for Tamar Ridge "Devil's Corner" Pinot Noir. From other world regions, check with local vendors or the importer.
http://www.wine-searcher.com/
find/Tamar%2bDevil%2bPinot/-/-/USD/A?referring_site=WLP