More wacky labels
Following up on Wednesday's inquiry into the pricey collectible wines that bear Marilyn Monroe's name and image, let's stay on the label topic today with a look at a large and fast-growing California wine company that seems to have converted the art of the wild and crazy label into a wine-selling money machine.
Don Sebastiani & Sons is a family-owned "negociant" firm, meaning that they assemble and market wines rather than growing grapes and making wine. Don, a high-profile figure in both California wine and California politics, founded the new firm in 2001. His father, August Sebastiani, and grandfather, Samuele Sebastiani, have had the family name on California wine labels since the 1800s.
Driven by the popular Pepperwood Grove and Smoking Loon labels, Don's company quickly grew, selling 1 million cases of wine in 2004 and than 1.75 million cases last year, according to company press materials. According to industry data, Smoking Loon Cabernet Sauvignon ranked as the No. 1-selling Cabernet in the United States during the spring quarter last year.
Perhaps not surprisingly for a man who the Santa Rosa Press-Democrat described as "outspoken and sometimes outrageous" during his six years as one of the most conservative assemblymen in the California legislature and who "angered women, Democrats, minorities and even Republican Governor George Deukmejian during his colorful career in Sacramento," the company under Don's dominion has developed a reputation for good, modestly priced wines sold under a bewildering variety of bizarre and often hilarious wine names and labels.
It started with Smoking Loon, whose original label featured a cartoon image of a water bird with a cigarette in its bill. Now the company's product lines - which include the separate portfolios "Three Loose Screws" and "The Other Guys" - include such labels as "Mia's Playground," "Hey Mambo," "le Bon Vin de la Napa Valley," "Plungerhead" and the inimitable "Used Automobile Parts" and "Screw Kappa Napa," the last being closed with a screw cap, of course.
Today's featured wine, "Gino Da Pinot" 2005 Monterey County Pinot Noir, hit the market last summer. Its label (pictured below in our Graphics Edition and in the archived edition online), bears the name and image of its imaginary wine maker, a youngish gent with a big hat who stands very much in the tradition of Cella Lambrusco's legendary Aldo Cella and the old Italian Swiss Colony's "Little old wine maker, me."
It's a serious wine, though, full of red fruit and herbal notes and that characteristic "cherry cola" aroma of Central Coast Pinot Noir. It's a blend of 95 percent Pinot Noir accented with homeopathic additions of Syrah and Clarksburg Chenin Blanc, and is in national distribution albeit somewhat limited: 5,100 cases were made.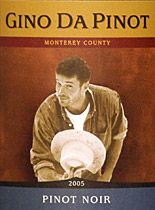 Gino Da Pinot 2005 Monterey County Pinot Noir ($15.99)
Clear ruby but not too dark, typical of Pinot Noir. Red fruit and herbaceous aromas, cherry cola and tomato skin, are typical of Central Coast Pinot, leading into an appealing if light-bodied red-fruit flavor, nicely balanced with crisp acidity. Despite the cartoonish name and label, this is no mere "pop" wine but a decent representation of Central Coast Pinot. (Jan. 18, 2007)
FOOD MATCH: Good just about any place that Pinot will go, from roast beef to wild salmon. It made a fine match with the pork and sauerkraut dish featured in yesterday's 30 Second Wine Advisor FoodLetter, with the caveat that the sauerkraut in that preparation has been rinsed to reduce its tangy acidity.
VALUE: I'd really like to see this wine closer to $10, but in fairness, it's competitive at its price point in the Pinot-hyped world after Sideways.
WHEN TO DRINK: It's made as a drink-me-now wine, the synthetic closure (a burgundy-color plastic "cork") rules out long-term cellaring. It won't go anywhere over the next year or so, though.
WEB LINK:
Gino Da Pinot is vinted and bottled by "The Other Guys," a division of Don Sebastiani & Sons, Napa. Here's a fact sheet on the wine:
http://www.donandsons.com/theotherguys/ginodapinot/
FIND THIS WINE ONLINE:
Look up vendors and compare prices for Gino Da Pinot on Wine-Searcher.com:
http://www.wine-searcher.com/
find/Sebastiani%2bGino/-/-/USD/A?referring_site=WLP