Mencia from Bierzo
If today's headline doesn't ring a bell, don't be embarrassed: Your many responses to last Monday's exploration off the wine world's beaten path offered sufficient encouragement to inspire yet another walk on the wild side. So, for today's featured wine I'm pulling the cork on yet another grape and region obscure enough that even many serious wine geeks would have to look up.
Mencia is the grape, an indigenous red variety of Northwestern Spain that was once thought to be a cousin of Cabernet Franc. It long had a lackluster reputation as the source of lightweight wines, but recent hillside plantings and serious vineyard management have demolished that myth, and DNA testing has ruled out the Cab Franc connection.
Bierzo is a small wine region in the Northwestern "shoulder" of Spain, not far across the national border from Portugal's Tras-os-Montes, north of the Douro. It's another of those wine places that you may not have heard of ... yet. But there's a good chance that you'll be hearing a lot more about Bierzo - and the Mencia grape - before very long, as some very serious players in the Spanish wine industry are hard at work there.
Today's wine, 2005 "Pétalos" Bierzo, made by the Descendientes de José Palacios, offers an excellent case in point. Alvaro Palacios, making wine here with his nephew Ricardo Pérez Palacios, was one of the leaders in the spectacular rebirth of Priorat, at the far other end of Spain, during the '90s. Now they're making similar efforts to return Bierzo to its historic stature, and this still-affordable wine makes a strong case for the region's potential.
Biodynamically produced, it sees only four months in French oak, long enough to add a dash of spice without overwhelming the fruit. No lightweight by any measure, it doesn't give me any hint of Cabernet Franc, although I could make a case for likening its plummy, weighty yet attractively acidic style to a very good Petite Sirah. See below for my tasting report.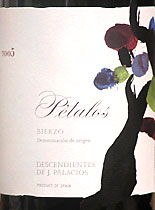 Palacios 2005 "Pétalos" Bierzo ($18)
This is a very dark blackish-purple wine, almost opaque in the glass; ruby glints flash against a strong light. Black plums and spice on the nose, deep and rich. Flavors are consistent with the nose, concentrated black fruit shaped by sharp acidity and texture, soft tannins and perceptible warmth from 14% alcohol. U.S. importer: The Rare Wine Co., Vineburg, Calif. (Jan. 14, 2007)
FOOD MATCH: In retrospect, this is a wine for red meats, grilled poultry or sharp cheeses. It wasn't a bad flavor match with my more offbeat choice, Roman straciatella (egg drop) soup with veal meatballs and spinach, turning the dish into a variation on "Italian Wedding Soup;" but the wine was just hearty enough to dominate the more delicate dish.
VALUE: The near cult-level reputation of Alvaro Palacios in Priorat is probably elevating the price of this wine that bears his family name, but its good combination of power and balance justifies an upper-teens price, particularly if you enjoy expanding your "life list" of unusual varieties and regions tasted.
WHEN TO DRINK: Its fruit, structure and balance suggest ageworthiness, although I can't claim any experience with aging Mencia. I'd certainly be willing to risk putting away a bottle or two for five years or even 10.
PRONUNCIATION:
Mencia = "Mehn-cee-ah" (or "Mehn-thee-ah" in Castilian Spanish)
Bierzo = "B'yehr-zoe"
For detailed information about Descendientes de José Palacios Petalos, see the Website of importer Polaner Selections:
http://www.polanerselections.com/producer.php?pID=801
FIND THIS WINE ONLINE:
Find vendors and compare prices for Palacios "Pétalos" Bierzo on Wine-Searcher.com:
http://www.wine-searcher.com/
find/Petalos%2bBierzo/-/-/USD/A?referring_site=WLP