Re-thinking Chardonnay
Frequent readers will know that I'm a card-carrying member of the unofficial "Anything But Chardonnay" club.
Frequent careful readers will also know that this is not entirely a truthful claim. In fact, I indulge in Chardonnay from time to time, and sometime I even enjoy it.
I love real Chablis, with its steely, stony minerality and usually un-oaked nature. I'm just about as fond of white Burgundies, which tend to be a bit more plush but still elegant, minerally and, by and large, judiciously oaked. And the truth be told, I'm not really all that averse to a well-made, balanced New World Chardonnay from California, Australia or other New World locations.
So why this "ABC" petulance? Frankly, I didn't leave New World Chardonnay so much as it left me. First, when the U.S. wine industry finally started to stop abusing the fabled name "chablis" as moniker for cheap white wine in jugs, a tsunami of varietally labeled but cheap, mass-market Chardonnay flooded in to replace it, turning the C-word into a synonym for "glass of white wine."
Then, as the '80s moved into the '90s and more people started getting serious about wine, the American and Australian wine industries in particular took a turn that seemed to satisfy a lot of people's tastes but not mine: The standard style for New World Chardonnay became soft, overtly oaky, slightly sweet (or even more than slightly so), and run through a process called malolactic fermentation that turns the tart, cleansing green-apple flavor of malic acid into the soft, creamy and more gentle acidity of lactic acid.
The sad result, all too often, was a wine that gave the sensory impression of guzzling a pineapple milkshake in a new house with freshly sanded oak floors.
The result was commercially successful, which tended to reinforce the behavior. I won't snob on those who like their Chardonnay like that, but to me, wine in this style is made for enjoying like a cocktail, a glass of white wine on its own. I'm committed to enjoying wine as it has always been intended, as a companion and complement to food; and with only a few exceptions (lobster, anyone?), fat, buttery Chardonnay is a difficult match at the dinner table.
A few exceptions have always stood out: Hanzell and the fabled Stony Hill in California, and recently tasted, splendid Chardonnays from Robert Young in the Alexander Valley and Walter Hansel in the Russian River Valley, for instance; Australia's high-end Roxburgh from Rosemount and some fine Chards from Yalumba and Grosset also come to mind.
But lately, it seems, still rather quietly and with a bit less notice than the blockbuster, butter-laden versions enjoy, we're starting to see more well-balanced, properly acidic, even elegant Chardonnay coming out of the New World, and not all of it at trophy-level prices. Today's featured tasting offers a case in point: From Robert Talbott Vineyards in Monterey County's cool Santa Lucia Highlands comes Kali Hart Vineyard 2003 Monterey County Chardonnay. Named after winery owners Robb and Cynthia Talbott's youngest daughter, Kalin Hart Talbott, this balanced and appealing wine shatters the fat and slap-happy stereotype of California Chardonnay.
If these trends continue, I may yet have to trash my "ABC" button.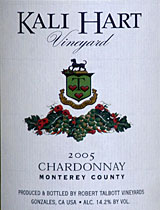 Kali Hart Vineyard 2003 Monterey County Chardonnay ($18.99)
This clear, light-gold wine breathes good tropical-fruit aromas, fresh pineapple and ripe dates, carrying over over on the palate with a bright and juicy flavor, medium-bodied with a sturdy 14.2% alcohol, well structured with fresh-fruit acidity. Balanced and appealing, no excess of sweet or butter flavors; a fine New World Chardonnay. (Jan. 10, 2007)
FOOD MATCH: Poultry or fish make sense, preferably in a dish with full, bold flavors to match the wine. It was excellent with an Italian-style dinner of fresh red drum roasted with garlic and plenty of olive oil on a base of fennel, onions and potatoes.
VALUE: No complaints about its worth in the upper teens. Shop with care, though, as the 2003 retails around the country at a startling range of prices, from as low as $12 to a startling $24. If my retailer charged more than $20 for it, I might want to have a serious conversation with management. (The current 2005 release carries a winery suggested retail price of $15 and shows up at some vendors on Wine-Searcher.com for as low as $9 or so.)
WHEN TO DRINK: It won't fade overnight, but I'm still not prepared to advise serious cellaring for New World Chardonnays: Drink up over the next year or two.
WEB LINK:
Kali Hart Chardonnay is produced and bottled by Robert Talbott Vineyards,
http://www.talbottvineyards.com
FIND THIS WINE ONLINE:
Research Kali Hart Chardonnay on Wine-Searcher.com:
http://www.wine-searcher.com/
find/Kali%2bHart%2bChardonnay/-/-/USD/A?referring_site=WLP