Basque Tannat
Here we are, more than a week into the New Year, and I haven't written about any really offbeat wine grapes or places yet in 2007.
I don't want to lose my hard-earned reputation for digging out the odd and the obscure, so today let's take a look at an item that's not merely unusual but even hard to pronounce: An Irouléguy from Domaine Arretxea, high in the Pyrenees in Basque country, closer to Pamplona in Spain than to any French city you're likely to have heard of.
Irouléguy is a tiny village of fewer than 250 people, which gives its name to the surrounding wine region, a sub-region of the Pyrénées-Atlantiques, which in turn is part of France's Sud-Ouest ("Southwest"). The red wines are made from an odd combination of Tannat - the heavily tannic grape that's also used for robust red wines in France's Madiran region and, of all places, Uruguay in South America - and Cabernet Sauvignon or Cabernet Franc.
Most sources refer to Irouléguy as a light and crisp red and note that much of the region's wine is made as ros´, but this biodynamic item from Thérése and Michel Riouspeyrous's Domaine Arretxea is neither light nor crisp but much more typical of Tannat: Opaque, almost black, earthy and tannic, a hearty wine made for robust fare.
Domaine Arretxea also makes an Irouléguy white from similarly obscure grapes Petit Courbu, Gros Manseng and Petit Manseng. I've tasted it in France but never in the U.S. ... I'll have to keep looking. For my tasting notes on the red, see below.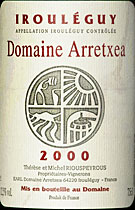 Domaine Arretxea 2000 Irouléguy ($12.99)
This is an inky dark purple wine with reddish violet flares glinting through an almost opaque fluid that likely signals an unfiltered and unfined wine. Dark fruit - plums and black cherries and a hint of cranberry - are backed by a distingly earthy character of "forest floor" and "tree bark" on the nose and palate. Black fruit and pleasant leathery notes are laced up with tart acidity and subtle but drying tannins; plums and black cherries in a long finish. Bold, earthy and rustic, this Tannat-based red from Basque country is no shrinking violet. U.S. importer: Kermit Lynch Wine Merchant, Berkeley, Calif. (Jan. 6, 2007)
FOOD MATCH: Bold, tannic flavors make it a carnivore's wine, best suited to foods strong enough to talk back: Grilled meats, hearty poultry or strong cheese. It made a fine match with the dark, earthy flavors of roasted turkey thighs.
VALUE: The importer's Website lists the suggested retail price as $23, making the $12.99 I paid at Old Town Wines in Louisville look like a real bargain. I'd certainly buy it again without resistance at $20 or below and wouldn't reject it at the undiscounted price.
WHEN TO DRINK: I can't claim any direct experience with Irouléguy, but Tannat-based wines in general don't just benefit from cellar time, they almost require it. This 2000 drinks well with robust fare, but it has years to go, and don't hesitate to buy older vintages if you can find them at a price that suits you.
PRONUNCIATION:
Irouléguy = "Ee-roo-leh-ghee"
FIND THIS WINE ONLINE:
Find vendors and compare prices for Domaine Arretxea 2000 Irouléguy on Wine-Searcher.com:
http://www.wine-searcher.com/
find/Arretxea%2bIrouleguy/-/-/USD/A?referring_site=WLP