Grenache again
Let's wrap up a short holiday work week with a quick second look at a couple of recent topics:
Wednesday's report veered from the beaten path for a quick look at Grenache Blanc, the white cultivar of a grape that's most commonly seen as red. Friday, we hailed the New Year with a peek at the growing flood of wines from Europe's 2005 vintage, made from the fruit of a warm but relatively normal summer that we hope will signal a return to more traditional wines after the wacky fruit bombs of 2003.
Today we'll bring those threads back together with a tasting report on a fresh young Grenache-based 2005 Côtes du Rhône. The featured wine, Domaine Lafond "Roc-Epine" is an old family producer based in Tavel, on the west side of the Rhône across from Avignon, where the Rhone and Provence meet Languedoc.
The Lafond family traces its heritage in Tavel back to 1780, according to the winery Website, and started making wine commercially shortly after World War II, in 1948. Jean-Pierre Lafond began the current winery in 1970, and his son, Pascal, joined the family business in 1978. Jean-Pierre, who is fond of horses, decided to name the propety after a famous race horse, Roquepine, but altered the spelling to "Roc-Epine," it is said, to add a touch of Provence to the name.
The wine is simple but fresh and luscious, with plenty of mouth-watering acidity and soft tannins to give it structure and make it food-friendly. It's a wine to enjoy young and fresh, with something tood to eat on the table.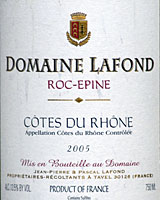 Domaine Lafond 2005 "Roc-Epine" Côtes du Rhône ($14)
This very dark ruby wine shows a reddish-purple hue. Youthful Grenache aromas focus on raspberry cordial, ripe and bright, with just a hint of a "leafy" undertone. Fresh and juicy fruit flavors carry over on the palate, nicely structured by snappy acidity and soft but perceptible tannins. On the simple side but very fresh, fine with food. U.S. importer: Wines of France, Inc., Mountainside, N.J., Alain Junguenet Selection. (Jan. 3, 2007)
FOOD MATCH: A versatile table wine, it will fare well with red meat, pork, grilled or roasted poultry and mild cheeses. It made a surprisingly good companion with a hearty bowl of the bean soup featured in yesterday's 30 Second Wine Advisor FoodLetter.
VALUE: Given the current exchange between the dollar and the Euro, the low to middle teens seems entirely fair for a Côtes du Rhône of this quality.
WHEN TO DRINK: The fruit is so vibrant and lovely now, it would be a shame not to enjoy it while it's fresh. Mark this one as a Côtes du Rhône in the drink-early style, and treat it much as you would a basic Beaujolais: It won't go around the bend in the next few months, but I'd drink it up during 2007 and then look for newer stock.
PRONUNCIATION:
Côtes du Rhône = "Coat doo Roan"
WEB LINK:
Visit the Domaine Lafond Roc-Epine Website in French and French-accented English:
http://www.roc-epine.com/
FIND THIS WINE ONLINE:
In Metropolitan France, the 2005 Côtes du Rhône is available for sale online for 7.40€. Click "La cave en ligne: Acheter nos vins en ligne" from the French-language Roc-Epine home page for information.
For the rest of the world, look up vendors and compare prices for Domaine Lafond Roc-Epine on Wine-Searcher.com:
http://www.wine-searcher.com/
find/Lafond%2bEpine/-/-/USD/A?referring_site=WLP