Grenache, not red
Grenache is not exactly a rare and little-known grape, but it still comes as quite a surprise to most wine enthusiasts to learn that it is the second-most widely planted grape variety in the world, earning that status through seemingly endless miles of vineyards spread across much of Spain (where it's called "Garnacha"), Sardinia (as "Cannonau") and Southern France.
Grenache probably reaches its pinnacle in Spain's Priorat and France's Chateauneuf-du-Pape, where it's the primary grape in sought-after, ageworthy wines. But much of it disappears into anonymous jugs of wine rarely sold with varietal labels. (The same is true, by the way, but even more so, of the white grape Airén, the No. 1 most widely planted variety, which is grown almost exclusively in Spain and is almost never seen in a varietal wine.)
Think of Grenache and you'll almost certainly visualize a red grape and wine. In fact, however, Grenache - much like the Pinot family of France - comes in a variety of colors: Red Grenache Noir (usually billed as just-plain "Grenache"), Grenache Gris and Grenache Rose, and our subject today, Grenache Blanc.
That's right, white Grenache. We're not talking about any blushing pink-wine-from-white grapes here, though, but a separate cultivar that, according to Jancis Robinson, stood until the 1980s as the fourth most-planted grape in Southern France, giving way to Sauvignon Blanc only in recent years.
Like Airén in Spain, White Grenache turns up mostly in white blends in the Languedoc and Southern Rhone, and Robinson gives it fairly short shrift as a producer of "fat, soft white table wines." It also earns a statistical asterisk for its place in the list of 13 grapes permitted in Chateauneuf-du-Pape: In order to make the numbers come out right, both red and white cultivars must be included in the single variety "Grenache." If Grenache Noir and Grenache Blanc are counted separately, the total comes up to 14.
Today's featured wine is a 100 percent varietal Grenache Blanc from California, where only about 100 acres of the variety are planted. It's big and muscular, but I wouldn't call it either fat or soft. Made in the Central Coast's Santa Ynez Valley by Kris Curran, who's also the wine maker at the cultish Sea Smoke (which was mentioned with awe in the movie Sideways), the 2005 vintage is an impressive wine, full-bodied, fruity yet very nicely balanced. It's priced in the middle $20s, a bit above everyday-wine status for most of us, but it's frankly competitive in price with fine Southern Rhone whites of similar quality.
Somewhat surprisingly for a big New World white, it's made in stainless steel and sees no oak or malolactic fermentation, allowing a pure representation of fruit in a wine that's full-bodied and powerful, although its 14.1 percent alcohol level happily doesn't show up as harshness or heat. See my tasting report below.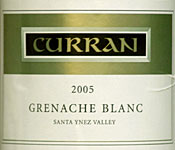 Curran 2005 Santa Ynez Valley Grenache Blanc ($24.99)
Transparent and very light, almost watery pale. There's nothing "pale" about the aroma or flavor, though. It opens with delicate white flower and honeydew melon notes, a whiff of tangerine and a subtle scent of something between peppermint and vanilla on the nose. Tart white grapes and snappy citrus meet on the palate in an unusual combination of full body and mouth-watering acidity; mixed citrus lingers in a very long finish. (Jan. 2, 2007)
FOOD MATCH: Fruit and acid make for a food-friendly wine that may work better with bold, robust flavors. It was a fine partner with a light dinner of chicken salad llvened up with a good ration of New Mexico green chiles.
VALUE: Curran's reputation likely boosts the price tag on a wine that might sell for less than $20 from an unknown wine maker, but in fairness, as noted, it's competitive in quality with Southern French whites of similar price.
WHEN TO DRINK: Not for long-term aging, and its surprisingly delicate aromas and flavors show very well while the wine is young. Still, full-bodied, powerful Rhone-style whites tend to gain richness with a year or two in the cellar, so an aging experiment might be fun to try if the price doesn't deter you from the risk.
PRONUNCIATION:
Grenache Blanc = "Greh-nahsh BlawN"
WEB LINK:
Curran Wines has an informative, easy-to-navigate Website:
http://www.curranwines.com
FIND THIS WINE ONLINE:
Curran sells the White Grenache in E-commerce for $22 plus shipping, but the winery is conservative in its shipping policies, currently offering sales only to the dozen former "reciprocity" states. Here's a link to its online shop:
http://www.curranwines.com/buy.html
Look up vendors and compare prices for Curran Grenache Blanc on Wine-Searcher.com:
http://www.wine-searcher.com/
find/Curran%2bGrenache%2bBlanc/-/-/USD/A?referring_site=WLP