Happy New Year!
First, as New Year's Eve approaches, I'd like to wish Wine Advisor readers and all our wine friends around the world a very happy, healthy and prosperous 2007. Because of the Monday holiday, I'll likely distribute Monday's edition a day late, as we did for Christmas last week.
Contemplating the arrival of another New Year leads naturally to thoughts about wine vintages, a topic that arises often in these pages for obvious reasons: The unpredictable nature of weather makes it one of the most important variables in wine appreciation.
Rain, wind, storms, hail and sunshine inexorably leave their mark on the wines of every world region. An instant event such as a hailstorm or late spring freeze can damage or destroy a year's harvest overnight. A mild, sunny autumn can come as a gift from heaven, while rain at harvest may seem more like a curse.
Wine is an agricultural product that can't easily be rushed, so with the offbeat exception of Beaujolais Nouveau and a few other oddities from around the world, we've seen only a handful of 2006 wines as the year comes to its end.
Most wines rest in tanks and barrels for months or even years before they're bottled and sold, then must pass through sales and distribution channels before they reach your local wine shop. Only in recent months have a wide variety of 2005 wines started showing up; and it will be longer still before the most ageworthy wines of the 2005 vintage - top Bordeaux, for example, and the bigger Piemontese and Tuscan reds - reach the marketplace.
How does the 2005 vintage look? As usual, the answer depends on local weather. For Bordeaux, Burgundy and much of France, '05 seems promising after a splendid, relatively normal season that may produce quality wines of more classic style than some of the recent hot years. Germany and Spain are looking very good, the experts say, as are California's coastal wine regions; while drought in Portugal and rain in much of Italy makes the outlook more murky there.
Nevertheless, I found plenty to like among the 2005 Tuscan reds I tasted as a wine judge in Siena this past autumn. And today's featured wine, a fresh young 2005 Chianti Colli Senesi ("Chianti from the Siena Hills") was an absolute delight, a useful reminder that it's never prudent to place too much weight on vintage generalizations.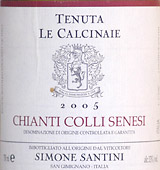 Simone Santini 2005 "Tenuta Le Calcinaie" Chianti Colli Senesi ($16)
This very dark ruby wine shows bright flashes of reddish-violet against the light. Good, complex Chianti aromas focus on dried cherries and subtle spice, with a whiff of black pepper as a backdrop. Flavors are consistent with the nose, fresh fruit and snappy acidity in fine balance. Appetizing fruit and mouth-watering acidity make this young 2005 exceptional for immediate enjoyment. U.S. importer: Vintner Select, Mason, Ohio; Michael Skurnik Wines in New York, Vin DiVino in Chicago and other regional importers; from Mark de Grazia. (Dec. 26, 2006).
FOOD MATCH: Fine with a quick pasta dish of mezzi rigatoni with fresh tomato sauce and dollops of ricotta mixed with Pecorino Romano.
VALUE: It's a sign of the times when simple Chianti reaches the mid-teens, but in fairness, it's more than competitive with other table reds at the price point.
WHEN TO DRINK: So delicious now that it's hard to imagine keeping hands off, although its balance and good acidity suggest that it won't be harmed by a few years on the wine rack or in the cellar.
WEB LINK:
Here's an spec sheet on Simone Santini's Tenuta le Calcinaie from Michael Skurnik Wines:
http://www.skurnikwines.com/
prospects.cgi?rm=view_prospect_detail&prospect_id=339
FIND THIS WINE ONLINE:
Wine-Searcher.com returns only limited vendors for 2005 Tenuta le Calcinaie. Check local wine shops, which may be able to arrange to have their distributors order the wine from one of the importers:
http://www.wine-searcher.com/
find/Calcinaie/2005/-/USD/A?referring_site=WLP