This article was originally featured in The 30 Second Wine Advisor's FoodLetter on Thursday, Dec. 28, 2006.


Grissini

If you like your bread with plenty of crust, you'll love grissini ("Greece-SEE-nee"), those long, finger-thin to pencil-thin crunchy bread sticks that are often served as munchies while you read the menu at Italian restaurants.

As a confirmed crust lover, I can't get enough of those things and generally eat more than my fill whenever they're available. But I never tried making them at home, figuring that their odd shape and proportions would set up a long, arduous and probably impractical chore.

So it came as quite a surprise recently, while I was flipping through Carol Field's excellent cookbook, The Italian Baker, to discover a grissini recipe that was not only easy but surprisingly quick.

It made a modest amount - about two dozen sticks from just 3 1/2 cups of flour - and it required only a single, one-hour rise, so you can take it from the pantry to the table in just a couple of hours. What's more, forming them is neither finicky nor time-consuming: Slice a rectangle of dough into long, thin strips, and gently lift each one to a baking sheet, stretching it to bread stick length as you go. There's no need to roll them out or shape them precisely - they come up round when they rise in the oven; and if they show lovably eccentric irregularities in the finished product, why, that's grissini for you.

I started a batch around 4 p.m. and had them on the table for dinner at 7, and they were just as appetizingly crunchy and good - and just as hard to stop eating after one or two - as the ones made by the pros. If you love grissini as much as I do, even if you don't consider yourself an expert baker, you really owe it to yourself to try this recipe soon.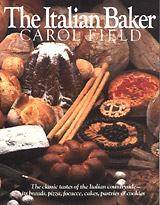 Order Carol Field's "The Italian Baker" from Amazon.com in hardcover for $24.15, a 31 percent discount from the $35 list price.

THE ITALIAN BAKER:
Field's book, by the way, is a classic that's been around since 1985, but for some reason I hadn't added it to my library until my friend Barb raved about it last year. Now I don't know why I waited so long. It's not just a bread book, featuring also Italian cookies, rolls, pizzas and focaccia and more. The grissini recipe alone is worth the price of admission, and its clear and workable presentation is typical of all Field's recipes. Highly recommended, even at this late date.

Happily, it's still in print, and still available from Amazon.com in hardcover for $24.15, a 31 percent discount from the $35 list price. If you'd like to buy it, purchases made using the following exact link will return us a small commission at WineLoversPage.com.
http://www.amazon.com/exec/obidos/ASIN/0061812668/robingarrswineloA/

INGREDIENTS: (Makes about 20 breadsticks)

17 ounces (about 500g or 3 1/2 cups) bread flour (see note) plus additional flour for the bread board
1 tablespoon (15g) dark-brown sugar
1 1/2 teaspoons (8g) salt
1 3/4 teaspoons (10g) instant dry yeast
1 1/4 cups (10 ounces or 300ml) warm water (around 120F/50C)
2 tablespoons olive oil
Additional olive oil
Cornmeal for sprinkling baking sheet

PROCEDURE:

1. Put the flour, sugar, salt and dry yeast in a mixing bowl; pour in the warm water and stir until the dough becomes a moist, shaggy mass. Knead for 5 to 10 minutes on a lightly floured bread board or counter top until the dough becomes smooth and elastic. Feel free to substitute a mixer with dough hook or food processor with steel blade for hand-kneading, although in these cases you'll want to finish up by hand. (NOTES: Field's recipe calls for malt syrup, a product I was unable to locate on short notice, so I substituted dark, strong brown sugar instead and it worked fine - note that we're using only a homeopathic dose that's barely perceptible in the finished bread. Field also calls for unbleached all-purpose flour; I used a mix of about half King Arthur all-purpose and half Italian Dopio Zero "00" flour from Puglia. Bread flour would work, too. Only a bread snob would notice any difference.)

2. Pat the kneaded dough out into a rough rectangle about 14 inches/36cm long by about 4 or 5 inches (10-12cm) wide. Make sure there's a little flour under the dough so it won't stick. Using your hands or a paper towel, gently paint the entire top surface with a little additional olive oil. Cover it closely with a piece of plastic wrap and cover that with a cloth dish towel. Leave to rise for an hour or so.

3. Preheat your oven to 450F (230C) and sprinkle a large baking sheet with cornmeal.

4. Don't punch down the dough. Using a sharp knife, pizza cutter or pastry scraper, cut it into about 20 to 24 strips about the width of your index finger. (Field suggests cutting the dough into four rectangles, then cutting each rectangle into five strips, but I simply eyeballed the strips and they came out fine. Gently lift each strip, one at a time, and you'll find it's easy to stretch them out into long, thin sticks. Drop them gently onto the cornmeal-sprinkled baking sheet and line them up - they'll rise a bit, but you can put them fairly close together, so they should all fit on a large sheet.

5. There's no need for further rising. Bake immediately at 450F (230C) for about 20 minutes, turning the sheet around midway in the process if they're not coloring evenly. If they're not golden brown at the end of that time, leave them in for a few more minutes. Remove to a rack for cooling and serve warm.

VARIATIONS: Field lists many options, ranging from sprinkling the dough with sesame seeds or poppy seeds before baking (I might also try coarse salt), making them with about two parts whole-wheat flour to one white, or working grated cheese, chopped fresh sage leaves or even chopped onions and lard into the dough before baking. You could also try making them pencil-thin, Try cutting them into 40 to 48 thin strips and, I would guess, reduce the baking time a bit, eyeballing and taste-testing them after 10 or 12 minutes to see how they're going. If you try it, let me know how it goes, but I'm happy with the thicker size for half the time and effort.)

MATCHING WINE:
If I was in the right mood, I could see making a meal out of nothing but a big batch of warm grissini and a bottle of crisp, sparkly Prosecco. Realistically, though, these are best served with a pasta dinner and a wine to match the pasta. We enjoyed them tremendously with mezzi rigatoni topped with a comforting blend of hot homemade tomato sauce with dollops of ricotta and Pecorino Romano and a fresh, fruity young Tuscan red, Simone Santini 2005 "Tenuta Le Calcinaie" Chianti Colli Senesi.

WineLoversPage.com