Festive wines
When a man drinks fine wine and eats great food daily on the job, what's left to make a holiday special? This question comes up for me just about every time there's an occasion for a festive celebration: When a food-and-wine writer has a holiday, does he kick things up yet another notch by creating over-the-top meals and pulling out cellar treasures to go with them?
Or does it make more sense to declare a day off from conspicuous consumption and enjoy something light and simple for a change of pace?
For me, the answer is usually a little of each, enjoying good food and decent wines (and maybe something a little special with dinner), but avoiding the kind of culinary excess that's part of my daily work for the rest of the year.
For today's 30 Second Wine Advisor (which comes to you slightly belated since we decided to defer publication on Christmas Day), I thought you might enjoy a quick peek at my food-and-wine notebooks for the four-day holiday weekend, starting with a pizza on Friday night; a holiday buffet with friends on Saturday; seafood and white wine at home on Christmas Eve; a non-traditional trip out to a favorite Chinese restaurant for dim sum and hot tea for Christmas lunch, and a quiet Christmas dinner at home with roast lamb and a nice red wine from the cellar.
I hope your holiday feasting has been as pleasant, and would encourage you to drop by our WineLovers Discussion Group forums and let us know about the food and wine you enjoyed. Later in the week we'll talk about some bubblies for New Year's Eve.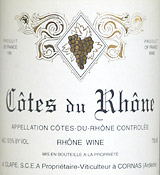 Auguste Clape 2004 Côtes du Rhône ($28.99)
This is a rare white Rhône from a distinguished producer, although I'd like to see it sell for half this price. That objection aside, it's an outstanding white, based on an undisclosed blend of the white grapes that make up the Chateauneuf-du-Pape blend and most likely is primarily Marsanne and Rousanne with, very likely, a splash of Viognier. Clear and very pale gold, flashing bright gold against the light, it breathes perfumed white fruit and flowers and a hint of peach. Medium-bodied and textured on the palate, white-fruit flavors follow the nose, well balanced by fresh acidity and a distinct backdrop of slatey minerality. I suspect it would gain considerable richness with cellar time and wouldn't mind putting away a few bottles if I could beat this price. It made an excellent, if cross-cultural, match with a home-built "white" pizza topped with ricotta and spinach. U.S. importer: Kermit Lynch Wine Merchant, Berkeley, Calif. (Dec. 22, 2006)
Find it on Wine-Searcher.com:
http://www.wine-searcher.com/
find/Clape%2bRhone%2bBlanc/-/-/USD/A?referring_site=WLP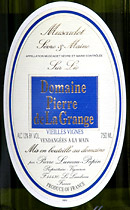 Pierre Luneau-Papin 2005 "Domaine Pierre de La Grange" Muscadet Sèvre et Maine Sur Lie Vieilles Vignes ($10.99)
With only two diners at the Christmas Eve table, the old-fashioned Italian feast of seven fishes didn't make much sense; but a combination of two seafood items gave a nod to the old tradition in the form of a hearty chowder of fresh cod and just-shucked oysters, and this minearally and crisp Loire Valley favorite made a fine match. Its transparent straw color shows brilliant glints against the light. Minerally and complex, white fruit and characteristing Muscadet seashells and chalk add a whiff of wool. Crisp and bone-dry on the palate, appley fruit and tart acidity give way to chalky minerality in a lingering finish. U.S. Importer: LDM Wines Inc., NYC; Louis/Dressner Selections. (Dec. 24, 2006)
Find it on Wine-Searcher.com:
http://www.wine-searcher.com/
find/Luneau%2bGrange/-/-/USD/A?referring_site=WLP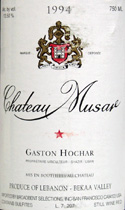 Chateau Musar 1994 Bekaa Valley Red Wine ($32.99)
Chateau Musar, the best-known of the handful of wineries in war-torn Lebanon, is almost a "cult" wine among its followers, and when I look back over my tasting books I see that I've opened either the red or the white for a disproportionate number of Christmas and Thanksgiving feasts. Made from a combination of red varieties including Cabernet Sauvignon, Cinsaut, Carignan, Grenache, and Mourvedre, it's occasionally likened to Bordeaux, perhaps because of the Cabernet and because Gaston Hochar, who founded the winery in 1930, spent many years in Bordeaux. I find it more akin to the Rhone than Bordeaux, which is okay with me. Very earthy in character, it's no wine for those who insist on laboratory-clean wines; it's also very ageworthy, the 1994 being still a relative baby. This was the third and last bottle of a stash I've been holding since 2001. Very dark ruby in color, it's slightly hazy with glints of bronze, but the edge is clear with no sign of the "brick" or browning color that signals great age. Ripe and luscious red-fruit flavors show a bit of high-toned volatile acidity, but it's ripe, full and still delicious in its complex blend of fruit and earth, and still has years to go. It made a wonderful match with medium-rare roast leg of lamb on the Christmas dinner table. U.S. importer: Broadbent Selections Inc., San Francisco. Website: http://www.chateaumusar.com.lb (Dec. 25, 2006)
Find it on Wine-Searcher.com:
http://www.wine-searcher.com/
find/Chateau%2bMusar%2bRed/-/-/USD/A?referring_site=WLP
Saturday evening, I took three recent arrivals from California Wine Club's Connoisseurs' Series to a Christmas weekend buffet with friends. All three were big hits with wine "geeks" and more casual wine lovers alike, and they served well with a variety of buffet fare including turkey, ham and roast beef, spicy chili and assorted cheeses. For information on membership in Connoisseurs' Series - my No. 1 source for highly rated California wines - call 1-800-777-4443.
D-Cubed 2003 Napa Valley Zinfandel ($25 retail, $22 for half and full case reorders from Connoisseurs' Series)
Napa Valley may be more known for its imposing Cabernet Sauvignon than Zinfandel, but D-Cubed makes a strong argument for Zin in this sought-after terroir. This dark-garnet wine shows bold aromas of blackberries framed by spicy oak. Mouth-filling, almost creamy in texture, its 15.2% alcohol rises to a potent level, but big fruit and oak hold it in good balance, building a memorable Zin that's likely to reward a year or two of cellar time. Website: http://www.dcubedcellars.com (Dec. 23, 2006)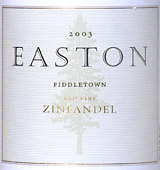 Easton 2003 Fiddletown Old Vine Zinfandel ($35 retail, $29 for half and full case reorders from Connoisseurs' Series)
If you like your Zinfandel on the complex, subtle and elegant side, the wines from Easton (which also produces noteworthy Syrah-based wines under the Terre Rouge Label) are hard to beat. This one' a clear, jewel-like ruby in color, with nicely balanced and intriguing aromas of blackberries, raspberries and black plums in a well-balanced, approachable Zin with soft tannins and a good acidic snap in the finish. It's no shrinking violet, but carries its 14.5% alcohol well in an exceptionally food-friendly Zinfandel. From the historic Rinaldi-Eschen Vineyard in the Fiddletown district of Amador County, only 500 cases were made. Website: http://www.eastonwines.com (Dec. 23, 2006)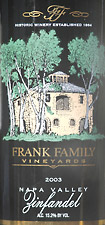 Frank Family Vineyards 2003 Napa Valley Zinfandel ($35 retail, $29 for half and full case reorders from Connoisseurs' Series)
This Napa Zin is a clear ruby color, with appetizing, forward aromas of blackberry cordial with subtle, pleasantly herbaceous back notes. A load of berry fruit on the palate is well balanced by crisp fresh-fruit acidity, and like this other Zins in this flight, its robust 15.2% alcohol manifests itself only as a good sturdy body with no objectionable heat in the flavor or in the finish. Website: http://www.frankfamilyvineyards.com (Dec. 23, 2006)
FIND THESE WINES ONLINE:
As noted, these wines are available with membership in California Wine Club's high-end Connoisseurs' Series. Call 1-800-777-4443 for information or to join, or visit
http://www.cawineclub.com/connseries