When is Port not Port?
Wine geeks get crabby when winery marketing departments appropriate the names of historic wine regions and put them to work on the labels of wines that never earned the right to bear them.
The long-term abuse of "Burgundy" and "Chablis" for forgettable domestic wines has all but faded now, thankfully; and even the longer-lived "Champagne" on the label of bubblies that never saw France is finally starting to fade, falling before both an increasingly aware consumer market and the gradual tightening of a long-standing legal loophole that had allowed American producers latitude unavailable to the rest of the world.
Until quite recently, though, producers in the United States and Australia remained free to borrow for their dessert wines a geographical moniker that properly belongs to Portugal: It's still fairly easy to find yourself a bottle of strong, sweet domestic "Port."
As a general rule, a cynic would observe, the wines that misappropriate the traditional names are the least likely to resemble them; and certainly, before they entered well-deserved obsolescence, I steered well clear of California "Chablis" and "Burgundy."
Today's featured wine, however, represents an exception that proves the rule: A non-vintage California "Port" from Charbay, a Napa-based producer that specializes in distilled liquors and fortified wines, this ruby-red sweetie is an offbeat but very fine wine, made from late-harvested Cabernet Sauvignon and Petite Sirah grapes in the manner of traditional Port, and fortified with a remarkable mix of five of Charbay's own brandies: Folle Blanche Brandy, Black Muscat Grappa di Marko, Pinot Noir Marko, Gewürztraminer Marc and freshly double-distilled Cabernet Sauvignon Brandy.
While I might not exactly applaud Charbay's decision to use the name of the historic city of Oporto at the mouth of the Douro for a California wine, I can't fault the wine, one of the few New World fortified wines I've encountered that could hold its own in a blind tasting against the real stuff, and I suspect the name was chosen more with respect than marketing in mind.
Charbay, a tiny family firm run by Miles, Susan, Marko and Lara Karakasevic, also makes stunning liquors, even artisanal vodkas. I'll report on one of those in another edition some time soon. For more information about the company and its beverages, see the Website,
http://www.charbay.com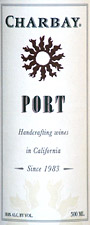 Charbay California "Port" ($75/500 ml)
Very dark ruby, opaque in the glass. Rich, typical Port aromas, black raisins and plums, add light scents of walnuts. Walnut character is more evident on the palate, nicely balanced with "grippy" acidity and smooth tannins. It opens up in the glass (and in the leftover bottle) to lush complexity. A respectful imitation of true Port, very well done.
FOOD MATCH: Port and Port-style wines are really best enjoyed by themselves as an after-dinner drink, although this one went very well with traditional Port accompaniments, sharp Cheddar cheese and cracked walnuts.
VALUE: It's a fine fortified dessert wine. Bargain-seekers should note that the winery price is in the range of true Portuguese Vintage Port, but this is a fine and very serious dessert wine that arguably justifies its special-occasion price with its quality. Scarcity and demand are also considerations: Only four barrels were made.
WHEN TO DRINK: As with high-end Port from Portugal, this well-crafted and balanced wine will last, and may evolve additional complexity, over quite a few years under controlled cellar temperature.
FIND THIS WINE ONLINE:
Perhaps the best way to locate Charbay Port and its other beverages is through the company Website,
http://www.charbay.com
Click "Shop" at the upper right to browse the winery store.
Look up vendors and prices for Charbay on Wine-Searcher.com:
http://www.wine-searcher.com/
find/Charbay/-/-/USD/A?referring_site=WLP