Brunello's brother
If it seems that I've been talking a lot about the fine wines of Tuscany lately, there's a reason for that - I've been focused on the category thanks to a trip to Italy in October to judge the region's wines. There, I tasted well over 100 of them in competition, and enjoyed a couple of dozen more with meals during the event. This week, as part of my agreement with the Italian Trade Commission and Toscana Promozione, I'll be presenting a selection of the winning wines in a seminar for wine writers and the wine trade in New York City on Thursday.
If you're going to be intrigued by any wine region, I'll submit that Tuscany is a mighty fine choice. This historic but not overly large wine region reaches from the Appenines west the sea and extends from Florence south and southwest in the general direction of Rome. It contains nearly four dozen designated wine regions, and - having had occasion to taste through the wines of most of those regions in the competition's "blind" tastings, I'd assert that it would be hard to find a wine region anywhere in the world that produces so many different wines of such consistent high quality.
Tuscan wines are diverse, and yet they boast a consistent Tuscan style of warmth and fruit and subtle earth, food-friendly acidity and balanced structure that makes them consistent contenders among world-class wines.
Certain Tuscan wines - Chianti in particular - boast such a long history of more than 700 years that they rank among the world's archetypal wines. But one of my favorites - Brunello di Montalcino, which you might call a close cousin of Chianti - is a relatively recent arrival by historic standards, having been almost literally created in the vineyard and winery only a little over 100 years ago by an Italian nobleman who would surely be a charter member of the Wine Hall of Fame (if such a thing existed): Ferruccio Biondi-Santi.
Chianti is made from a blend of grapes dominated by the Tuscan Sangiovese. Brunello is made 100 percent from a specific subvariety of Sangiovese grown around the village of Montalcino. Now called Sangiovese da Brunello, this subvariety was originally named "Sangiovese Grosso" ("Big Sangiovese") despite being a smaller grape than regular Sangiovese. Biondi-Santi planted Sangiovese Grosso because it was relatively resistant to the phylloxera root-louse plague that devastated Europe during the 1870s. He made his wine in a different style than the Chianti of the era, which was made as a light drink for casual quaffing with food. Biondi-Santi created structured and concentrated wine that would be aged in barrels for years before bottling for sale.
This was serious wine, with a price to match. Cellarworthy and sought-after, Brunello is not for everyday drinking. Happily, however, budget-conscious wine enthusiasts have a reasonable alternative in Rosso di Montalcino - today's featured wine. It's made from the same Brunello grape, but usually taken from younger vines, and it's vinified in a fashion that makes it a bit more accessible for drinking while it's still young; a simpler, easier-drinking wine to enjoy while the senior Brunello ages quietly in the cellar. It's no small wine, however; it can stand a little cellaring itself (although it does not require aging), and in modern times, Rosso di Montalcino is not exactly cheap.
But it's well worth it, and when I'm in the mood to spend $25 or so at retail for a memorable Italian red - about half the price of a young Brunello and a fraction the toll for a mature bottle - this Rosso is likely to be among my top choices.
Today's tasting, Pertimali 2004 Rosso di Montalcino made by respected Brunello producers Livio Sassetti & Figli, is a fine example, and its mid-twenties price is more than fair.
ABOUT THE TUSCAN WINE SEMINAR: If you're interested in attending Thursday's seminar in midtown Manhattan, and if you're a published wine writer or in the wine business, please feel free to get in touch with me at wine@wineloverspage.com. I may still be able to get you an invitation.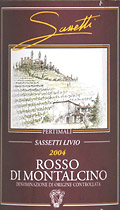 Pertimali 2004 Rosso di Montalcino ($26.99)
Inky dark purple, almost black, so dark that it takes a strong light behind it to show garnet flashes in the glass. It's just as concentrated in the nose and on the palate as the sight: Black-cherry and plum aromas add complex touches of leather and a hint of caramel; similar on the palate, a suggestion of chocolate-covered cherries but bone-dry, with good, food-friendly acidity and firm but smooth tannins building structure. All this might sound like a modern, international wine, but complexity and earthiness and sturdy balance bespeak the Old World: There's no question that it's a Tuscan wine. U.S. importer: Michael Skurnik Wines, Syosset, NY.; Marc de Grazia Selection. (Nov. 28, 2006)
FOOD MATCH: An appropriate regional and gustatory match with a classic Italian dish, Bucatini all'Amatriciana, with a footnote that the dried red peppers that add piquancy to the Abruzzese tradition should be held under control to keep it wine-friendly.
VALUE: While $27 approaches or even passes the threshold of resistance for everyday wine for some, this concentrated, structured wine bears such a strong sibling resemblance to the more lofty Brunello that it's hard to complain at half the price of its bigger brother.
WHEN TO DRINK: Rosso di Montalcino is really meant for early enjoyment while the more ageworthy Brunello matures, but this wine's balance and substantial if palatable tannins suggest that it could certainly stand at least a few years of cellaring.
PRONUNCIATION:
Montalcino = "Mawn-tahl-chee-no"
WEB LINK:
The U.S. importer has a fact sheet on Pertimali and its wines at this link:
http://www.skurnikwines.com/
prospects.cgi?rm=view_prospect_detail&prospect_id=381
FIND THIS WINE ONLINE:
Chambers Street Wines in NYC has a limited supply of Pertimali Rosso di Montalcino. Click this link for the listing:
Order from Chambers Street: http://www.chambersstreetwines.com/Search.asp?
search=go&kw=pertimali+rosso
Look up vendors and check prices for Pertimali Rosso on Wine-Searcher.com:
http://www.wine-searcher.com/
find/Pertimali%2bRosso/-/-/USD/A?referring_site=WLP