Benchmark Chianti
One good way to learn wine is by tasting wines that clearly exemplify their region, grape variety or style ... wines that could be used to illustrate their definition in an unabridged wine dictionary.
This notion of "benchmark wines" becomes increasingly important in an era when so many producers, for better or worse, chase the market by making wines in an increasingly "international" style, fruit-forward and soft and easy. Not that there's anything wrong with that, but for those of us who admire a wine that proudly expresses its own heritage and sense of place (what the French call gout de terroir or "taste of the soil"), it's useful to take passing notice of the wines that show their regional character, and those that don't.
Our monthly Wine Focus and Wine of the Month programs in our online forums (which will feature Champagne and sparkling wines for December) engage in an ongoing pursuit of "benchmark" wines that can serve as standards for wine education, and I'm always eager to have nominations from readers, so please don't hesitate to get in touch and let me know any time you run into any wine that seems a particularly accurate representative of its region or grape.
This week, though, I'm in a Tuscan mood, with my Tuscan Seminar presentation with the Italian Trade Commission in NYC coming up on Thursday, so a modest but representative bottle of Tuscany's trademark wine, Chianti, seemed just the thing for today's report. With more than seven centuries of history behind it, Chianti may be the most classically Italian wine; and in modern times it has fully shed its old wicker-wrapped image as cheap "spaghetti wine." Even the simple Chianti, without any fancy "Classico" or "Riserva" tacked on, remains one of my favorite wines when I'm in the mood for something warm, comfortable and food-friendly.
Today's featured wine, Piazzano 2004 Chianti, is a fine example. I doubt that it would receive, or expect, a 90-plus rating from the usual suspects, but it hits the center of my target as a fresh, crisply acidic and characteristic Chianti.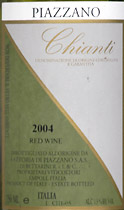 Piazzano 2004 Chianti ($9.99)
Clear dark ruby in color, with the characteristic reddish-orange glints of a Sangiovese-based wine. Ripe cherries and spice aromas are right on target for Chianti, as are its tart red-fruit flavor and appropriately sharp acidity, shaped by an earthy hint of tannic astringency. Not at all complex, but an enjoyable drink, especially at the dinner table. U.S. importer: Michael Skurnik Wines, Syosset, N.Y., and other regional importers; from Marc de Grazia. (Nov. 30, 2006)
FOOD MATCH: If it's a cliche with pizza or red-sauced Italian dishes, that's because it works so well. It fared just as well with a simple dinner fashioned from leftovers: Shredded chicken sauteed with green peppers, onions, celery and garlic.
VALUE: At $10 a bottle it's a fine buy, not all that much more expensive than I used to pay for those wicker bottles in pizzerias years ago.
WHEN TO DRINK: Basic Chianti isn't really meant for long-term cellaring, but it will certainly hold up for a few years on the wine rack.
PRONUNCIATION:
Chianti = "Kee-AHN-tee"
WEB LINK:
Here's a link to the importer's fact sheet on this wine. You can link back from this page to a more extended article with photos about the winery.
http://www.skurnikwines.com/wines.cgi?
rm=view_detail&wine_id=7003
FIND THIS WINE ONLINE:
Look up vendors and check prices for Piazzano Chianti on Wine-Searcher.com:
http://www.wine-searcher.com/
find/Piazzano%2bChianti/-/-/USD/A?referring_site=WLP