Pause that refreshes
By the weekend after Thanksgiving, just about everybody I know is ready for a break from the excesses of rich food and over-the-top wine. With the rest of the holiday season beckoning with its lure of more of the same, Sunday seemed like a great day for something plain and simple, on the table and in my glass.
The food part was easy: When I'm satiated with heavy Western food, I routinely turn to the East for the fresh, bright flavors of Chinese, Vietnamese or Thai. Fighting off the temptation of the takeout option, I dusted off the wok to stir-fry an old favorite, shrimp with lobster sauce, a dish that mysteriously contains no lobster. (It's so called because the sauce is the same as that used with classic Lobster Cantonese.)
What to pour with it? Something simple, something fresh. Something that celebrates the purity of simple fruit, with plenty of crisp acidity to sharpen the jaded appetite. Extra credit for something from an off-the-beaten-path region or uncommon grape ...
Aha! There was the perfect 'tis-the-season antidote, right there in my queue of wines lined up for tasting: Vin de Savoie meets or exceeds all those criteria: It comes from well off the well-trodden wine roads, Savoie in Eastern France, bordering Switzerland on Lake Geneva near the source of the Rhone. It's made from a little-known regional grape, Jacquere ("Zhock-air"), and in this affordable bottling from Roger Labbé, it's delightfully un-oaked and unmanipulated ... just the thing for coming down from a holiday food high.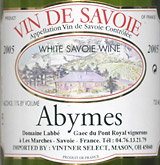 Domaine Labbé 2005 Vin de Savoie Abymes ($10.99)
This is a very light wine, transparent straw color brightened with a brassy tint. Fresh melon and apple aromas lead into a light, crisp flavor reminiscent of honeydew melon that segues into a snappy citric-limey finish. Simple but very fresh, relatively low (11% alcohol) and mouth-watering acidity makes it a fine food wine. U.S. importer: Vintner Select, Mason, Ohio; Michael Skurnik Wines, NYC, and other regional importers. (Nov. 26, 2006)
FOOD MATCH: Fresh fruit, snappy acidity and balance make for a food-friendly flavor profile, and it's just fine with the mix of seafood, pork and aromatic Asian flavors in Cantonese shrimp with lobster sauce.
VALUE: You won't find much more value in the $10 range for a refreshing, quaffable and food-friendly white.
WHEN TO DRINK: This style of wine is best enjoyed young and fresh, during the first year or so after release; neither the wine nor its short synthetic-foam cork is intended for long-term keeping.
PRONUNCIATION:
Savoie = "Sahv-wah"
Abymes = "Ah-beem"
WEB LINK:
Here's a fact sheet on Labbé's Abymes from Michael Skurnik, an importer:
http://www.skurnikwines.com/wines.cgi?rm=view_detail&wine_id=3300
Click the producer's name, Roger Labbé, near the top of that page for more information and photos.
FIND THIS WINE ONLINE:
Look up vendors and check prices for Labbé Abymes on Wine-Searcher.com:
http://www.wine-searcher.com/
find/Labbe%2bAbymes/-/-/USD/A?referring_site=WLP