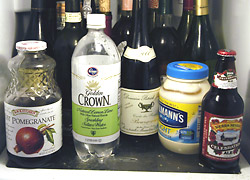 Myths busted?
• Never, ever, store wine bottles standing upright.
• Do not use the refrigerator for long-time wine storage.
These are surely two of the most mandatory instructions in the book of wine laws. After all, everybody knows that if you don't keep your bottles on their sides, the corks will dry out and let damaging air into the wine.
Just as ominous are the warnings that your fridge is a hostile environment for wine: It's too cold in there, and too dry, and the frequent cycling of its compressor motor will shake your wine like the Magic Fingers bed in a cheap hotel room.
So says "everybody," also known as the conventional wisdom. But do these rules make sense? Yesterday, not so much in the spirit of Discovery Channel's "MythBusters" as, say, Disney's 1961 movie, "The Absent-Minded Professor," I had occasion to put them to the test.
I usually follow these rules myself, but I'll be the first to admit that I break them on occasion. I have a bad habit of using the refrigerator's top shelf to stash a bottle or two of a white that I intend to enjoy soon. More often than not, I'll forget all about it for months, but the wine generally survives.
Yesterday, looking around for some wine to take to Thanksgiving dinner with friends, I realized to my horror that a nice bottle of modest but top-value white Burgundy - a Patrick Javillier Cuvée des Forgets Bourgogne from the 2000 vintage - had been hiding behind the mayonnaise and pomegranate juice for at least three years.
Surely it was shot. But what the heck, our friends have a good sense of humor, and it wouldn't matter if it was spoiled. I tucked it in my knapsack, along with a few more promising bottles, just to see how it had fared.
As it turned out, the news was good: The cork was tight, and the wine showed no signs of oxidation beyond what you'd expect in a properly aged six-year-old generic Bourgogne. If anything, refrigerator conditions - a good 10 to 15 degrees Fahrenheit below cellar temperature - had likely held back the wine's evolution and kept it fresher than expected. The wine was fine, and it made a good match with Thanksgiving turkey and the traditional trimmings.
So will I now recommend storing wines upright in the refrigerator? Well, no. The reasons enumerated above make sense, with the possible exception of the fear of compressor vibrations, a concern that I've never really found problematical. When it comes to the wines you consider treasures and want to keep at their best, it makes sense to err on the side of caution. Lay 'em down, and keep 'em at a constant 55F (13C) if you can.
But this experience demonstrates, once again, that wine is generally more durable than we think. If you can't keep it under optimal conditions, the chances are that it will survive. At least for a while.
FORUM POLL:
How about you? Do you abide strictly by the no-fridge rule, or do you use yours as a substitute wine cellar? I've opened a simple poll in our CompuServe Netscape WineLovers Community, where you're invited to click the ballot choice that fits your winestyle. Please take a moment to vote; the more who participate, the better sense we'll get of how seriously the world's wine enthusiasts take this advice. To vote, click
http://community.netscape.com/winelovers?nav=messages&tsn=1&tid=4950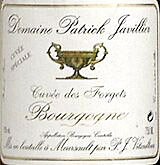 Domaine Patrick Javillier 2000 Cuvée des Forgets Bourgogne ($12)
The wine shows a pale straw color with a brassy hue but no sign of the darkening or browning that might attend a wine oxidized under poor storage. Apples, chestnuts and hints of fresh herbs and warm spice in an appealing aroma; the mouthfeel is full-bodied, textured, almost creamy. Ripe fruit flavors follow the nose, crisp and fresh, with a hint of toasted almonds in the background. There's been no apparent damage from several years of poor storage, standing upright in the refrigerator. Indeed, this not-recommended storage situation may actually have kept the wine in a "time capsule," holding back its evolution. U.S. importer: Vintner Select, Mason, Ohio, North Berkeley Imports, Berkeley, Calif., and other regional importers. (Nov. 23, 2006)
FOOD MATCH: Its rich, full texture and balanced fruit make it a versatile table wine. It was excellent with Thanksgiving Day turkey (both white meat and dark) and the other dishes on the holiday table.
VALUE: Cuvée des Forgets was one of the best white Burgundy bargains around when I purchased this bottle in 2003. It's still a good buy for a white Burgundy of this quality, although the rising strength of the Euro has pushed it past the $20 mark in most markets.
WHEN TO DRINK: Despite poor storage, the wine is holding up very well; a better-cellared bottle should be good for years yet. Note that this bottle has been on the market for several years; the 2003 vintage is now in circulation.
PRONUNCIATION:
Javillier = "Jah-veel-yay"
Bourgogne = "Boor-gone-yuh"
WEB LINK:
North Berkeley, one of the regional importers, has an article about Patrick Javillier and his wines at this link:
http://northberkeleyimports.com/vintners/?id=10
FIND THIS WINE ONLINE:
Look up vendors and check prices for Javillier Cuvée des Forgets on Wine-Searcher.com:
http://www.wine-searcher.com/
find/Javillier%2bForgets/-/-/USD/A?referring_site=WLP