Dolcetto
We've been devoting some attention to Beaujolais lately. Today let's shift our sights to Dolcetto, a Northwestern Italian red wine that's sometimes likened to Beaujolais ... without much basis in fact.
In one of the many enduring myths of wine appreciation, Dolcetto is often described as a light, fruity wine, akin to an Italian Beaujolais. Perhaps this confusion arises from its name, which might be loosely translated as "Little sweetie."
In fact, that moniker apparently relates to the taste of the ripe, black Dolcetto grapes at harvest, but not to the wine it makes, which isn't particularly light and certainly isn't sweet.
You'll most often find the name of the grape Dolcetto linked on the label with the name of one of the Piemontese villages where it's grown: Dolcetto d'Alba, Dolcetto d'Asti, Dolcetto d'Acqui or Dolcetto Dogliani.
Like its neighbor Barbera, Dolcetto is usually a wine of good value, an affordable alternative that can be drunk with enjoyment while it's young, while waiting for the region's more pricey and ageworthy Nebbiolo-based Barolo and Barbaresco to mature. (Vine growers like it, too, because its early ripening nature makes it a natural for vineyards in cooler microclimates where Nebbiolo won't thrive.)
While Barbera is usually sharply acidic, Dolcetto is relatively lower in acid but perceptibly tannic, an earthy flavor profile that shows best in company with food. And in its one aspect that does bear some comparison with Beaujolais, Dolcetto - in spite of its tannins - is best drunk up within a few years of harvest, before the fruit fades and leaves the astringent tannins alone.
In contrast with the Beaujolais that I've been promoting as a decent alternative for the Thanksgiving banquet table, I don't think I'd recommend Dolcetto with turkey: Its dark, plummy flavors and drying tannins would do no favors for light or dark meat. With roast beef on the table, however, it might just work.
Here's an abbreviated look at two recently sampled Dolcettos, both recent arrivals from the fine 2005 vintage and both respectable values in the mid-teens.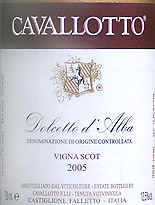 Cavallotto 2005 Dolcetto d'Alba "Bricco Boschis" Vigna Scot ($13.99)
This is a dark purple wine with a clear garnet edge. Blueberry and just a hint of earthy "barnyard" to add a pleasant earthiness in the aroma. Plums and berries on the palate, nicely balanced with crisp acidity and smooth tannins. Well matched with chicken and artichokes in a Pecorino Romano velouté over penne. U.S. importer: Michael Skurnik Wines, Syosset, N.Y. (Nov. 22, 2006)
Website: http://www.cavallotto.com
Find it on Wine-Searcher.com:
http://www.wine-searcher.com/
find/Cavallotto%2bDolcetto/-/-/USD/A?referring_site=WLP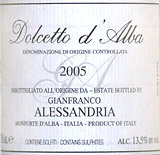 Gianfranco Alessandria 2005 Dolcetto d'Alba ($14)
This dark garnet wine shows a very slight haze, perhaps unfiltered. Black plum and blueberry aromas with a hint of violets and more than a hint of pleasant "damp-earth" minerality. Black fruit flavors are clean and long, with the odd but intriguing structure that's typical of Dolcetto: Relatively light acid is counterbalanced by firm, scratchy tannins that provide ample structure. Fine with the bold flavors of Southwestern-accented beef and red-bean burgers laced with chipotles en adobo and pasilla molido chile. U.S. importer: Vanguard wines LLC, Columbus, Ohio. (Nov. 21, 2006)
Find it on Wine-Searcher.com:
http://www.wine-searcher.com/
find/Alessandria%2bDolcetto/-/-/USD/A?referring_site=WLP