Beaujolais for Turkey Day
Of course it's only a coincidence that the annual Beaujolais Nouveau day (third Thursday in November) arrives just a week before the American Thanksgiving Day (fourth Thursday in November).
But it's a happy coincidence, because it draws our attention to Beaujolais - and the Gamay grape in general - as an interesting option when we're making the annual decision about what wine to serve with roast turkey and all the traditional holiday trimmings.
I've touched on this topic already this season in reports on "Beaujolais, not Nouveau" on Nov. 8, and on the Gamay-based sparkler "Bugey Cerdon" in Friday's edition, as reasonable choices with turkey. Today we take a quick look at three more Beaujolais, including a sample of this year's just-arrived Nouveau. First, though, a couple of quick thoughts about why I like Beaujolais as a holiday pick.
• It's affordable. In an era of rising wine prices, you can still get good, basic Beaujolais for $10 or less, and even the more respected "cru" villages rarely go much past the middle teens.
• It's food-friendly. A distant cousin to its Burgundian neighbor Pinot Noir in style if not in DNA, it offers an appealing burst of forward, strawberry-like fruit with mouth-watering acidity and, in the best examples, subtle Old World earthiness that helps it bridge the varied dishes that weigh down the holiday table ... including both light and dark turkey meat.
• It passes my "cranberry sauce test." Cranberry sauce is a traditional condiment with turkey because it's both fruity and tart, so when you're seeking a match with turkey, choose a wine with a similar flavor profile. Beaujolais fits this to a T (or maybe a B); similar principles also lead us to other worthy matches including Pinot Noir, Riesling, Chenin Blanc and the festive option, Champagne and other sparkling wines.
Riesling is currently leading the "Best Wine with Turkey" sweepstakes in our CompuServe/Netscape WineLovers Community poll, by the way, with Pinot Noir and Beaujolais fighting it out for second place. We'll leave this poll active through the holiday, so if you haven't yet voted, please click here to name your favorite:
http://community.netscape.com/winelovers?nav=messages&tsn=1&tid=4919
Now, in abbreviated form, here are my weekend notes on a trio of Beaujolais, tasted side-by-side with friends over a simple weekend dinner, not turkey but a comforting dish of cheese-and-spinach-stuffed Italian manicotti. The tasting lineup included a bright and tutti-frutti Joseph Drouhin 2006 Beaujolais Nouveau, an almost aggressively earthy old-vines 2004 Domaine du Vissoux, and a splendid 2005 Cote de Brouilly from Jean-Paul Brun, a Cru Beaujolais from the outstanding producer whose basic '05 Beaujolais I featured Nov. 8. All three wines should work well with turkey dinner, are drinkable now but won't benefit from cellaring, and represent reasonable value at their price points.
---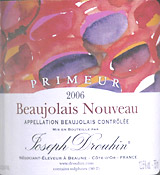 Joseph Drouhin 2006 "Primeur" Beaujolais Nouveau ($11.99)
Clear ruby in color, this one strikes me as a typical Beaujolais Nouveau from an industrial-scale but respected producer. Its ripe, forward tutti-frutti aromas offer a mix of banana and artificial strawberry flavor, coming together in a scent that's eerily reminiscent of those giant pink children's candies called "circus peanuts." Juicy and ripe, it's not as over-the-top on the palate, abundant red-berry fruit and crisp acidity, but yes, we do have bananas. U.S. importer: Dreyfus, Ashby & Co., NYC. (Nov. 18, 2006)
Find it on Wine-Searcher.com:
http://www.wine-searcher.com/
find/Drouhin%2bNouveau/2006/-/-/USD/A?referring_site=WLP

---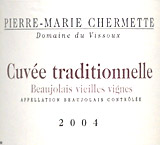 Pierre-Marie Chermette 1004 "Domaine du Vissoux" Cuvée Traditionnelle Beaujolais Vieilles Vignes ($12.99)
This is a rather light ruby color, not much deeper in hue than a dark rosé. Distinct "horsey" notes dominate red-berry fruit aromas. Crisp and fresh in flavor, good fresh strawberries, but it's just loaded with brettanomyces wild yeast flavors, redolent of sweaty horses, well-used saddles and the barnyard. This one will separate the men from the boys, as the saying goes, but I like it. Okay, I like a little of it. The back label indicates that it's naturally fermented with wild yeasts from the grapes and bottled with "little or no" filtering, demonstrating that "natural" wine making can be a challenge. U.S. importer: Weygandt-Metzler, Unionville, Pa. (Nov. 18, 2006)
Find it on Wine-Searcher.com:
http://www.wine-searcher.com/
find/Vissoux%2bVieilles/-/-/USD/A?referring_site=WLP

---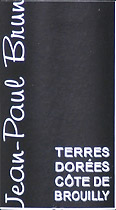 Jean-Paul Brun 2005 Terres Dorées Côte de Brouilly ($14.99)
My love affair with Brun's Beaujolais continues with this beautifully balanced wine. It's a clear, not quite transparent ruby color, breathing scents of strawberries, fresh and true, luscious but not over the top, with subtle earthiness in the background. Tart, cleansing acidity provides structure unusual in a Beaujolais, with red berries and cherries and earthy minerality lingering in a long finish. U.S. importer: LDM Wines Inc., NYC; Louis/Dressner Selections. (Nov. 18, 2006)
Find it on Wine-Searcher.com:
http://www.wine-searcher.com/
find/Brun%2bBrouilly/-/-/USD/A?referring_site=WLP