Sparkling season
No, I'm not any more excited than most of you are about seeing Santa Claus and reindeer and decorated trees in the shopping malls at Halloween.
But let's face it: Autumn is here, and the countdown to the holidays has begun. As we move into the season, chances are that we'll be hearing the festive pop of sparkling-wine corks more and more.
After all, as I've often observed, Champagne and other sparkling wines aren't just for New Year's, weddings and Super Bowl champions any more. A glass of bubbly is appropriate not only for festive occasions but for almost any occasion; and a quality sparkling wine doesn't have to be reserved for toasting: It makes a fine match with many a dish on your dinner table.
Although Madame Lily Bollinger, of the Champagne house that bears her family name, had an obvious commercial interest in promoting the stuff, she still pretty much wrapped it up with this often-quoted hymn of praise:

"I drink it when I'm happy and when I'm sad. Sometimes I drink it when I'm alone. When I have company I consider it obligatory. I trifle with it if I'm not hungry and I drink it when I am. Otherwise I never touch it, unless I'm thirsty."
I can't quibble with the assertion that Champagne, the real deal from the French region of that name, is hard to beat for quality. The folks there invented the stuff some 300 years ago. But real Champagne is expensive, rarely available at less than $25 or so for the most basic bottlings and easily rising into the triple digits. (I recently spotted Roederer Cristal, beloved of hip-hop stars and the casually affluent, at a local discount shop for a cool $229.)
So, now and then over coming weeks I'll offer reports on a random selection of non-Champagne bubblies that offer good quality for a few dollars, Euros or pounds sterling less. Today's featured wine is one of my favorite alternative sparklers: It's a Vouvray Petillant, a rich, nearly dry Chenin Blanc from the Loire, a full-fledged Vouvray that just happens to come in a sparkling-wine bottle with a full complement of bubbles.
WINE FOCUS, WINE OF THE MONTH
There's a taste of the winter and the holiday season in our Wine Focus feature for November in the Wine Lovers Discussion Group, where we're taking a close look at Port. You're invited to drop in and share your impressions of Port wines you've enjoyed, or to ask any questions you may have about Port, its production, and general consumer advice on buying and drinking Port. Spinning off from the Port theme, our Netscape/CompuServe WineLovers Community is featuring all the wines of Portugal, from Port to Vinho Verde and beyond, as Wine of the Month.
To take part in these fun and educational online activities, click
http://www.wineloverspage.com/forum/village/viewforum.php?f=18
for the WLDG's Wine Focus, and
http://community.netscape.com/n/pfx/forum.aspx?
folderId=4&listMode=13&nav=messages&webtag=ws-winelovers
for the WineLovers Community Wine of the Month.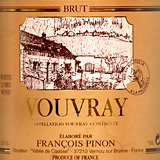 François Pinon NV Vouvray Petillant Brut ($16.99)
This clear, light-gold wine opens with a pop of its Champagne-type cork and pours with a frothy mousse that falls back fast. Good Chenin Blanc aromas of apples and honeydew melon add a touch of "woolly" minerality and just a hint of pumpkin-pie spice. Fresh and bright white-fruit flavors follow the nose, with barely perceptible sweetness cloaked by mouth-watering acidity. Crisp appley fruit and a touch of snappy citrus lingers in a long, clean finish. U.S. importer: LDM Wines Inc., Louis/Dressner Selections. (Nov. 3, 2006)
FOOD MATCH: Its crisp acidity, prickly carbonation and fresh white-fruit flavors make it a natural with seafood and fish. It was very fine with a seafood risotto packed with shrimp, scallops and scrod.
VALUE: At this mid-teens price point, it's half the price of bottom-end Champagne, and is frankly a more complex and refined sparkling wine than most non-vintage Champagne house cuvees.
WHEN TO DRINK: There's no reason not to enjoy it now, although the combination of quality Chenin Blanc and well-made sparkling wine suggest that it could gain richness and complexity with several years under excellent cellar conditions.
WEB LINK:
Here's a fact sheet and photo about François Pinon Vouvray Petillant Brut from importer Polaner Selections. You can link from here to fact sheets on both the Petillant and regular Vouvray.
http://www.polanerselections.com/producer.php?pID=2214
FIND THIS WINE ONLINE:
I got mine from Chambers Street Wines in NYC, which currently shows a supply available at this link:
http://www.chambersstwines.com/Search.asp?search=go&kw=pinon+petillant
Compare prices and find vendors for François Pinon Vouvray Petillant Brut on Wine-Searcher.com:
http://www.wine-searcher.com/
find/Pinon%2bPetillant/-/-/USD/A?referring_site=WLP