Sunrise, sunset ...
One of the most enduring images of the wine snob features a sniffy gentleman who has painstakingly memorized all the "good years" and "bad years" for his pricey favorites, and stuffily insists on only the best.
It's this kind of thing that gives wine a bad reputation as a hobby for pedants, a dilettante's infatuation that's almost impossible to learn.
But I'd argue that vintage is about more than mere rote memory of trivial information. Following the changes that vintage variations bring to our favorite wines is a bit like nurturing an old friendship and enjoying the changes that maturity imparts.
As I wrote just this past summer, it can be fun to observe the similarities that the grape, the land and the wine maker's hand bring to a particular wine each year, and to contrast these fixed points against the inevitable changes that result from differences in each vintage's weather and other variables.
Vintage variations also remind us in a very basic way that wine is, after all, the result of an agricultural process and that vine growing is ultimately just another form of farming. That's a useful antidote to snobbery.
All this is by way of celebrating my recent tasting of a very pleasant Austrian Grüner Veltliner from the respected producer Nigl, my first GV of the 2005 vintage. While there's some argument in favor of cellaring GV - especially the robust Wachau-bottled version labeled "Smaragd" - until it gains added richness and complexity, it's mighty hard to wait, though, when a crisp, light and minerally beauty like this one tastes so good right off the boat.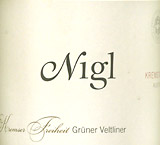 Nigl 2005 Kremser Freiheit Kremstal Grüner Veltliner ($15.49)
Transparent, very pale straw color, almost watery pale. Lovely citrus scents of lemon-lime lead into a crisp and tart flavor clean and snappy citrus shaped by "rocky" minerality and cleansing acidity that lingers. U.S. importer: Michael Skurnik Wines, Syosset, N.Y.; a Terry Theise Estate Selection. (Oct. 14, 2006)
FOOD MATCH: It made a fine match with an autumn dinner of pork rib roast braised with sauerkraut.
VALUE: No complaints at this price point, although it's worth noting that Wine-Searcher.com prices for this bottling range from $14 to $19, so careful shopping could save a dollar or two.
WHEN TO DRINK: As noted, Grüner Veltliner may gain complexity with time under very good cellar conditions, but there's really no reason not to enjoy this light, crisp rendition now.
WEB LINK:
Curiously, even the winery's purportedly English-language pages seem to come up in German for me:
http://www.weingutnigl.at/index.asp?lang=en
For an English alternative, try the importer's Nigl pages, with links to specific wines:
http://www.skurnikwines.com/prospects.cgi?rm=view_prospect_detail&prospect_id=7
FIND THIS WINE ONLINE:
Compare prices and find vendors for Nigl Grüner Veltliner on Wine-Searcher.com:
http://www.wine-searcher.com/
find/Nigl%2bGruner/-/-/USD/A?referring_site=WLP