Another look at Portugal
It's been almost a year now since my last visit to Portugal, but my happy memories of all the outstanding wine, delicious food and friendly people I met in this amiable country remain vivid.
My biggest disappointment, nearly 11 months after that early December trip, is that it's still hard to find many of the delicious dry table wines of Portugal on this side of the Atlantic.
From the classic light and frothy Vinho Verde to the country wines of Estremadura and the Alentejo plain (home to the world's largest cork oak forests); from the terraced slopes of the Douro, where the traditional home of Port is producing more and more impressive dry reds, to such less-familiar regions as Tras-os-Montes and Minho, Portugal is building a growing reputation for world-class wines in many more styles than Port alone. But at least in the places where I buy wine, it's a rare thing to find a retail shop with more than a half-dozen selections, most of them from a few large producers.
In the hope of building a little excitement about Portugal and all its wines, we've decided to highlight these wines as the monthly tasting features in both our online forums for November.
In our non-commercial WineLovers Discussion Group (WLDG), the monthly Wine Focus will zero in on Port. You're encouraged to try and talk about any style of Port, from the basic non-vintage Ruby Port to wood-aged Tawnies and Colheitas and, if you like, the top-tier Vintage Port. Naturally your questions about Port and related topics are welcome. In our WineLovers Community on the Netscape/CompuServe service, the November Wine of the Month feature will take in all of Portugal's wines, with special attention to dry table wines from all parts of the country.
To set the stage, today's wine tasting features a classy Portuguese white, "Auratus" from Quinta do Feital. Designated "Vinho Regional" ("Regional wine," the approximate equivalent of a French Vin de Pays, this is a wine from Minho ("Meen-yo") in Portugal's far north. A blend of Alvarinho (the Spanish Albarino) and Trajadura (the traditional grape of Vinho Verde), it's distinct from Vinho Verde in style, medium-bodied with a textured, almost plush mouthfeel that belies its relatively modest 12 percent alcohol.
WEB LINKS:
You'll find the Wine Focus section of the WineLovers Discussion Group at
http://www.wineloverspage.com/forum/village/viewforum.php?f=18
The Wine of the Month section of the Netscape/CompuServe WineLovers Community is here:
http://community.compuserve.com/n/pfx/forum.aspx?
nav=messages&folderId=4&webtag=ws-winelovers&listMode=13
To view my reports from Portugal last December, visit my Portugal Wine Diary 2005,
http://www.wineloverspage.com/wines/port121305.phtml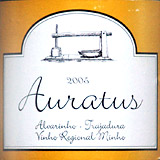 Quinta do Feital 2005 "Auratus" Alvarinho-Trajadura Vinho Regional Minho ($14)
Watery pale, but it shows glints of gold in the glass. Peach and mango aromas, pleasant but not overbearing. Medium-bodied, textured; mouth-filling fruit creates a first impression of sweetness, but it finishes dry and tart. Good aperitif and food wine, light and balanced at a claimed 12% alcohol. U.S. importer: Vieux Vins Inc., Vineburg, Calif. (Oct. 27, 2006)
FOOD MATCH: Its rather full body and texture helped it stand up nicely to an at-home replication of a Tuscan seafood dish I enjoyed recently in Siena, roast monkfish wrapped in pancetta with sage.
VALUE: An impressive wine that fully justifies its price point in the middle teens.
WHEN TO DRINK: Although there's a lot more substance here than you'll find in light Vinho Verde, the grape (and the synthetic cork) suggest that it's better for drinking up than cellaring.
WEB LINK:
Polaner Selections, an importer, has a fact sheet about Quinta do Feital, with links on to information about the Auratus Alvarinho-Trajadura, at this Web page:
http://www.polanerselections.com/producer.php?pID=2214
FIND THIS WINE ONLINE:
Compare prices and find vendors for Auratus Alvarinho on Wine-Searcher.com:
http://www.wine-searcher.com/
find/Auratus%2bAlvarinho/-/-/USD/A?referring_site=WLP