Hiding in plain sight
Let's wrap up the work week with another of our frequent trips down the wine world's less familiar paths, taking a quick look at the Spanish grape Macabeo.
Macabeo ("Mah-cah-BAY-oh") may be one of the most widely planted white grapes that you've never heard of. It's popular across a wide swath of northern Spain, and it spills over to the French side of the Pyrenees with the soundalike synonyms Maccabeu and Maccabeo Alcanol. It's also grown in Rioja under the alternative moniker Viura ("Vee-OO-dah").
Macabeo, along with the similarly unfamiliar grapes Xarel-lo and Parellada, is a major player in cava, the inexpensive, good-value Spanish sparkling wine that's popular around the world. If you've ever enjoyed a fizzy cava, you've probably tasted Macabeo without realizing that you were doing so.
Macabeo makes a crisp, white wine with fragrant floral aromas, not overly high in acid, a description that encourages wine makers to blend it with other grapes to achieve a more balanced flavor profile.
The Spanish name suggests a possible, mysterious connection with the Old Testament heroes Judah Macabee and his brothers, but I've been able to dig up anything definitive about its etymology. If any of you have information on this, I'd love to hear it and hope you'll post the information on our WineLovers Discussion Group or send me E-mail.
Today's featured wine is the first varietally labeled Macabeo I've seen at retail. It's made by the Spanish producer Legado Muñoz in the Tierra de Castilla region of central Spain, near Madrid. It's an interesting wine at a fair price, a good addition to your "life list" if you enjoy collecting odd varieties as much as I do.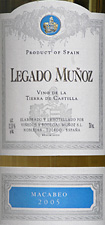 Legado Muñoz 2005 Vino de la Tierra de Castilla Macabeo ($11)
Clear light gold; a clear-glass bottle shows off its color on the shelf. Pear and melon aromas, fresh white fruit, lead into a mouth-filling, medium-bodied flavor, dry and tart, with white fruit flavors that follow the nose; crisp lemon-lime persists in a long finish. Simple but appealing, a nicely balanced table wine. According to the importer's spec sheet, there's 10% Riesling in the blend. U.S. importer: Quality Wines of Spain, NYC. (Oct. 15, 2006)
FOOD MATCH: It made a fine match with, and ingredient in, linguine with white clam sauce.
VALUE: Hard to beat as a white-wine value at this price point just over $10.
WHEN TO DRINK: I can't claim much experience with Macabeo, but the conventional wisdom suggests that it's not made for aging, and in my experience, the Cavas in particular don't last. Drink over the next year.
WEB LINK:
Here's a link to an importer page with information about Legado Muñoz plus further links to the Macabeo and other wines.
http://www.qualitywinesofspain.com/
Legado%20Munoz/Bodega_Munoz.htm
FIND THIS WINE ONLINE:
Compare prices and find vendors for the wines of Legado Muñoz on Wine-Searcher.com:
http://www.wine-searcher.com/
find/Legado%2bMunoz/-/-/USD/A?referring_site=WLP