Back in the U.S.A.
Back home from Italy and full of happy memories of Tuscan food and wine, I was tempted to whip up something inspired by my restaurant experiences in Siena for dinner last night.
But reality spoke with a louder voice, and in the woozy aftermath of a 22-hour travel day, combined with a supply of okra in the fridge that had been fresh when I left last week, a simple, American-style meal seemed like a more practical idea.
The dinner part was easy: A simple sausage gumbo with rice required little mental or physical effort; and the slumgullion-style mélange neatly obscured any browned and wizened bits on the okra. For extra credit, the dinner provided a fine opportunity to carry on my never-ending quest to pair dry table wines with fiery dishes.
This time - in contrast with my recent pairing of a slightly sweet, gently fizzy artisanal Lambrusco with another Cajun dish, red beans and rice - I tried a smooth, fruity, low-tannin but properly acidic California red, KitFox 2003 "Foxy" red table wine that had been a recent California Wine Club selection. It worked out well: The flavors were surprisingly complementary, and the wine's literally mouth-watering acidity seemed to create a palate environment that helped quench the spicy heat of the Cajun fare.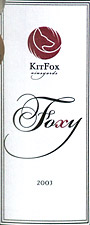 KitFox 2003 "Foxy" California Red Table Wine ($14.99)
Dark blackish-purple color, ruby glints against the light. Appealing fruit aromas, blackberries and blueberries and plums, are echoed in fresh-fruit flavors so juicy that they almost seem sweet, but snappy acidity provides balance and food-friendliness, with alcohol at a hearty but rational 13.5%. A blend of 75% Cabernet Sauvignon and 25% Syrah, it's a very user-friendly red, but there's plenty here to satisfy more serious "wine geeks." (Oct. 24, 2006)
FOOD MATCH: The wine's forward fruit, mouth-watering acidity and relatively modest tannins worked very well as a flavor match and reasonably well as a quencher with a spicy Cajun-style okra gumbo.
VALUE: Well-matched against the competition in the mid-teens, but note that you may be able to find it well below this winery retail price.
WHEN TO DRINK: It's holding up well, although its synthetic cork argues against holding it much longer. I'd drink this vintage over the next year.
WEB LINK:
The winery Website includes background about the KitFox winery, its vineyards and the wines. There's a list of state distributors in the U.S., and a fax order form for online buying:
http://www.kitfoxvineyards.com/
FIND THIS WINE ONLINE:
Compare prices and find vendors for KitFox "Foxy" on Wine-Searcher.com:
http://www.wine-searcher.com/
find/KitFox%2bFoxy/-/-/USD/A?referring_site=WLP
This, with the Foxy White, was a recent monthly selection from California Wine Club. The popularity of this pair made it a quick sellout, but it couldn't hurt to call the club at 1-800-777-4443 to see if they've got any left.