This article was published in The 30 Second Wine Advisor on Monday, Oct. 23, 2006.


Judging was at the Hotel Garden near Siena, under analytical, almost laboratory-like conditions, each judge parked at a small, white-draped table.
Inside wine judging
As I write this, I'm flying home from a quick five-day trip to Siena, Italy, where I had the pleasure of participating in a judging panel at "VII Selezione dei Vini di Toscana" - the major biennial competition for Tuscan wines. I know I'm not going to have much luck convincing most of you that judging wine in high-level competition is really hard work, but it is. No, seriously. I'm not kidding about this.
Let me assure you that there's no party atmosphere about this activity, even though 1,064 bottles of wine would be opened and judged during the 2 1/2-day competition. For today's article, I thought you might be interested in a quick inside look at how a fairly typical large wine competition works.
Judging took place in a large, brightly lighted meeting room at the Hotel Garden near Siena, under analytical, almost laboratory-like conditions, each judge parked at a small, white-draped table, nine rows of seven tables each, lined up in ranks and files very much like a classroom. A rule of silence is rigorously enforced: Comments ranging from "Good juice!" to "Eeuuww" might unfairly influence your neighbor's opinions.
That's not a trivial matter, as the competition is very serious business. The wines that earn top honors gain more than mere bragging rights but will gain international publicity that can translate into a growing reputation, and sales.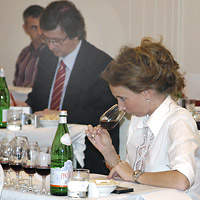 Judges Barbara Tamburini, from Italy, and José Ma. Lez Secchi from Uruguay contemplate an entry.

Bread and water were available for palate-clearing, and every judge was provided a supply of napkins and his own bucket (partly filled with sand, a nice touch) for spitting. (Never mind manners - you can't swallow even a little wine with every taste and expect to remain unimpaired in a mass tasting like this.

Even with time out for a fair amount of ceremony (all of it in Italian), not to mention lavish lunches and dinners that showcased both typical and modern Tuscan dishes and, of course, more wine, there was no real opportunity to get out and tour the beautiful Tuscan countryside or historic and picturesque Siena. That was definitely a downside. Still, I'd be fibbing if I denied that it was fun, too, and an honor to be invited to judge.

Judges were drawn from an international panel of wine journalists and sommeliers with experience in similar national-level competitions. The sizable panel was mostly Italian, with a handful of invited participants from other countries: wine writers Sally Easton from the United Kingdom and Federico Oldemburg from Argentina by way of Spain, enologist José Ma. Lez Secchi from Uruguay and a few more.

Names for the nine "commissioni" (judging panels) were drawn from fishbowls on the event's opening day to ensure a random distribution. Each seven-member panel comprised one journalist, one sommelier and five enologists.

The 1,000-plus wines in competition were divided into 15 categories based on style, but wines from all the Tuscan wine regions were presented together. In other words, young Brunello and Chianti Classico could be presented in the same "flight" (and judges wouldn't be told which were which) because they are both DOCG red wines made from traditional grapes, but "Super Tuscans" with non-traditional grapes like Cabernet or Merlot dominant were in a different category.)

There was a total of five judging sessions, Friday afternoon and Saturday and Sunday morning and afternoon, each divided into two "flights" of, usually, 11 to 13 wines each. Each panel judged different wines, poured one at a time by a hard-working squadron of expert sommeliers; and the wines just kept on coming. Usually the next wine was poured after just five minutes, and judges were under some pressure - peer pressure, at least - to have their analysis and rating of the previous wine done by then.

Wines judged flawed by cork taint or other individual-bottle faults were replaced upon any judge's request. I didn't keep a careful tally, but it seemed that close to one of the nine panels, on average, called for a repour in every round, suggesting an overall failure rate in the neighborhood of 10 percent.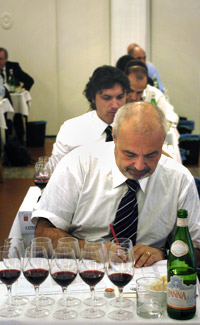 Using the red pen provided, Italian judge Franco Quaglia fills in the boxes on his standard rating form.

To foster consistency, judges used a rigorous tasting form that sorted out each wine by its appearance, aroma, flavor and overall characteristics, much as many of us do for our own amusement when we taste wines at home.

The forms yield scores on a 100-point scale, something I don't usually do, with individual elements (like "limpidity," "hue" and "intensity" under "vision") evaluated separately, and the totals tallied by computer. In a standard statistical procedure, the highest and lowest score for each wine were discarded to minimize the effect of idiosyncratic responses.

I assume it goes without saying that all wines were tasted "blind," except for the wines' style category and vintage. Even at the end of the competition, judges weren't informed of the results. We'll get them by E-mail later, and I'll follow up with a brief report when they come in. For the United States, the Italian Trade Commission also plans a news conference in New York City in December (I hope to be there) to announce the results and, not coincidentally, to promote the winning wines.

The competition was organized by the Region of Tuscany in partnership with the Enoteca Italiana of Siena, the National Italian Winemakers Association and the Italian Trade Commission.

Later this week, as soon as I can clean up and edit my scrawled PDA notes, I'll publish my on-the-spot report on all the memorable meals we had and the wines, from Tuscany and beyond, that went along with them.

For further reading, as I mentioned in last Monday's edition, the Italian Trade Commission's excellent Website, ItalianMade.com, offers brief, readable synopses of all the Italian wine regions ... including Tuscany, of course.
http://www.italianmade.com/

The Enoteca Italiana site carries a lot of information about the competition, but it's available only in Italian.
http://www.enoteca-italiana.it/selezione/

WineLoversPage.com