Traveling next week
Because of my travels in Tuscany, there'll be no 30 Second Wine Advisor Wednesday or Friday editions or Thursday FoodLetter this week. We'll resume publication Monday, Oct. 23, but depending on scheduling, that edition might not reach you until Tuesday.
Off to Tuscany!
Tuscan Sun, Tuscan Year, Tuscan Hills, Tuscan Childhood ... Tuscany is hot these days, featured in dozens of new books, drawing attention as a travel destination, for its food, and of course for its wealth of world-class wines. Tuscany is drawing so much attention that one wonders why it took so many people so long to "discover" this historic Italian region with its deep cultural roots that go back to medieval times and beyond.
It's one of my favorite places for wine touring, and I'm both honored and delighted to have been invited as the only U.S. wine judge at the "VII Selezione dei Vini di Toscana" ("7th Annual Selection of Tuscan Wines") at the Enoteca Italiana in Siena this weekend.
A broad range of Tuscan wines will be entered in the competition, which operates under the auspices of the Italian Ministry of Agricultural Policy and is organized by the Region of Tuscany in partnership with the Enoteca Italiana of Siena, the National Italian Winemakers Association and the Italian Trade Commission. Judges are drawn from an international panel of wine journalists and sommeliers with experience in similar national-level competitions.
I hope to be able to publish photos and daily reports from Siena, assuming a good Internet connection, but in any case, I'll bring back a full report when regular Wine Advisor publication resumes next week.
For today, let's set the scene with a quick-reference list of some of the leading Tuscan wine types. I expect the judging will be organized along similar lines:
• Chianti - The ancient Tuscan hills between Florence and Siena have been producing Chianti, to the delight of wine lovers, for 700 years or more. It's based primarily on the Sangiovese red grape with a blend of other varieties, including, traditionally, a bit of white grape juice to add grace notes, a custom that some modern producers no longer follow. Chianti Classico is made from grapes grown in the desirable central part of the region, and wines labeled "Riserva" are aged in oak for a prescribed time before bottling.
• Super Tuscans - A generation ago, some Chianti producers, eager to experiment with grape blends and barrel aging not permitted under the strict regional wine laws, began making Chianti-style wines with such offbeat variations as Cabernet Sauvignon or Merlot in the blend and small French oak barrels. Initially they chose the generic "Vino da Tavola" ("table wine") designation previously reserved for modest everyday wines. More recently, Italian wine law has become more flexible, opening up regional Indicazione Geographica Tipica (IGT) designations for "non-traditional" wines. Most Super Tuscans are now labeled Toscana IGT. Some of them command top critical ratings and price, although many of them are made in a modern "international" style that attracts high critical ratings and prices but that those who admire traditional European wine styles find controversial at best.
• Brunello di Montalcino - Another ancient and highly regarded wine, grown only around the village of Montalcino south of Siena, Brunello is made from a specific clone of Sangiovese. It's not unlike a fine, high-end Chianti in style; ageworthy and collectible, it ranks among Italy's top wines and is certainly one of my favorites ... when I can afford it. Bargain hunters may want to look for Rosso di Montalcino, usually made from younger grapes and less oak exposure to yield a fine if simpler wine that can be enjoyed without cellaring.
• Vino Nobile di Montepulciano - Another special Sangiovese clone goes into another of Chianti's cousins, just about as structured and ageworthy as Brunello, but not yet quite as expensive. Today's tasting report features a Vino Nobile that's a fine value in the lower $20s.
• Vernaccia di San Gimignano - The most sought-after white wine in a land best known for its reds, this usually medium-bodied and aromatic white, made from the Vernaccia grape, comes from the picturesque village San Gimignano, a landmark for its many church towers.
WEB LINKS:
The Italian Trade Commission's excellent Website, ItalianMade.com, offers brief, readable synopses of all the Italian wine regions. For the pages on Tuscany and its wines, start here:
http://www.italianmade.com/regions/region9.cfm
If you'd like to read more about the competition I'll be judging, there's extensive information at the Enoteca Italiana site. It's only available in Italian, though!
http://www.enoteca-italiana.it/selezione/
---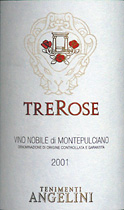 Angelini 2001 "TreRose" Vino Nobile di Montepulciano ($23)
This is a very dark garnet wine, almost black in the glass. Spicy black cherry aromas, characteristic of Sangiovese, add a subtle, earthy whiff of "barnyard" that's not at all unpleasant. Mouth-filling black fruit flavors, mouth-watering acidity and smooth, silky tannins come together in a beautifully structured wine that's fine with food in spite of its unusually high (14%) alcohol content. U.S. importer: Wilson Daniels Ltd., St. Helena, Calif. (Oct. 7, 2006)
FOOD MATCH: Simple, medium-rare red meat is the answer here, and a pan-seared medium-rare rib eye made a perfect match.
VALUE: The lower $20s is more than fair for a wine of this quality.
WHEN TO DRINK: Luscious fruit makes this one unusually accessible at an age that's still young for a Vino Nobile. The conventional wisdom anticipates a plateau of maturity at 10 to 15 years past the vintage.
WEB LINK:
The Angelini Website is available in English, Italian and German. Here's a link to the English-language home page.
http://www.tenimentiangelini.it/eng/trerose_en.html
FIND THIS WINE ONLINE:
Compare prices and find vendors for TreRose Vino Nobile on Wine-Searcher.com:
http://www.wine-searcher.com/
find/Trerose%2bVino%2bNobile/-/-/USD/A?referring_site=WLP