Translating Teroldego
Vine growers and wine producers, by and large, expend more of their time and energy on making the stuff than they devote to keeping detailed records about what they decide to call it.
This is why, for example, a couple of hundred years after the fact, even wine historians aren't quite sure why an anonymous British wine shipper in 1832 decided to label a bunch of Syrah vines bound for Australia as "Scyras," a term that later evolved to the familiar "Shiraz."
Just as mysterious is the evolution of an Eastern European table grape's name from "Zinfindal," "Zierfandler" or even "Zeinfindall" in 19th century New England to "Zinfandel" in Gold Rush California. Not to mention the unknown linguistic connection among the Tokay Pinot Gris of Alsace, the Tocai Friulano of Northwestern Italy and the intensely sweet Tokaji dessert wines of Hungary.
These etymological romps are the stuff of long but happy discussions among wine enthusiasts online and off. And here's another: Try, if you dare, to pin down the origin of the obscure but enjoyable Northeastern Italian variety called Teroldego. Grown primarily in the Campo Rotaliano plain - one of the few flat places in the Dolomite Alps of Trentino-Alto Adige - this ancient, appealing red grape comes with at least three disparate etymologies, none of them matching.
• Wikipedia, a community-built online encyclopedia that's been getting a lot of publicity, swings and misses, I suspect, with the assertion that "Teroldego" comes from a German term meaning "Tyrol gold." (Testing the wiki concept, I tried editing the entry ... we'll see how it goes.)
• The Italian Trade Commission's ItalianMade.com mentions "Tiroler Gold" in passing, and also speculates that the name might reflect the German word "Teer," meaning "tar," which, it adds, "refers precisely to one of the characteristics of the wine's flavor." I've never found tar in Teroldego, but maybe that's just me.
• Kobrand Corp., a U.S. importer with Teroldego in its portfolio, offers a more detailed hypothesis that intuitively sounds right to me: "Teroldego takes its name from its traditional method of cultivation, trained on a system of 'tirelle' or wire harnesses."
The Italian Trade Commission adds that Teroldego is thought to have been brought to Trentino-Alto Adige from Lake Garda near Verona in the early 1800s, and has more recently been shown to be genetically related to the Syrah, Marzemino and Lagrein varieties. Teroldego Rotaliano has gained status as a D.O.C. wine under the Italian wine law, but it's also grown in the surrounding region as an Indicazione Geographica Tipica (IGT), "Vigneti delle Dolomiti, "vineyards of the Dolomites."
Today's featured wine is a Dolomiti IGT Teroldego from Cavit, a giant cooperative of the region that, despite its industrial size, has generally impressed me with clean, varietally correct Northern Italian wines at very inviting prices. This Teroldego offers an attractive balance between black-raspberry fruit and interesting minerality. Fermented in stainless steel, it sees wood only in the form of a brief (three-month) stay in large Slavonian oak casks for only a portion of the wine, a procedure that imparts little oak flavor. It's a fine value.
POLL REMINDER:
I'm disappointed that relatively few of you have taken part in this week's Netscape WineLovers Community poll on favorite general wine-information books. If you haven't voted yet, I hope you'll do so ... it only takes a moment, and you don't have to register or log in. There's no need to be familiar with all the books listed. If one is a favorite, please tell us so. The more votes we can gather, the more meaningful the results will be. Here's a hotlink to the ballot:
http://community.netscape.com/winelovers?nav=messages&tsn=1&tid=4829
Thanks for taking part!
---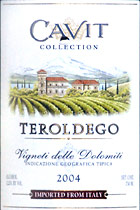 Cavit 2004 Vigneti delle Dolomiti Teroldego ($7.29)
Very dark reddish-purple, clear garnet edge. Black raspberry scents gain intriguing complexity from a distinct mineral note that's pleasantly reminescent of rainwater over rusty iron. Flavors are consistent with the nose, dry and acidic, raspberries and that clean "rusty" note lingering in the finish. Snappy acidity makes it a fine food companion. U.S. importer: Palm Bay Imports, Boca Raton, Fla. (Oct. 2, 2006)
FOOD MATCH: Crisp acidity makes it a versatile food match. It was fine with a rustic pasta dish, penne with Italian sausage and broccoli rabe and plenty of Pecorino Romano cheese.
VALUE: It's a rare thing to find a wine with this much elegance and flavor interest this far under $10. Good "house" red if you like this Old World style.
WHEN TO DRINK: Although this crisp red isn't intended as a cellarworthy collectible, I'd have no qualms about keeping it in a cellar or on a wine rack in a cool place for a year or two.
PRONUNCIATION:
Teroldego = "Teh-ROL-deh-go"

WEB LINK:
The Cavit Collection Website features information about the company and fact sheets on all its wines. Here's a direct link to the Teroldego page:
http://www.cavitcollection.com/html/collection_teroldego.asp
For more on the Teroldego, this fact sheet appears on the U.S. importer's excellent Website:
http://www.palmbayimports.com/xq/asp/VID.181/WID.4896/qx/products.html
FIND THIS WINE ONLINE:
Find vendors and check prices for Cavit Teroldego on Wine-Searcher.com:
http://www.wine-searcher.com/
find/Cavit%2bTeroldego/-/-/USD/A?referring_site=WLP