This article was published in The 30 Second Wine Advisor on Monday, Oct. 2, 2006.


Bandol and a great book

We offer two topics for the price of one in today's Wine Advisor, as we roll out the monthly Wine Focus topic for October and take a look at a brand-new edition of the Oxford Companion to Wine, perhaps the one single wine book that I most highly recommend.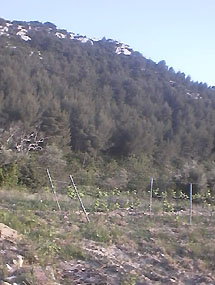 The vineyards of Ste.-Anne in Bandol, so high up the mountainside that they're best reached by Jeep.
Bandol
First, let's focus on wine: Our monthly feature takes on a scenic French appellation that I like to describe as "of my favorite wine regions that many wine enthusiasts never heard of:" Bandol in Provence.
The village called Bandol, about an hour's drive east of Marseilles, is a small but typical seacoast resort town on the Cote d'Azur, full of resorts and cafes and traffic and a marina full of yachts. The wine region is just a few kilometers inland, but a different environment entirely, high up a range of craggy, chalky peaks a thousand meters above the coast.
These south-facing vineyards nestle in a natural amphitheater that opens to the sea while providing protection from the Rhone's cold Mistral wind, an excellent microclimate for vineyards that fosters long and full ripening. It's one of the most ancient wine-producing regions in France, said to date back to the Phoenicians in 500 B.C., even before Roman times.
Bandol is best known for its fine, ageworthy reds, which may be blended from Mourvèdre, Syrah and Cinsaut grapes, although è dominates. The laws of the appellation strictly limit yields, forbid the use of vines less than eight years old, and requiring that the red wines spend 18 months in oak, making Bandol one of the few French wine regions that does not merely permit oak aging but demands it.
The wines are excellent, but they're not cheap. For today's tasting I passed on a couple of single-vineyard bottlings from Domaine Tempier (one of the most highly regarded Bandol producers) that were marked at a cool $48 per bottle, in favor of a still spendy 2005 Bandol Rosé from Domaine du Gros Noré, a fine, pale wine that justifies its $19 price with a complex mix of fruit, herbs and subtle earth. My tasting notes are below.
Everyone's welcome to participate in the monthly Wine Focus program, sharing tasting reports, asking questions and talking about Bandol. Simply click to the Wine Focus forum in our non-commercial WineLovers Discussion Group,
http://www.wineloverspage.com/forum/village/viewforum.php?f=18
Over on our Netscape/CompuServe WineLovers Community, we'll take on a related topic in the monthly Wine of the Month program, inviting participants to taste, enjoy and discuss any wine made from the Mourvèdre grape variety (or the related Spanish Monastrell. The activity is online at Wine of the Month,
http://community.netscape.com/n/pfx/forum.aspx?
nav=messages&folderId=4&webtag=ws-winelovers&listMode=13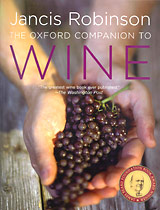 Order Jancis Robinson's "Oxford Companion to Wine" from Amazon.com in hardcover for $40.95, a 37 percent discount from the $65 list price.
The Oxford Companion to Wine
Don't stop me if I've said this before, but I've long admired the approach to wine and wine writing taken by the British wine scribe Jancis Robinson. As soon as I took a good look at the First Edition of her "Oxford Companion to Wine" in 1999, it became the one wine book that I most strongly recommend as the serious wine enthusiast's primary reference.
The much-revised and updated Third Edition was published by Oxford University Press in the U.S. this weekend (it was released in the U.K. on Sept. 21), and that recommendation stands: If you don't already own it and you are serious about wine, buy this book. You won't be sorry, whether you use it primarily to look up information about what's in your glass, as a study guide for sommelier or wine-educator certification, or simply to browse and dream about traveling down the world's wine roads.
It's not an inexpensive volume at $65 list price, but Amazon.com offers it at an inviting discount (details below); and with the holiday season looming in the distance, it's hard to think of a more appropriate wine gift to put on Santa's list. With some 3,900 wine-related topics listed alphabetically across more than 800 large-format, lavishly illustrated pages, it's hard to come up with a wine question that you won't find answered here. Even in the age of the Internet, this is one book in print that will bring you back to the old technology of flipping pages without a complaint.
But suppose you already own an earlier edition? Now we're facing a judgement call. There's arguably much that is new in the Third Edition. Jancis honorably reports that she added "more than 300 substantive new entries," while the publisher includes mere cross-references to bring its advertised total up to "almost 400" new items, including significant articles on alternatives to natural cork, globalization and wine politics, and increased attention to New World wine regions. For an intriguing list of all the new topics in the Third Edition, from "acetic acid bacteria" to "zonal viticulture," see Jancis's "Fine Writing on Fine Wines" pages,
http://www.jancisrobinson.com/articles/20060916_2
That being said, they've managed to squeeze this new material into 813 pages - actually five pages fewer than the Third Edition - within a strict publisher's limit of 925,000 words (only 20,000 more than the Second Edition). Something clearly had to go. Jancis tells the story in an engaging personal essay about the Third Edition on her Website at
http://www.jancisrobinson.com/articles/20060913_1
One segment that hit the cutting-room floor removed all reports on Cognac and other products distilled from wine. A quick random check suggests that tight editing went on, reducing the scope of some articles. (Amarone, for instance, took a hit, from 1 1/4 columns in the Second Edition to 3/4 column in a third.) But much of the editing appears thoughtful and common-sense; on the same page as Amarone, both "American Hybrids" and "Amelioration" were cut back, but the edited information remains under related entries, "United States - History" and a new article on "Manipulation."
Other changes are cosmetic: The body type appears unchanged in font and size, but a two-color process now presents subject titles and cross-referenced terms in a winey and eye-catching Burgundy color. I find the new half-circle thumb tabs on the edge of every page, listing the first and last entries on facing pages, a bit distracting and not really necessary, but that's a minor nit. And for what it's worth, many of the impressive full-page color photos in the previous edition have been replaced by new, different but equally striking photos in the Third.
The changes are far more than trivial, but the great bulk of the Companion's content remains unchanged, as it should. Ultimately, it's up to the individual wine enthusiast to decide whether the changes justify investment in an update. If you're passionate about wine, it would be easy to make the case - and give your old copy to a friend or local library. If you don't have Oxford yet, though, my advice is simple. Buy it. Now. You'll be glad you did.
Order Jancis Robinson's "Oxford Companion to Wine" from Amazon.com in hardcover for $40.95, a 37 percent discount from the $65 list price.
http://www.amazon.com/exec/obidos/ASIN/0198609906/robingarrswineloA/
Purchases made using this direct link will return a small commission to us at WineLoversPage.com and help make it possible for us to provide our online information and communities and distribute The 30 Second Wine Advisor without charge.
---
Domaine du Gros Noré 2005 Bandol Rosé ($18.99)
Very pale copper color, light even for a rosé. Pleasant and subtle, delicate scents mingle berries, herbs of Provence and hints of earth, "tree bark" and "forest floor" or "sous bois" if you want to sound like a French wine geek (or would that be "gique"?) Juicy berry fruit and tart acidity on the palate, with that subtle earthiness whispering in the background. Well balanced though rather hefty for a pink wine at 13.5 percent alcohol, showing a lot of complexity and flavor interest for a pink wine; it's no mere summer quaffer. A blend of 40% Mourvèdre, 40% Cinsault and 20% Grenache. U.S. importer: Kermit Lynch Wine Merchant, Berkeley. (Oct. 1, 2006)
FOOD MATCH: It went beautifully with an omelet stuffed with sharp Cheddar cheese; a classic match is Salade Niçoise.
VALUE: The upper teens are rather rarefied air for a pink wine, but this exceptional rosé justifies the toll with complexity and balance.
WHEN TO DRINK: Rosé in general is a wine to be drunk up young and fresh, and even if this sturdy model might have the stuffing to break the rule, I'm not sure what would be the point of it. Drink over the coming year.
PRONUNCIATION:
Bandol = "Bahn-dole"

WEB LINK:
The Gros-Noré Website is available only in French, but it's worth a visit for the pictures and topographical map of the region, even if your command of French is limited to reading wine labels.
http://www.gros-nore.com/
FIND THIS WINE ONLINE:

Find vendors and check prices for Domaine Gros Noré Bandol Rosé on Wine-Searcher.com:
http://www.wine-searcher.com/
find/Gros-Nore%2bRose/-/-/USD/A?referring_site=WLP

WineLoversPage.com