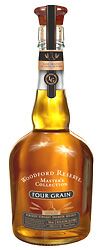 Collector's Bourbon
Once in a great while (okay, maybe a couple of times a year), I'll switch from wine for a quick look at some other kind of tasty fermented beverage.
Let's make such an excursion today, prompted by the coming release of a rare Kentucky Bourbon that, in last year's inaugural edition, became an instant collectible, an "investment bottle" capable of the kind of quick turnaround resale that most of us are more accustomed to seeing in "cult" Napa Cabernets. The good news, however, is that this potion still comes in at less than $100 ... and unlike most cult Cabs, it's good for immediate enjoyment and need not be cellared.
Every now and then, the folks at Brown-Forman's Woodford Reserve distillery in the Kentucky Bluegrass region plan to offer special, limited-production Bourbon bottlings in a high-end series called "Master's Collection."
The first of these bottlings - called "Four Grain" because it adds wheat to the usual Bourbon "mash bill" (recipe) of corn, rye and barley - sold out its limited supply in just a few days last year.
Four Grain retails for $80 per bottle, and last year's collectibles have been going for $140 on eBay, Brown-Forman publicist Courtney Sandora said.
Get ready, collectors! This week, Brown-Forman is rolling out another batch of Four Grain, and chances are it will sell just about as fast. The 2005 batch was available only in Kentucky, while this year's tiny 750-case allocation will be divided among major metro markets in 16 additional states: California, Colorado, Illinois, Indiana, Florida, Georgia, Massachusetts, Michigan, Missouri, New Jersey, New York, Ohio, Pennsylvania, Tennessee, Texas and Virginia.
Four Grain is a 92.4-proof spirit, "triple-distilled" in Woodford Reserve's copper-pot stills from a recipe that Brown-Forman's Master Distiller Chris Morris says he found in archives dating to 1903.
Sandora found me a small sample for preview, and I'm here to tell you that it's a quality sippin' Bourbon indeed. My tasting report follows. Four Grain goes on sale Oct. 1. If you're in the market, we suggest you line up early.
Woodford Reserve Master's Collection "Four Grain" Kentucky Straight Bourbon Whiskey ($79.99)
Clear, dark but transparent amber-orange color. Characteristic Bourbon aromas are redolent of caramel and butterscotch, vanilla and spice and just a whiff of maple syrup. On the palate it's smooth as silk, even when sipped straight; flavors are consistent with the nose, almost like sipping a liquid caramel candy if not as sweet. Old-line Bourbon "connoisseurs" might wish for more rye character and mouthfeel, but it's a great crowd-pleaser in the smooth and easy sipping style. Wine enthusiasts might blanch at an $80 bottle of booze, but bear in mind that Bourbon, unlike wine, will keep in the open bottle and is best consumed in small doses: I could certainly make an economic case for sixteen 1 1/2-ounce shots at $5 per snifter to last through a blustery winter.
VISITING THE DISTILLERY: The Woodford Reserve Distillery, a National Historic Landmark, is located just off I-64 in Woodford County, Ky., within easy driving distance from Louisville, Lexington and Cincinnati. Originally founded in 1812 and housed in stone buildings that date back to the early 1800s, the distillery - long named Labrot & Graham - was a significant Bourbon producer before Prohibition, but but slowed to a trickle after Repeal.
Brown-Forman Corp., a Louisville-based beverages company, purchased the property after World War II but closed it in 1968 and sold the buildings not long after that. In 1994, Brown-Forman bought the abandoned buildings back and spent several years and $7 million to restore, renovate and refurbish the facilities as a showplace distillery that now receives more than 60,000 visitors a year and declares itself the only American producer that still triple-distills Bourbon in traditional copper pot stills.
The distillery is open for tours and tastings, and offers a luxurious Saturday and Sunday brunch through October. For information, check the Website,
http://www.woodfordreserve.com
---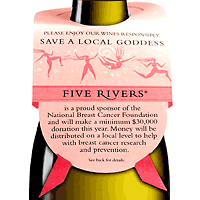 Public Service Announcement:
Save A Local Goddess During October
Five Rivers Winery will join with its distributor partners in more than a dozen states and donate $1 for every bottle sold during October to the National Breast Cancer Foundation, supporting local cancer patients and cancer survivors during National Breast Cancer Awareness month. The donation is guaranteed to be at least $30,000 on a national basis.
The National Breast Cancer Foundation has affiliates in many states. In locations where no state affiliate exists, the Foundation worked with each state distributor and Five Rivers Winery to select an appropriate cancer-focused organization to receive funds to help build awareness and further early detection, particularly among those in need.
"This year in America, more than 211,000 women will be diagnosed with breast cancer and 43,300 will die," warns the Foundation's Website. "One woman in eight either has or will develop breast cancer in her lifetime. In addition, 1,600 men will be diagnosed with breast cancer, and 400 will die this year. If detected early, the five-year survival rate for breast cancer exceeds 95 percent. Mammograms are among the best early detection methods, yet 13 million U.S. women 40 years of age or older have never had a mammogram."
Five Rivers, which features a series of Goddess images on bottles of its Central Coast wine from California, is working with participating restaurants and retailers to promote the program as an effort to "Save A Local Goddess." Servers at participating restaurants will sport pink buttons that read, "Save A Goddess. Ask Me How." Restaurant menu inserts and retail displays will promote the program.
Among the organizations to benefit from the donations are:Susan G. Komen Breast Cancer Foundation, Colorado; Markey Cancer Center, Lexington, Ky.; St. Alexius Medical Center, Chicago; St. Vincent Hospital Foundation, Indianapolis; Cleveland Clinic, MetroHealth Foundation, Cleveland; Massachusetts General Hospital; St. Anthony's Medical Center, St. Louis; Mayo Foundation, Rochester, Minn.; American-Italian Cancer Foundation, New York; Susan G. Komen Breast Cancer Foundation, Las Vegas; University of Texas MD Anderson Cancer Center; Mayo Foundation, Jacksonville, and Florida Council For The Homeless, Orlando.
WEB LINKS:
• Five Rivers Winery, http://www.fiveriverswinery.com
• National Breast Cancer Foundation, http://www.nationalbreastcancer.org