Sweeter than wine
"Please recommend a sweet red wine."
This may be the single most frequently asked wine question I receive. It is most often posed by sincere folks who really want to enjoy wine - or, perhaps, to dose themselves with red wine for its purported health benefits - but who haven't developed a taste for traditional red table wines.
Think back to our own journeys to wine enthusiasm, and I suspect most of us would have to admit that our first taste of dry red table wine came as an unexpected and not entirely happy surprise: You're expecting something sweet and luscious and grapey, but suddenly your mouth is full of a liquid that's unsweet ("dry"), sour ("acidic") and bitter ("tannic").
Of course wine "geeks" eventually learn to love this flavor profile, discovering that these elements, in balance with subtle, complex fruit and minerality, make wine one of nature's most intriguing drinks and a natural companion with food. But a lot of people don't give wine a second chance, quietly and unhappily wishing that the stuff tasted more like grape juice.
I've long felt bad about not having a better answer, but there's not much to offer. Port, and the red dessert wines of Banyuls and Maury in the French Pyrenees or Greek Mavrodaphne of Patras are strong and sticky sweet, meant more for dessert than sipping with meals or as a cocktail; and good Port is pricey. At the other end of the spectrum, Italian Lambrusco is sweet and low in alcohol, but it's dissed by most wine enthusiasts for its frivolous fizz and, worse, its long-standing reputation as a cheap, mass-market "soft drink for grown-ups."
But now there's suddenly a respectable candidate. From Emilia-Romagna, the Italian region surrounding Bologna that also gives us the much-maligned Lambrusco, we have Cagnina di Romagna, a soft, sweet red wine that's low in alcohol, low in acidity and easy to sip. Although there's nothing new about this wine - it has been made in the region for more than 700 years - it has only recently shown up in the U.S. and much of Europe.
Cagnina di Romagna is a D.O.C., a controlled appellation wine whose production is limited to a small stretch of Emilia-Romagna on the Adriatic coast south of Ravenna. It's made from Refosco, an indigenous red grape that's usually associated with Friuli-Venezia Giulia in Northeastern Italy and adjacent Slovenia.
Cagnina may be made either dry or sweet; the sweet version is made by stopping fermentation before all the grape sugar has been converted to alcohol, leaving behind some natural sweetness (70 grams per liter, for the technically inclined) and only 9 percent alcohol. Fresh and light, it's meant for immediate enjoyment and, in its native land, is usually drunk up by Christmas time as a festive holiday wine.
Today's featured wine, branded "Camauro," is made in the village of Rimini by Fratelli Bernardi and imported to the U.S. by John Given Wines. Only about 5,000 twelve-bottle cases are produced annually. That's not a trivial amount, but I think if every person who ever asked me to recommend a sweet red wine buys just a bottle or two, they'll run through a year's production in a hurry.
---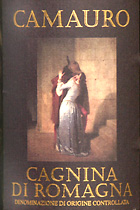 Bernardi "Camauro" Cagnina di Romagna ($12)
This dark garnet wine offers fresh and appealing aromas of berries and plums. On the palate it's light and sweet, not overly acidic, fairly low in alcohol at 9 percent. Its soft flavor is gently sweet, not sticky-sweet but beyond off-dry, more akin to the crisp sweetness of fresh fruit than candy. U.S. importer: John Given Wines Co., Manhasset, N.Y. (Sept. 24, 2006)
FOOD MATCH: Perhaps better as an aperitif than a food wine, but following one of the rules discussed in the recent Wine Advisor article, "Fire Extinguishers," its soft sweetness worked well enough to soften the punch and complement the flavors of Ma Po To Fu, a fiery Sichuan tofu and pork dish.
VALUE: If you're in the market for a sweet red table wine of sufficient quality to satisfy a serious wine enthusiast, you can't beat this wine at its typical market price around $12 in the U.S.
WHEN TO DRINK: In Emilia-Romagna, this non-vintage wine is made to consume immediately, and it's typically enjoyed during the winter and holiday season following the harvest, while its fruit is very fresh. Drink it when you buy it, and be wary of dusty bottles from shops with limited turnover.
PRONUNCIATION:
Cagnina di Romagna = "Cahn-yee-nah dee Row-mahn-yah"

WEB LINK:
John Given's Website offers this fact sheet on Cagnina di Romagna, along with information about Emilia-Romagna and the legend of Francesca di Rimini:
http://www.jgwines.com/Factsheets/bernardiCagnina.html
FIND THIS WINE ONLINE:
John Given's wines are available at retail in about 20 states of the U.S. If you can't find them locally, he welcomes inquiries through the Website (click "contact us" on his home page, http://www.jgwines.com/). Although importers can't sell direct to the public, he'll help you find a retailer.
To find vendors for Camauro Cagnina di Romagna in the U.S. and much of Europe, check the databases at Wine-Searcher.com:
http://www.wine-searcher.com/
find/Camauro%2bCagnina/-/-/USD/A?referring_site=WLP