Mapping Spanish value
One of the most enduring bits of conventional wisdom in the quest for wine quality is "the rule of real estate," the proposition that the smaller and more narrowly defined the wine region, the better the wine.
There's some merit in this argument, as a couple of simple, real-world examples will demonstrate: Chateau Margaux, made from wines grown on a single, exalted property, surely wins more respect than a wine whose grapes come from throughout the Margaux appellation; the latter in turn may trump a wine designated only from the broader Haut-Medoc, while a generic Bordeaux will likely trail the pack in both perceived quality and price. In short, the broader the real estate, the less sought-after the wine.
For seekers of wine value, however, I propose a variation that turns the traditional rule sideways, if not quite upside-down: Like an urban pioneer who's among the first to gentrify a once-fine but slightly seedy neighborhood, you may grab a bargain if you're willing to prospect where the points-chasing hordes rarely venture.
Recent years in Spain have seen three the wines of three major regions - Rioja, Ribera del Duero and Priorat - escalate well beyond reach of most of us, at least for everyday enjoyment. It's probably no coincidence that the leaders in this price inflation have been wines of the fruit-forward, well-oaked, robust "blockbuster" style that the critics love.
But Spain is a large country, and it produces more wine than any other nation but France and Italy. Even when you take the high-ticket items of the table, there's plenty of good wine left, and most of it doesn't require a special-occasion price.
We're running a little late today, so let's wrap up the week with quick reports on a couple of good-value reds from Spanish wine regions that offer good value even if they don't set the wine collectors all atwitter.
One's a fruity, warm Monastrell (Mourvedre) from the Bullas ("Boo-yahss") wine-producing region in Murcia, about halfway down Spain's Mediterranean coast from Barcelona to Jerez. The second wine is an earthy, rustic Garnacha (Grenache) from Calatayud ("Cah-la-ta-yood"), inland in eastern Spain about midway between Rioja and Priorat.
In a linguistic trivia note, both wineries show off Spain's Catholic heritage with names that seem surprisingly religious by modern standards: Bodegas del Rosario ("Winery of the Rosary") and Niño Jesús ("Baby Jesus"). I can't say either one constituted a religious experience for me, but they provide good everyday drinking at a price that's right.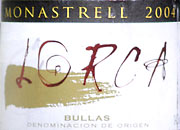 Bodegas del Rosario 2004 "Lorca" Bullas Monastrell ($9.99)
Very dark garnet almost all the way to the clear edge. Bright and forward fruit aromas and flavors, red plums and berries, on the nose and palate. Full and juicy flavors show sufficient acidity for structure, with 14.5% alcohol providing texture and some heat. Simple but pleasant, perhaps a bit of a fruit bomb at this point; but balance and the ageworthy grape variety suggest at least modest cellar potential. Its bold, fruity flavor profile made it a natural with the burgers with green chile and avocado featured in the Sept. 14, 2006 Wine Advisor FoodLetter. U.S. importer: Frontier Wine Imports, Dover, N.J. (Sept. 12, 2006)
FIND IT ONLINE at Wine-Searcher.com:
http://www.wine-searcher.com/
find/Lorca%2bMonastrell/-/-/USD/A?referring_site=WLP

Niño Jesús 2004 "Figaro" Calatayud ($7.99)
This is a very dark reddish-purple wine with a clear garnet edge. Smoky and distinct red-clay minerals upstage a more delicate cherry-berry character in the aroma and flavor. Mouth-filling and warm, shows its 14.5% alcohol, falling off rather quickly in a short finish. It's an interesting wine in the "rustic" style, but the shy fruit and strong minerality won't be to everyone's liking. The high alcohol makes it an iffy food match, although it went well enough with a rather offbeat dinner of chicken in a mustard cream sauce with Japanese sticky-rice mochi as "dumplings." U.S. importer: Kysela Pere et Fils Ltd., Winchester, Va. (Sept. 18, 2006)
FIND IT ONLINE at Wine-Searcher.com:
http://www.wine-searcher.com/
find/Figaro%2bCalatayud/-/-/USD/A?referring_site=WLP