The Shadow knows
"When life gives you lemons, make lemonade."
This optimistic rule of thumb clearly applies at California's Edmunds St. John winery, where an exceptionally challenging vintage in 2002 produced a batch of Syrah so "difficult" that some wine makers might have thought seriously about opening a faucet and letting it run out onto the street.
It was "the kind of year that makes you feel like you don't know if you're coming or going," says wine maker Steve Edmunds, who owns and operates the Berkeley-based winery with his wife, Cornelia St. John.
"That's how the harvest seemed for us, that year," he wrote in the winery newsletter. "At first it seemed everything would be early. Then again, we had ten days in the middle of the month when nothing ripened. So it was either too hot or too cold. Lots of things cooked on the vine. We had raisins. We had high pHs. We had high alcohols. We had some fruit that never got ripe, because it turned so cool around the beginning of October. We didn't get any Grenache at all."
Until last month, Edmunds St. John had released only two 2002 whites and two reds: A Pinot Grigio and a delicious white blend called "Blonk!," the lovable "Bone-Jolly" Gamay and his under-$20 Rhone-style blend called "Rocks and Gravel."
The winery's sought-after single-vineyard Syrahs, however, which usually command prices in the $30 to $40 range - and deserve it - are AWOL in the 2002 vintage.
Steve explains: " ... almost all the rest of what we made that year, some 30 tons of Syrah, from some of the best, most well-regarded Syrah sites in California, were blended together, and put into a big tank, where they stayed. For a long time. Languishing in the shadows. Syrah from the famed Durell Vineyard. From Bassetti Vineyard. From Parmelee-Hill Vineyard. From Wylie and Fenaughty Vineyards. This blend was like some big, awkward kid that can't quite seem to do anything right, and so you just don't put any pressure on him, you just give him some space, give him plenty of time to just hang out. Check back in with him every now and again, and just let him know he's welcome to stick around until he's ready to do something else."
Four years and a winery move later, the big kid has grown up. Dubbed "The Shadow," shorn of the familiar vineyard names and bottled under an ominous-looking gray label, the quirky 2002 Syrah is going to market, and Edmunds has turned his "lemon" into a bold red wine that, priced to sell at under $12 a bottle, rates as one of my best values of the year so far.
Here's my tasting report. 'nuff said.
---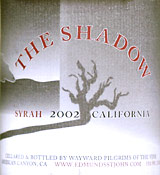 Edmunds St. John 2002 California Syrah "The Shadow" ($11.50)
This is a clear but very dark garnet color. Plums and a whiff of cherry brandy on the nose, warm spice and earthy nuances that hint at menthol, smoke and rare beef. Flavors are consistent with the nose, warm black fruit and subtle earth, with a shake of fragrant Syrah black pepper. Nicely structured with mouth-watering acidity and subtle tannins, it's a don't-miss buy at this price point. (Sept. 15, 2006)
FOOD MATCH: This robust red wine calls for red meat, and its spicy, layered complexity has what it takes to stand up to bold flavors. My offbeat response: Korean kal bi, thin-sliced beef short ribs marinated and braised in a moderately hot-and-spicy mix of Asian flavors.
VALUE: Simply put, at the winery retail price of $11.50, this is my best wine buy of the year, and I'll be amazed if a stronger value turns up.
WHEN TO DRINK: It's so enjoyable right now that it's hard to keep hands off, but bear in mind that it's a blend of sturdy, balanced Syrahs from vineyards known for producing ageworthy reds. Don't hesitate to cellar it for five years, or ten, if you have the facilities.
WEB LINK:
The Edmunds St. John Website is attractive, easy to navigate, and it's loaded with information about the wine maker, the winery and its wines:
http://www.edmundsstjohn.com
For Steve Edmunds' detailed discussion of The Shadow and how it came to be, check his Sept. 2, 2006 "Organolepticians No. 72" newsletter,
http://www.edmundsstjohn.com/TheNewsletter/Organolepticians72.html
FIND THIS WINE ONLINE:
Distributors in many states of the U.S., Canada, the UK and Japan are listed on the winery Website,
http://www.edmundsstjohn.com/WhereToBuy.html
To find other vendors and check prices for Edmunds St. John wines on Wine-Searcher.com, see:
http://www.wine-searcher.com/
find/Edmunds%2bSt.John/-/-/USD/A?referring_site=WLP