Memorable Muscadet
Close to the opposite pole from the fruit-forward blockbuster wines that draw so much critical acclaim, we find the subtle, mineral-driven wines of Muscadet Sèvre et Maine.
Have I mentioned that I love them?
It has only been about a year since I last sung the praises of Muscadet, so I'll refer you to the Nov. 5, 2005 Wine Advisor for more specifics. Today, let's just hit a few bullet-point factoids, then jump straight to the tasting notes for two very fine Muscadets from a first-rate producer that, in the $10-$12 range, ring the bell for outstanding wine value.
Muscadet comes from the Nantais region, where the Loire River meets the Atlantic. It's a seafaring and fishing region, so it's no coincidence that the wines make a natural match with seafood and fish.
Sèvre and Maine, tributaries of the Loire, run through the middle of the wine region on the south bank of the river across from the city of Nantes. The "Sèvre and Maine" designation is significant, as wine labeled just-plain "Muscadet" is sourced from a broader region and may not offer the same subtle complexity.
In contrast with the Chenin Blanc and Sauvignon Blanc varieties that dominate the Upper Loire, Muscadet is made from Melon ("May-lawN"), a less-familiar grape that's said to have its roots in Burgundy.
Many of the most interesting Muscadets add the term "Sur Lie" ("on the lees") on the label, indicating that the young wine was left to age on its yeast sediment ("lees"), a traditional process that adds flavor and complexity to the wine.
Bring together two or more Loire-heads, and you'll almost certainly soon hear an admiring reference to Marc Ollivier, one of the most highly regarded Muscadet growers and producers. His vineyards lie over granite, imparting exceptional minerality even for Muscadet, and he makes his wines the old-fashioned way, not hurrying the sur lie process for the sake of cash flow.
---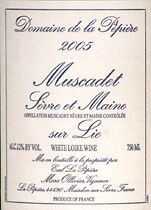 Domaine de la Pepière 2005 Muscadet Sèvre et Maine Sur Lie ($9.99)
Mark Ollivier's basic Muscadet bottling shows a transparent pale straw color; a few bubbles line the glass. Subtle and delicate aromas focus on pure white fruit and "crushed seashells," a characteristic of fine Muscadet. Mouth-filling, dry and tart, delicate citrus, lemon-lime, ripples over a base of chalky minerality, finishing clean and long. (Sept. 8, 2006)
---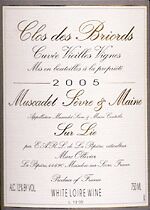 Clos des Briords 2005 Muscadet Sèvre et Maine Sur Lie ($12.99)
Made from a single vineyard of 75-year-old Melon vines grown on deep topsoil over granite, this is a brilliant straw color. Intriguing aromas begin with melon and lime, opening up to stones and shells, then complex, earthy nuances of ripe Camembert and wool with time in the glass. Full flavors follow the nose, limey fruit and earthy grace notes, white fruit and chalk in a very long finish. A remarkable wine, and one that will gain from cellar time. (Sept. 8, 2006)
The following comments apply to both Ollivier wines:
FOOD MATCH: Shellfish is the classic pairing for Muscadet, and fine, fresh oysters on the half-shell may be the ultimate match. We had no complaints with an Asian-accented stir-fry of fresh, sweet sea scallops and snow peas.
VALUE: Both these wines will surely make my annual "Best QPR" lists at these prices.
WHEN TO DRINK: The basic Pepière is best drunk up young, and its synthetic cork underscores that advice: Enjoy it this year. The Briords is fine now, but will gain complexity and richness with cellar time, even a decade or more under pristine storage conditions.
PRONUNCIATION:
Ollivier = "Ohl-leev-yay"
Muscadet Sèvre et Maine = "Moos-cah-day Sev'r eh Mehn"
Sur Lie = "Soor Lee"
IMPORTER, WEB LINKS:
Both these wines are imported by LDM Wines Inc., NYC; Louis/Dressner Selections, which has a fact sheet about Marc Ollivier and his wines at this link:
http://www.louisdressner.com/Ollivier/
FIND THESE WINES ONLINE:
Both these wines are available from Chambers Street Wines in New York City, one of my favorite shops anywhere for unusual and intriguing wines of value. (This is not an advertisement, simply an expression of pleasure from a satisfied consumer.) To browse their portfolio, click
https://www.chambersstwines.com/
To find other vendors and check prices for Marc Ollivier's Muscadets on Wine-Searcher.com, click:
http://www.wine-searcher.com/find/Ollivier%2bMuscadet/-/-/USD/A?referring_site=WLP