Italian goodies
My pal John Given was back in town for a trade tasting yesterday, and much to my delight, he got in touch and suggested we get together to enjoy dinner and pull the corks from a few of his wines.
As regular readers will know, Given is one of my favorite wine people, not only because we share a lot in common as longtime journalists who somehow made the transition into wine, but also because we share a deep affection for unusual, rare and sometimes frankly offbeat wines from less-familiar Italian producers, grapes and regions.
What's not to like about a portfolio that includes such rarities as Ruché from Lombardia, Nerello Mascalese from Sicily or the heirloom grapes Albana dei Castelli Romani and Tor di Passeri from Lazio around Rome? I figured John would have something just as interesting with him on this trip, and I wasn't disappointed.
We enjoyed a fine Persian dinner at Saffron's, an excellent upscale Iranian eatery in downtown Louisville, and accompanied it with three of Given's goodies. I took home a few more intriguing Italian dessert wines that I'll review under more analytical conditions and report in another edition soon. For today, here are my quick notes on the wines we enjoyed with dinner.
---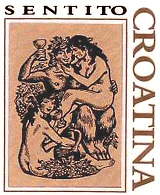 Tenuta Maggiore 2002 Sentito Provincia di Pavia Croatina
A relatively rare red grape whose name implies at least a legendary Croatian origin, Croatina is grown in Oltrepo Pavese ("Across the Po from Pavia") where Lombardia meets Piemonte in Northwestern Italy. It's a pretty garnet color, dark but clear, and breathes an attractive dried-cherry aroma that reminds me more than a little of a good Valpolicella. It's juicy and ripe on the palate, crisp and tart, with subtle leathery and "barnyard" notes appearing as a restrained, pleasant note of complexity. A pleasant touch of bitterness adds flavor interest in the finish. An impressive wine and a steal at $10 to $12 retail; it made a remarkable match with one of a trio of duck appetizers, rich duck confit stuffed into ripe dates. The label (pictured in our Graphics Edition) is jokingly nicknamed "The Orgy Label" in Given's shop because of its small but distinct portrayal of naked satyrs in revelry.
Pian dell'Orino 2001 Piandorino Toscana
Given almost abashedly pulled out the next two bottles, feigning embarrassment simply because one's a Super Tuscan, the other a Brunello, which make them exceptions in an import portfolio mostly filled with less familiar grapes and regions. They're standout wines, though, capable of drawing attention from more familiar labels. This Super Tuscan - 75% Sangiovese, 15% Merlot and 10% Cabernet - is a dark garnet color, with beautiful aromas of black cherries and blackberries, pure fruit and warm spice. Fresh and tart in flavor, clean fruit is balanced by mouth-watering acidity, smooth tannins and a long, long, long finish. Wine-Searcher.com shows a few vendors offering it at $18 to $20, a remarkable price point for a Super Tuscan of this quality. Both this and the following wine went beautifully with rack of lamb, dusted with subtle Persian spices and grilled medium-rare.
Pian dell'Orino 2001 Brunello di Montalcino
Brunello di Montalcino, an upper-crust cousin of Chianti, is one of my absolute favorite Italian wines and, frankly, bears comparison with the world's other top wine regions. This is a splendid example, deep garnet in color, with full but elegant black-fruit aromas of plums and cherries enhanced with earthy but clean hints of leather. Flavors follow the nose, amply structured and well balanced. Concentrated black fruit flavors carry smooth but substantial tannins suggesting that this one will benefit from significant cellar time. Given guesstimates that this bottling will retail in the $55 to $60 range, more than fair for a wine of this quality.
WEB LINK:
John Given's Website includes information about the importer, press clips and a comprehensive portfolio of his wines, which you can browse by clicking wines by producer or by region from his home page,
http://www.jgwines.com/
FIND THESE WINES ONLINE:
John Given's wines are available at retail in about 20 states of the U.S. If you can't find them locally, he welcomes inquiries through the Website (click "contact us" on his home page). Although importers can't sell direct to the public, he'll help you find a retailer.
Readers around the world may also be able to find these wines by searching the specific wine names on Wine-Searcher.com:
http://www.wine-searcher.com/?referring_site=WLP