This article was originally featured in The 30 Second Wine Advisor's FoodLetter on Thursday, Aug. 31, 2006.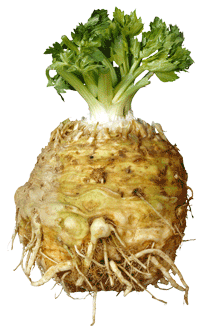 Celeriac remoulade
From time to time I've written about celeriac ("seh-LAIR-ee-ack"), an offbeat root vegetable that we featured as a FoodLovers "Ingredient of the Month" last autumn.
Also called celery root or, occasionally, celery knob, celeriac seems to be a bit more popular in the United Kingdom than the United States, where it's on the expensive side and turns up only rarely in most groceries.
It's a bit daunting in appearance to the uninitiated, and, as I wrote of it last year, it looks a bit like a tan, nubby baseball with tight, hairy roots that resemble a two-day beard. Scrubbing and peeling, though, reveals an off-white edible root that can be sliced and served raw in salads or cooked in much the same ways as a potato or turnip.
When I spot a celeriac in a grocery or specialty shop, I'm inclined to grab it, rationalizing that it lasts for quite a while (a week or two, anyway) in the refrigerator crisper and that sooner or later I'll use it. Celeriac and potatoes in equal portions, cooked and pureed like mashed potatoes, is an old standby, and a shot of Japanese wasabi powder kicks it up a delectable notch. Another fine old standard is potato and celeriac soup with leeks or onions, pureed and enriched with a bit of heavy cream. Last October, in another potato-type variation, I came up with the idea of celeriac pancakes, grated with onion, bound with a little egg and cream, and pan-sauteed crisp.
Why all this celeriac talk? Like many root vegetables, it's a seasonal vegetable, mostly, and starts turning up in September, remaining available (if at all) through the winter and into spring. I ran across a pretty one yesterday, sold with a stalk of thin, celery-like shoots still attached, an attractive presentation although the appealing looking stalks proved to be woody and tough. The root, though, was fine, and rather than mashing or pureeing the tender tuber, I decided to make a simple variation on a classic French salad, celeriac remoulade.
Simple as can be, it's nothing more than celeriac cut into julienne strips, blanched until crisp-tender (my prefernce, some recipes suggest it raw), and tossed with a quick version of a tangy remoulade sauce, a very basic mustard-accented mayo. The result might be called a cousin to potato salad, but the tender crunch and intense celery flavor of the celeriac puts it in a separate category all its own. One fair-sized celeriac root made enough salad to serve two comfortably as the centerpiece of a light dinner with crusty bread and an Algerian-style Merguez lamb sausage on the side.
INGREDIENTS: (Serves two)
1 celeriac root
Sweet onion, enough for about 2 tablespoons thinly sliced
1 tablespoon flatleaf Italian parsley, chopped
1/2 teaspoon grated lemon zest
1/2 cup (120g) mayonnaise
2 tablespoons (30g) grainy mustard
1 tablespoon fresh lemon juice
1 tablespoon olive oil
Dash Worcestershire sauce (optional)
Salt
Black pepper
PROCEDURE:
1. Wash the celeriac well (it may be muddy), and cut off all of the brown, wrinkled peel. Using a chef's knife or, carefully, a mandoline, cut it into fairly thin slices and then cut the slices into long strips about the size and shape of thin french fries. If you're concerned about the celeriac darkening (mostly a problem if you don't intend to use it right away), keep it in a bowl filled with water and the juice of 1 lemon.
2. Cut the onion into paper-thin slices. Chop the parsley.
3. Make a quick remoulade: Put the mayonnaise in a bowl and mix in the mustard, lemon juice, olive oil, reserved lemon zest and, if using, the optional Worcestershire sauce, which imparts a whiff of anchovy flavor that's traditional in remoulade.
4. Put the strips of celeriac in a saucepan with lightly salted water to cover, bring to a boil, reduce heat, cover, and simmer briefly, checking frequently. As soon as the vegetables become crisp-tender - this shouldn't take more than 2 or 3 minutes - drain them well and "shock" with cold water to stop further cooking.
5. Pat the cooled celeriac dry with a cloth or paper towel, put it in a bowl, and mix gently with the remoulade. Stir in the reserved chopped parsley, and add salt and freshly ground black pepper to taste. It can be served immediately, but I like to put it in the refrigerator for 30 minutes to an hour or so until the flavors blend.
MATCHING WINE:
I went with an unusual Loire red, Thierry Puzelat 2005 Touraine Pineau d'Aunis, primarily chosen to match the peppery merguez sausages, but happily it worked nicely with the salad as well. To match directly with the celeriac, a crisp Sauvignon Blanc would be an obvious pick, and a Northeastern Italian Tocai Friulano a more exotic but equally appealing choice.
WineLoversPage.com