Vintage - Avoid generalizations
As recently as last week ("Revisiting old friends," Aug. 30), I spoke of the pleasure of returning to a good, characteristic vintage in the Rhone Valley in 2004 after two not-so-typical years: The rainy floods of 2002, which produced many thin, diluted wines in the region, and the torrid heat of 2003, which fostered fruity, powerful and weirdly atypical wines.
In that report, I took the usual pains to emphasize that vintage advice represents only a general guide, and that people who follow vintage charts too slavishly pay the price by missing a lot of really good wines that don't fit the conventional wisdom.
But the caution is worth repeating, since wine geeks like to collect vintage reports as sports geeks like to collect statistics. It's all part of wine-as-hobby, and there's nothing wrong with that, as long as we keep it in perspective and don't let it interfere with our enjoyment of the game. Er, the drink.
Today, then, let's take a quick look at another exception that proves the rule. I had held off for a while on picking up Falesco 2003 Vitiano Rosso Umbria, in spite of Vitiano being one of those good-value favorites that I usually pick up every year, because of my general disdain for the fat'n'happy 2003s.
The other day, though, noticing a good supply still on the shelf at a reasonable price, I finally succumbed, and to my pleasure, I found it to be fresh and nicely balanced, food-friendly and structured. It's one 2003 that doesn't make me yell "Run away!"
---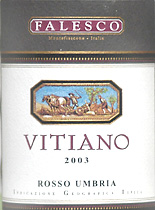 Falesco 2003 Vitiano Rosso Umbria ($10.99)
Inky dark reddish-purple. Black cherries and subtle brown spices on the nose and palate, well structured with snappy fresh-fruit acidity, with smooth tannins coming in on the finish. Clean and fresh, well balanced, with alcohol at a rational 12.5 percent, a pleasant surprise from the overheated vintage of 2003. U.S. importer: Winebow Inc., NYC; Leonardo Locascio Selections. (Aug. 27, 2006)
FOOD MATCH: A natural with red meat and a cliche, for good reason, with tomato-sauced pasta and pizza. It fared well with the Northeastern Italian dish of polenta topped with sausage and mushrooms and Asiago fresco cheese featured in last week's 30 Second Wine Advisor FoodLetter.
VALUE: It's a fine value, strongly competitive in the $10 range.
WHEN TO DRINK: Vitiano is made as a drink-me-now wine, but when our Wine Tasting 101 participants studied an earlier vintage a few years back, the conventional wisdom was that its fruit and balance made it a reasonable candidate for at least short-term cellaring. In short, there's no rush to drink up; it should keep well for at least a couple of years.
WEB LINK:
Winebow, the Falesco importer, tops its international portfolio with an extensive line of Italian wines selected by its founder and owner, Leonardo Locascio. Here's a link to the fact sheet on Falesco Vitiano:
http://www.winebow.com/wine_basicinfo.asp?ID=150&producer=22
The Falesco site is comprehensive in Italian, but its English option leads only to an "Under Construction" page. For the Italian pages, click
http://www.falesco.it/
FIND THIS WINE ONLINE:
Compare prices and find online vendors for Falesco 2003 Vitiano on Wine-Searcher.com:
http://www.wine-searcher.com/
find/Falesco%2bVitiano/2003/-/USD/A?referring_site=WLP